Ecuador's media sector is becoming more diverse. 22 local radios belonging to the community media network CORAPE met the June 30 deadline to apply for a new frequency. More than 1,400 frequencies are to have been distributed to radio and TV stations by early 2017. The communications law adopted in 2013 stipulates that one third of the licenses must go to private media, one third to state media, and the remaining third to community media outlets.

The media sector in Ecuador has been extremely polarized, with state and private media contributing to a deepening divide in the population by respectively supporting and opposing President Rafael Correa's government. There has generally been a lack of the kind of balanced reporting that allows people to form their own opinions.

However, the distribution of new frequencies could now change that. "For years, civil society was excluded from broadcasting," said José Miguel Jaramillo, CORAPE chairman, in the country's capital, Quito, at the end of June. "This finally gives us a chance to participate in society."
Balanced perspectives
The CORAPE network has applied for its own community radio frequency in Quito. To date, the network has been providing its members with daily news shows and has made program sharing possible. "We're counting on transparency and equality when it comes to distributing the frequencies," said Jaramillo. "This is a major victory in our long battle to make the media sector democratic."

Countrywide, the networked stations reach 30 percent of the urban population and 60 percent of those living in rural areas. The community radios also provide a vital link to their homeland for tens of thousands of Ecuadorians living abroad.

DW Akademie has been supporting CORAPE, the project sponsor, in its work, and this has included advising the member stations. A number of workshops have focused on explaining the legal, technical and content requirements of the state media authority, ARCOTEL. CORAPE and a DW Akademie media expert have also mentored each station through the application process.

Indigenous voices being heard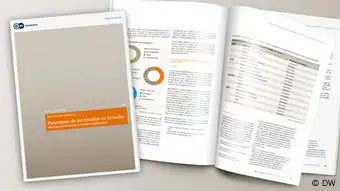 The study examines Ecuador's media legislation
Strengthening community media has become especially important in light of Ecuador's upcoming parliamentary and presidential elections, set for February 2017.
It's unlikely that the stated goal of distributing fully one third of the frequencies to community stations will have been met ahead of the polls. But already, the process that's underway will make it possible for people, especially those in rural areas and indigenous groups, to exercise their right to freedom of expression. Community stations will be there to address their concerns, which have been largely ignored by the state and private media.
In April 2016, DW Akademie published a comprehensive study of Ecuador's media sector. The study looks at the factors that have led to the current polarization as well as the impact of the 2013 communications law. The law, controversial both in Ecuador and internationally, gives the government extensive powers to control and censor content. The
Panorama de los medios en Ecuador
study also looks at how digitization could contribute to strengthening freedom of expression.