Somewhere in the middle of the desert, in a secluded region close to the Algerian border, lies the galactic town of "Mos Espa". This spot became famous as a shooting location for the first Star Wars film in 1976. For Abbes Mseddi – director of Radio Diwan in the city of Sfax – and for most of the participants in DW Akademie's pilot module on "Immersive Journalism", this was a new adventure.
"I've never been here before, even though this place is now part of Tunisia's cultural heritage," said Mseddi.
360° videos enable people to immerse themselves in places they might never travel to. It offers them an opportunity to "dive" into stories and locations using modern technology. There are many stories to be told in southern Tunisia, including those about the sand that almost swallowed up the film set or the region's developing tourism concepts or the unique desert gourds that are sold at the entrance to the town.
Journalistic content counts
There are numerous examples of how 360° technology is being used in journalism. It has shown life in refugee camps and war zones and has been used in the news, including for the inaugural speech of U.S. President Donald Trump. It has also brought users closer to the artwork of painter August Macke, whose works are now over 100 years old. Although this technology is rapidly developing, in Tunisia it remains a new concept.
DW Akademie's 360° pilot module is offered as part of "Content House", a virtual training institute for journalists currently being established. DW Akademie, together with Tunisian media partners Al Khatt, IFM, Radio Nefzawa, Diwan FM and Université Centrale, has been developing a curriculum with a "blended learning" approach.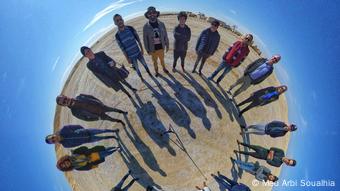 Content House differs from other training and further education programs for journalists in that it focuses on the practice, production, and publication of journalistic content. It aims to increase the quality of media content so that Tunisia's population can have access to well-researched information presented in an appealing way.
The 360° training includes a webinar on ethical questions that arise with new technology. After an online coaching process, the results will show whether aspects learned could be put into practice.