Germany's development minister Dirk Niebel awarded the prize which was established by his ministry three years ago. It aims to boost social awareness about development issues and sees films as an effective channel for doing this.
Violence against art
Juliano Mer-Khamis was murdered on April 4, 2011. The peace activist and actor died in front of his theater, located in the Jenin refugee camp in the Palestinian occupied territories. He was the son of a Jewish mother and Palestinian father. He'd established the theater in 2006 and saw art as a way to combat the Israeli occupation as well as a way for Palestinian women to break clear. He had been sobered by the situation in Jenin and, in an interview shortly before his death, said that Palestinians were losing hope, that Israel was destroying their sense of identity. Art, he said, was the best way to counter this. Not everyone agreed, however, and his Freedom Theater became the target for arson attacks. He was later shot by a masked gunman.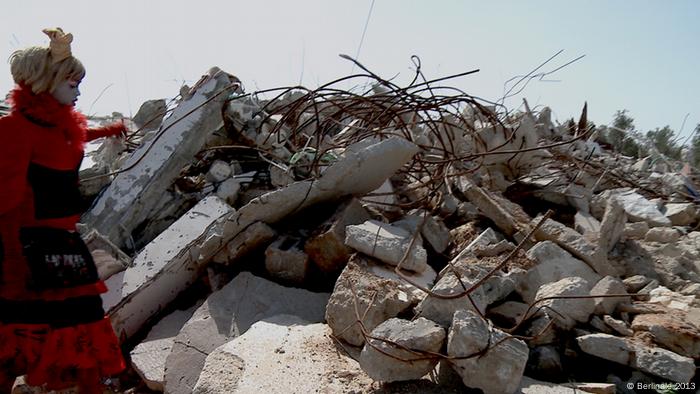 Scene from "Art/Violence", winner of this year's CINEMA fairbindet film prize
What remained were grief and anger, but also anguish about how to continue Juliano's legacy. "Art/Violence" has been one way and has itself become a work of art. The film is a joint project by Israeli-born Udi Aloni and Palestinian filmmakers Batoul Taleb and Marian Abu Khaled. It documents the work of three young women artists who are desperately trying to function and work under trying circumstances.
Art against violence
"Art/Violence" is an appeal for rights – rights for women, Palestinians and the artists who are continuing Juliano's legacy. At the Berlinale the film won the CINEMA fairbindet prize, established by Germany's Federal Ministry for Economic Cooperation and Development. An independent jury chose the film from among ten entries.
It was a difficult decision, says jury member and DW Akademie project manager Charles Achaye-Odong. Other entries also focused on politically volatile and emotional issues including the exclusion of Romas in Bosnia, the bleak situationfor children living in asylum homes, and the discrimination of homosexuals in Cameroon. "The films were all very moving," says Achaye-Odong, "but I felt that 'Art/Violence' set new benchmarks and trends in terms of fresh thinking and approaches for dealing with oppression and exploitation." For more than 20 years Achaye-Odong has developed and held workshops for filmmakers from Africa's film and TV industry.
The CINEMA fairbindet prize is worth 5,000 euros and, more importantly, includes a road tour through Germany. The film will be shown in 20 different cinemas with filmmaker Udi Aloni in attendance. "We're hoping that as many people as possible come to watch the film," he says. "It couldn't get any better than that!"