Just a few screws and connectors, cables and microphones are needed to quickly set up "Cabina Espacial", the mobile studio called "space cabin", right in the middle of the schoolyard. It is decorated with images of a sky and stars, a yellow cobra winding out of the roof and a pink alien.
Broadcast live from where the target group lives
Radio Sónica, an alternative radio station in Guatemala City came up with the idea for the studio. It was funded by DW Akademie, which has been helping and advising the broadcaster for years. The idea is to broadcast live from where the target group lives. "We want to open our program to as many voices as possible," says Cristian Galicia, director of Radio Sónica. "And at the same time, we want to make it more widely known without expensive advertising campaigns."
Last year, the team experimented with a prototype reminiscent of a closed studio cabin. But it was bulky and had to be picked up by movers every time. Also, there was not enough space for the young people. "We want to be a station with as many people as possible. That's why we've now designed it as an open studio," says Galicia.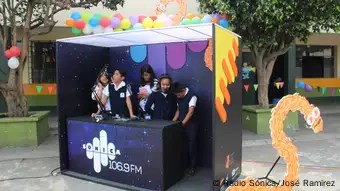 Broadcasts from a schoolyard: schoolchildren in "La Limonada", a poor neighborhood of Guatemala City.
Not even Santa Claus comes to this neighborhood
The open studio was assembled in "La Limonada" for its inauguration. The district is one of many poor neighborhoods in Guatemala City and its reputation is especially bad. Residents of the capital say that even Santa – let alone a radio station – doesn't come here voluntarily. Over the years, aggressive young gangs in this area have fought against each other. Guatemala City is one of the most violent cities in the world. The slum is a labyrinth of narrow alleys, muddy streets and unplastered walls of grey houses, constantly threatened by landslides during the rainy season. Nobody knows exactly how many people live there, but some estimates say 100,000. There are no hospitals, no drinking water - just a single public school. The state shows little interest in the area.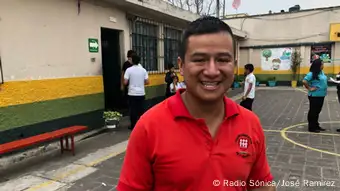 Edgar López is a teacher in "La Limonada".
In the mobile studio, students learn that anything is possible
Edgar López works in the neighborhood as a teacher at a school funded by the Catholic Church. "I like the Radio Sónica initiative because our students in the mobile studio learn that anything is possible," he says. Dreams can come true. "Until now, they've only seen that the mass media are out of their reach." In fact, La Limonada is usually mentioned on TV and the radio as a scene of violence. There are few or no reports about the life there, aside from the gunfights. And the mass media do not answer the questions asked by young people who grow up in poor neighborhoods.
People talk about friendship, love and even taboo topics
Radio Sónica is an exception. The station, which belongs to the Guatemalan Institute for Radio Education (IGER), has them on their radar and wants to create access to information and point out alternatives. The hosts talk to their audience about friendship, first love, and even taboo topics like domestic violence, homosexuality or HIV. The young audience uses WhatsApp to contact the studio, ask questions or take part in discussions. They usually work during the day and are not allowed to leave their homes at night for reasons of safety. To them, Sónica is a window to another world, just like the open studio in the middle of the schoolyard.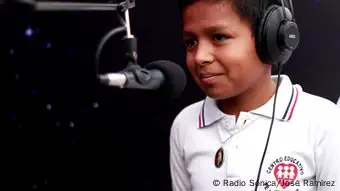 José Alberto Fajardo is dreaming of a career in radio.
José Alberto Fajardo shares this view. "I was a radio presenter for the first time in my life," says the 12-year-old enthusiastically. "At first I was very nervous, but in time, you learn how to deal with it. I'd like to work at Radio Sónica. It might happen one day."