Most children have round-the-clock access to the digital environment, so Media and Information Literacy (MIL) in schools can play a crucial role in empowering them to safely navigate the internet and spot misleading content. "Since schools are the training grounds for analysis and judgment making, MIL should become a keystone of the educational curricula," says Nadine Gogu, Director of the Independent Journalism Center (IJC) in Moldova. MIL has been included in all levels of Moldova's school system since 2019. DW Akademie has worked with IJC and other partners on finding the right approaches. Here is what we learned:
#1 Media-savvy teachers are key
To boost teachers' confidence and capabilities to discuss MIL with their students, give them solutions. Firstly, offer resources – textbooks, teachers' guidelines, or lesson plans. If you already have good examples from other countries, consider localizing them. "The availability of textbooks had a significant impact on the number of schoolteachers willing to teach MIL," says Natalia Griu, former State Secretary for Education who also has co-authored MIL textbooks. However, teachers should also receive training on how to use the resources and facilitate classroom discussions on contemporary media. And don't forget to create space for exchange and reflection for teachers once they have started to teach. In the case of Moldova, follow-up sessions and school contests have proven to be good formats.
#2 Find the right place for MIL
MIL can be taught both through existing areas of the curriculum or as a separate subject. So a first step would be to explore if and how MIL is already embedded in curricula. The integrative approach can save resources and have a broad impact, says Arminas Varanauskas, Executive Director at the Knowledge Economy Forum Lithuania. But there is a caveat: teachers for different subjects must be able to teach MIL in a contemporary manner.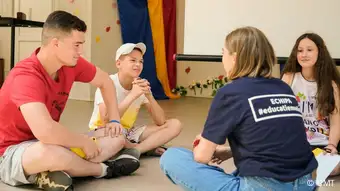 MIL activities in the classroom
In Moldova, a new Code of Education gives all students the opportunity to choose at least one optional subject (out of a maximum of two allowed). Media Education can be chosen by students of different grades and is taught for one year. "For Moldova, [opting for providing MIL lessons via optional courses] was the most realistic approach", explains Natalia Griu.
A challenge: The school program for national minorities offers too few hours for optional courses. This is because there are more compulsory disciplines in schools that are teaching in languages of national minorities e.g. Russian, Gagauzian or Bulgarian – while the total maximum study hours permitted per week is standard for all schools. Thus, children particularly vulnerable to false information (spread especially by Russian media) are often harder to reach. This is one reason why some people are critical of using optional courses for MIL teaching: "MIL is too important to offer it as an optional course", says, for example, Arminas Varanauskas.
#3 Effective partnerships matter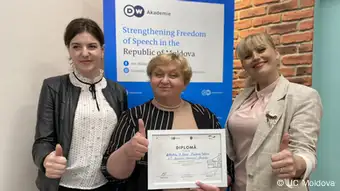 School teachers awarded within the first edition of the national MIL contest
To bring any MIL effort to fruition in the long run, strive to achieve institutional sustainability – for instance, by involving universities and institutions for further education. In Moldova, one such institution is the State Pedagogical University Ion Creanga, where a continuity of training has been created in the Media Education field. Media-related topics are now a part of BA and MA programs for future teachers. Additionally, there are two continuing education programs for teachers: Media Education in Primary School and Media Education in Secondary and High School.
#4 …and so does official backing
Whenever possible, competent authorities such as the Ministry of Education should be involved in long-term processes and enabling, if not driving, the conversation. In Moldova's case, a Memorandum of Understanding signed with the Ministry of Education ensured the general endorsement of MIL by the authorities. It also streamlined the approval of textbooks and other methodological support. In addition, the Memorandum of Understanding contains provisions for the integration of MIL on all school levels, and fosters certain extracurricular activities, e.g. a national MIL school contest that IJC launched to encourage teachers, students and parents to engage in MIL activities such as discussing how to think critically, behave appropriately and be safe online.
#5 Think beyond formal education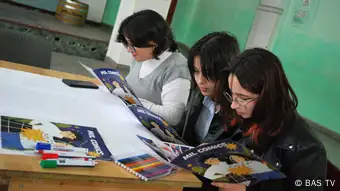 Students reading a MIL comic strip
While trying to formalize the presence of MIL in the school setting, it shouldn't be overlooked that the main appeal of media literacy for youngsters is its capacity to act as a window opening directly to the "outside world" and to real-life experiences. So do not underestimate the value that informal educational tools can bring into the classroom. There is a wide range to choose from, but in Moldova's case, one stood out – a , developed with teenagers and based on their ideas. In printed form, it serves as an excellent basis for MIL lessons on internet addiction, or on manipulation and propaganda.
About the project
DW Akademie worked with local partners to integrate MIL into schools in Moldova. The Independent Journalism Center (IJC) advised on the development of curricula and textbooks, while DW Akademie supported their lobbying work. The State Pedagogical University Ion Creanga developed programs for teachers who are eager to deliver Media Education as an optional course. DW Akademie coordinates its activities with the Ministry of Education in Moldova.