On Sept. 30 and Oct. 1, more than 100 employees from the United Nations, UN partner organizations, regional and civil society groups as well as UN volunteers gathered in Bonn for the first "UNV Partnerships Forum." Under the motto "Innovation in Volunteer Action," those assembled took part in podium discussions, presentations and conversations about new approaches to volunteer work. One highlight was the "Blue Room Talks," which saw UN volunteers sharing their personal work experiences with an international audience. Their presentations were also recorded and put online. The speakers, from eight countries, benefitted from a DW Akademie workshop on communicating in front of the public. They got tips on public speaking, keeping an audience's attention and even the effective use of body language.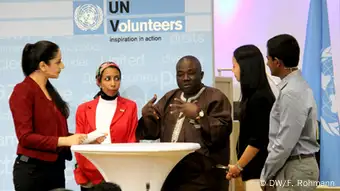 UN volunteers in conversation with moderator and DW Akademie trainer Merjam Wakili (left)
Two workshop participants, Samar Mohamed Wahba and Moses M. Zangar, Jr., sat down to talk with DW Akademie about what they took away from the workshop.Samar Mohamed Wahba, 39, is a UN volunteer from Cairo. A former teacher, she works with students and young educators in rural areas of Egypt in the area of education. Moses M. Zangar, Jr. from Liberia works as a communications officer at the United Nations Development Programme in Lusaka, Zambia. The 43-year-old studied journalism at university and formerly worked as a public information officer at the UN mission in Sudan.

Can you share with us what you learned during the DW Akademie media training?
Samar Mohamed Wahba: I learned how to better present myself in front of an audience and how to have more self-confidence while doing so. I now know how to bring the audience's attention to me and to what I'm saying.
Moses M. Zangar, Jr.: Even though it was only a one-day training, I took a lot away from it. One especially useful aspect was learning how to package what I have to say in a way that will really reach an audience. I also learned how important body language is and how much of an impact it can have if used effectively.

Did you have any particular fears or anxieties before the training?
Moses M. Zangar, Jr.: As a journalist, I've often had to interview people but I've never found myself in a situation where I was the one getting asked questions and had to speak off the cuff. I was especially nervous about going in front of a camera. Plus, I never have to speak in front of a large audience or at public occasions. But our trainer helped us get over our fears and everything really went well.
Samar Mohamed Wahba: I didn't really have any worries before the media training. During the workshop, the atmosphere was always very relaxed and casual. We had fun while learning a lot.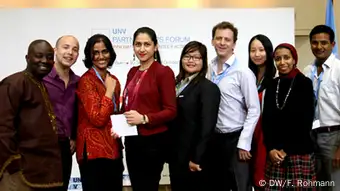 Eight UN volunteers from Liberia, Spain, India, Cambodia, Ireland, China, Egypt and the UK with moderator and DW Akademie trainer Merjam Wakili.
Will you be able to put what you learned to use?
Moses M. Zangar, Jr.: Yes! I can hardly wait to get back to work and use what I learned here and even improve my skills further. I'm also looking forward to sharing what I learned in the training with others.
Samar Mohamed Wahba: I feel like I learned a great deal and I'll definitely be able to use my new knowledge in Egypt at, for example, public events where I need to speak.

During the "Blue Room Talks," you two along with six other UN volunteers had five minutes to present your own personal work experiences. What did you speak about?
Samar Mohamed Wahba: I talked about how I could use my experiences as a teacher in Egypt to help other people and how my volunteer work in my own community had resulted in positive change.
Moses M. Zangar, Jr.: My talk was about how I can help change the lives of other people through my work as a UN volunteer. I spoke about what I had been able to accomplish during my current assignment as well as my previous one.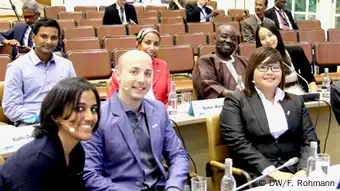 Volunteers a few moments before theirs "Blue Room Talks"
What helped you get over stage fright?
Moses M. Zangar, Jr.: We got some really good tips on that subject during the media training. Before you go on stage, it's important to calmly take a few deep breaths. You also have to be certain about what you want to say and know how to communicate directly to the public without letting fear get in the way. If you're frightened, your information is not going to go over like you want it to.
Samar Mohamed Wahba: The media training really helped us get rid of our stage fright. Or, we were at least able to get it under control since I think it's very normal to suffer stage fright in front of an audience.


The United Nations Volunteers Programme (UNV) promotes volunteer work by highly qualified professionals from around the globe. Its goals are to encourage people from a variety of fields to actively contribute to the aims of peace, development and the achievement of the UN's Millennium Development Goals. The UNV works in close cooperation with other UN agencies, governments and non-governmental organizations.