It was hectic back in the Fall as technicians rushed to get the studio ready while young journalists and camera teams busily produced stories in four of the country's regions – Ternopil, Cherkasy, Kharkiv and Odessa.
The weekly program, "Spilno" (Englisch: "Together") looks at various aspects of the country's decentralization reforms. It was launched November 10 and is part of UA:PBC's main programming.
The first show focused on the financing of educational programs outside the school since communities have been merged; it was followed by a show on energy conservation and alternative energy sources. Upcoming programs will look at issues including safety, ecology, and personnel management in municipalities.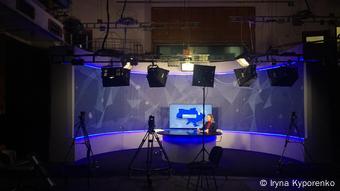 Technicians worked through the Fall to get the studio ready on time
Explaining budgets with a pizza
Sofiia Musienko hosts the Saturday program which is broadcast on UA:PBC and four regional stations.
The government's decentralization reforms aim to strengthen self-government at the local level, giving more power and financial resources to municipal authorities to make it easier to solve local problems.
The new editorial team also reworks their TV reports so they can be shared on Facebook and attract a wider audience, especially young viewers.
The most popular video to date has been viewed 14,000 times: it uses a pizza to explain how new communities' budgets are put together.
"This proves that people are interested in the decentralization reforms, and that they'll watch the reports if they're well-edited," points out Marya Frey, head of the project at UA:PBC. "We used a pizza because it was a great way to explain how budgets are formed. The public really liked it," she says.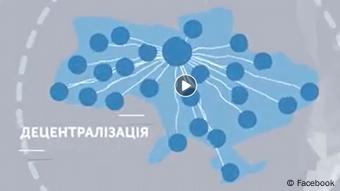 The logo shows the reach of the Spilno TV program
Preparing the launch with DW Akademie
Getting the show off the ground wasn't always easy but the journalists from four different regions took part in DW Akademie workshops and in a relatively short time formed a closely-knit editorial team. The project is supported by DW Akademie and its partner UA:PBC, and is funded by the German development agency, GIZ.