Around the world, the rise of social media is causing traditional media, such as radio, to rethink how they interact with their audiences and how they distribute their content. For those involved in media development, combining social media and local radio is also a chance to strengthen community participation, especially of marginalized groups.

For these reasons, DW Akademie has started a social media research project in Colombia. We want to find out what social media are used by people in certain regions, who is using the social media platforms of selected local radio stations and how people in the broadcast area feel these stations could improve their social media offerings.

The idea of using social media to engage and involve the community in local radio is especially interesting in Colombia, where armed conflict has internally displaced an estimated six million people.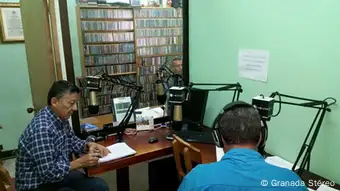 One of the stations we will be working with for the study is Granada Stereo, which is located in Granada in Colombia's northwest Antioquia province. Founded in 1998, the community radio station broadcasts to the town of Granada, which has a population of around 6,400, as well as to the surrounding rural areas.

In 2000, Granada was at the epicenter of Colombia's conflict, and around 14,000 people fled the area. Although families have started to trickle back to Granada, a large proportion of the population still lives outside the municipality.

In the lead up to the social media study, #mediadev talked to Granada Stereo's director, Dubian Giraldo, about the station and how it already uses social media.

Who is the station's audience?

All the inhabitants of Granada. Our audience is primarily adults but we also try to make programs for children and young people. We would like to cover a broad range of ages but that's not always easy. We haven't yet had the chance to conduct audience surveys or collect statistics about our listeners but we can estimate who they are from the phone calls we receive and interactions in social networks. Also, because our radio station is local and Granada is a small town, we personally know many of our listeners and they let us know their opinions, comments and suggestions by telling us directly.

What role does the Internet and social media play in Granada Stereo's work?

They play a very important role. Our website desdegranada.com has been up and running for five years now. We use the site to let people know about the important things happening in Granada and in our programs. The website also enables those who left Granada during the difficult years of the armed conflict to stay in touch with what's happening in the municipality. People from Granada are very proud of being born here, which is why the site is important for those who have moved away. We also have a Facebook page with over 7,000 followers. This is also somewhere that people can interact. For example, we posted some old photos of Granada, and people commented on their experiences of that place. So we have managed to identify a large community who live outside of town and keep in touch with them.

Have you had problems or difficulties with social media or the Internet?

In general, the use of Internet and social networks like Facebook has been very rewarding. But we feel we need to analyze the real impact we have made through social networks. Facebook provides follower statistics, but we would like to know exactly what those statistics mean, in terms of what impact we have and who our virtual community is. It would be very important for us to learn the numbers, because social networks can become a source of financing, which would be a great opportunity for a local station like us.

How do you think DW Akademie can further help local radio stations like Granada Stereo?

It would be interesting to have advice about how we could better use the Internet. We have already developed a virtual community but we would like to improve how we can consolidate and enlarge this community through attractive, participatory and interesting content. By using online tools to strengthen our connection with the community, we can also strengthen our reporting.