"We knew we wanted to write a web series together," said Lucas Thiem describing how "Tales from the blue bus" got underway. Thiem is a student at the German Film and Television Academy Berlin (DFFB) and said he was attracted to the German-African project because it offered different perspectives. "It was important for the writing process, for example, because we could compare the way we saw things," he said.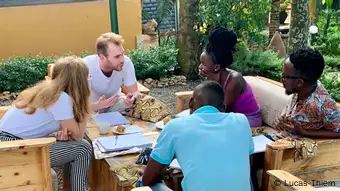 Lucas Thiem (center) and George Mundi (right) continue to co-develop the series
Mundi had had the idea for a story about a bus accident. He lives in Nairobi and had studied film at the Uganda-based Maisha Film Lab in Kampala. "People on public transport tend to treat each other like strangers. But I wondered what in fact happens if people are somehow connected through their thoughtless choices and actions," he said.
He developed the idea with students in Ghana's capital Accra, as well as in Uganda's capital Kampala, and in Berlin. With support from local partners, the project has resulted in a nine-part web series reflecting the personal experiences of many young West Africans. Magic also plays a role because "magic as a reference in storytelling still remains strong in African culture, from East to West Africa," Mundi explained.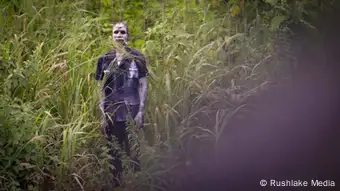 Magical moments from "Tales from the blue bus"
"Tales from the blue bus" is a result of the cooperation project "Fresh Craft", one of four pilot projects that was supported by DW Akademie since 2018. "Fresh Craft" is a collaboration between the Maisha Film Lab in Kampala, the National Film and Television Institute (NAFTI) in Accra and the German Film and Television Academy Berlin (DFFB). The project's unique working atmosphere offered participants room to develop ideas and facilitated German-African cooperation. "Hands-on training for filmmakers was also an important part of the project because participants benefited from a professionalization that otherwise only happens in the real market," said Sigrun Neisen, Program Director at Film Industries.
"Tales from the blue bus – Stories from Accra" is available until the end of 2021 at Arte-Mediathek.