Several journalists and civil society organizations DW Akademie cooperates with have been subjected to arrests and harassments over the past days and weeks.
Police and military forces have targeted investigative reporters who work to expose corruption, including arbitrary arrests of their family members. More than 25 violations against journalists and media workers have been registered by the Media Institute for Southern Africa (MISA) between March and June, following the implementation of the national COVID-19 regulations. Several more cases have been reported before and during peaceful public protests that took place on July 31, 2020.
"Our constitutional rights are on trial as journalists and media workers are being persecuted for doing their constitutionally provided for rights. The government of Zimbabwe has an obligation to uphold the country's constitution and see to it that those that violate it are brought to book," said Tabani Moyo, Director of MISA Zimbabwe.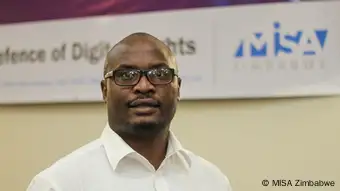 Tabani Moyo, Director, MISA Zimbabwe
MISA promotes and defends media freedom and freedom of expression across the Southern Africa Development Community (SADC) region. DW Akademie supports MISA in their advocacy campaigns for freedom of expression.
Carsten von Nahmen, Managing Director of DW Akademie: "We urge the government of Zimbabwe to immediately stop the persecution and harassment of journalists. The people of Zimbabwe need reliable information, especially now as Zimbabwe and the world are facing the challenges resulting from the COVID-19 pandemic. Journalism is not a crime but a vital service for democratic societies."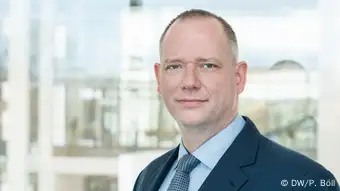 Carsten von Nahmen, Managing Director DW Akademie
It is critical that Zimbabwe stops criminalizing journalism and releases all imprisoned journalists, like investigative reporter Hopewell Chin'ono. Given the additional health risks posed by detention during the pandemic, the prosecution of such cases should be halted. The atrocious violence against journalism student Tawanda Muchehiwa, the nephew of ZimLive editor Mduduzi Mathuthu, who is reported to have been abducted and tortured after being arrested by the police, needs a credible and thorough investigation that brings the perpetrators to justice. The harassment of journalists and their families is appalling and unconstitutional.
The right to peaceful protest is also protected by the constitution of Zimbabwe. All charges leveled against citizens who peacefully and safely demonstrated on July 31, 2020 go against basic human rights and the constitution of Zimbabwe.
The government of Zimbabwe has a duty to protect journalists and their rights to safely do their work, especially during the COVID-19 pandemic. Access to reliable news and information is crucial for the citizens of Zimbabwe and for the country's democratic development.