An interactive 3D model of the Dandora rubbish dump in Nairobi captures the vast toxic mountains of waste littering the site, one of the biggest in Africa. The footage was shot with a drone as part of the African SkyCam project, which aims to provide journalists on the continent with new ways of capturing footage.

In central India, the poorest of the poor can now report in their own language and listen to the stories of others through the CGNet Swara audio news site. In a country where news is banned on private and community radio stations, the project uses the Internet and mobile phones to connect illiterate reporters and listeners through a voice-based portal.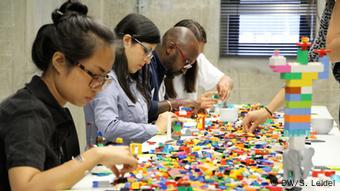 Creative collaboratory work at DW Akademie's S2S media dialogue
And in Colombia, an interactive online map collates and displays more than 700 massacres perpetrated during the country's civil war, for the first time making this data accessible and searchable online.

These are just a few examples of the myriad digital technology projects transforming access to information and freedom of expression in the Global South. But in this rapidly changing media and digital landscape, it can be difficult to know which kinds of initiatives are really making a difference and bringing about a change. "Advances in digital technologies seem to offer endless possibilities," says Steffen Leidel from DW Akademie Digital, "but not all are worth doing."

Secrets of success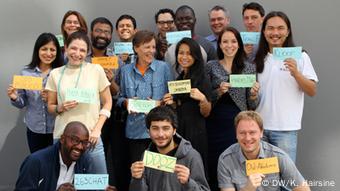 International innovators share ideas on how to foster freedom of expression with digital technologies
To get a better sense of what works and what doesn't, DW Akademie brought together 14 digital technology innovators from 14 different countries for a four-day DW Akademie media dialogue held in Cape Town, South Africa. Participants came from as far afield as Bangladesh, Cambodia, Argentina, Guatemala, Egypt, Palestine and Kenya. As a group they had a wealth of experience in successfully using digital technology - everything from the above-mentioned drone and conflict mapping projects to crowdsourced data initiatives, investigative journalism and hyperlocal news sites.

The goal of the South2South media dialogue was for participants to collaborate in developing a set of guiding principles for using digital technology to foster freedom of expression and information. After three days of presentations, debates, night-long discussions and a Lego Serious Play session (an innovative method to develop creative strategies), they succeeded. Guided by DW Akademie's Leidel, Guy Degen and Kate Hairsine, participants agreed on seven principles.

These will be put together in a manifesto available for public comment on DW Akademie's website. "It was important to develop a vision together that we can all accept and support," says Leidel, the project manager responsible for the event.

So different, yet so similar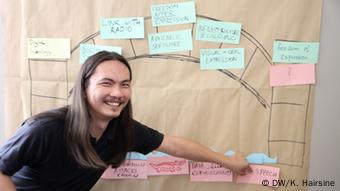 Bektour Iskender frounded a news platform that educates the next generation of journalists in Central Asia
For the most part, conferences or meet-ups usually just involve delegates from the same region, with the result that Latin Americans only meet with Latin Americans, for example, and Africans with other Africans. But the South2South media dialogue deliberately chose to invite participants from 14 different countries, to offer them an opportunity to exchange ideas and take inspiration from other parts of the world that they normally don't visit or perhaps haven't heard about.

"We quickly discovered that our countries have similar social, political and economic problems," says Bektour Iskender, the founder of Kloop, a news site in the Kyrgyz Republic run by young journalists. "The fascinating thing is that every one of us is trying to solve these problems in different ways. I'll be taking many ideas with me about how projects that are successful in other countries can be used in the Kyrgyz Republic," Iskender says.

The South2South group plans to keep working together to share new ideas and lessons they're learning as they carry out their projects.