A recent journalism graduate, 25-year-old Shaden Ghannam is one of those responsible for the young editorial team at Dooz, a multimedia news and exchange platform. Dooz focuses on local issues in and around Nablus, a city in the northern West Bank. Dooz is more than just an information portal though; the idea behind it is to bring citizens and local authorities closer together. DW Akademie is supporting Dooz journalists by offering workshops on local journalism, multimedia reporting and political communication.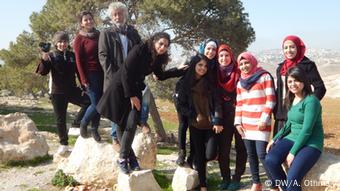 Shaden Ghannam (2.l) with the "Dooz" editorial team and DW Akademie-trainer Abed Othman (3.l)
DW Akademie: Dooz went online over a month ago. What has been the biggest challenge so far?
Shaden Ghannam: It was definitely having to do multimedia reporting. Very few online portals in the Palestinian Territories report this way and we initially wondered how we would go about it especially as many of our team are students with no practical experience. But we were highly motivated so we easily rose to the challenge. We also weren't sure whether local authorities would provide us with the information we needed but we've also overcome this obstacle. People are now aware of us - the authorities, the governor and the local population here in Nablus. When we're out on the street filming, people come up to us and say, "Ah, you're from Dooz. We've heard of you!"

What does the project mean to you personally?
It means a lot because I'm able to develop my journalistic skills here. The journalism program I graduated from was very theoretical but at Dooz I'm finally gaining practical journalism experience. I've also started to build up a network of contacts and am getting an insider's look at how authorities work. But I'm also very attached to the project because Dooz focuses on the needs of the local population. It brings them together with local authorities and that's important to me as a citizen.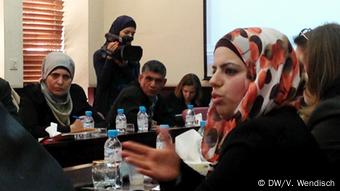 A public hearing in Nablus with "Dooz" reporters
How is Dooz contributing to the Palestinian media sector?
In the Palestinian Territories, the reporting standards are low. The media basically just copy from each other, regardless of whether the information has appeared on Facebook, TV or radio which mean they all cover the same topics. Dooz is unique, however, because it's the only media focusing on local issues and taking an in-depth look at issues affecting Palestinian society.

Which stories have impressed you the most so far?
It's been the stories we've discovered in the old part of the city. I go there every day but there were things I'd never noticed until I started working for Dooz. We did a story, for example, on an old man who makes ouds, a traditional stringed instrument, and gives lessons on how to play them. I'm also a fan of our survey segment "Dooz asks", where people can express their views. In our last survey, for example, we asked readers about their expectations from the local authorities.


Dooz is part of a larger joint project, "Go Local" developed by DW Akademie, the An-Najah University in Nablus and the German development organization, GIZ. The overall aim of the "Go Local" project is to support good governance in the Palestinian Territories.