Serbians are intensive media consumers. "The first thing people do in the morning is to check the Internet for the latest news. Later they'll read the paper in a café and then wrap up the day by watching the evening news on TV," says Filip Slavkovic, DW Akademie's country manager for Serbia and the Balkans. "In between," he adds, "most of them are online with their smartphones."
Serbia is the most heavily populated country in the western Balkans, and Serbian media have an influence over some of their neighbors - Bosnia-Herzegovina, Montenegro, Kosovo and Macedonia. Although the media sector is facing challenges around the globe, Serbia's media have been hit with additional problems. Media outlets were battered by the 2008 economic crisis and are still susceptible to political influence. In addition, Serbia has applied to join the EU but the country's authorities and its media sector are at times unsure when it comes to meeting the targets Brussels requires. "Still," says Slavkovic, "this is a great opportunity to meet European standards around freedom of expression."
Strengthening local media
This is where DW Akademie's centers of excellence in Belgrade and Novi Sad come into play. Their role is to help media outlets and journalists create networks, and to offer guidance regarding EU media requirements. The program includes management seminars and offers expertise on EU media laws. An additional goal is to strengthen local media and offer a platform for marginalized groups, including women and ethnic minorities. Both centers were officially opened in December 2014.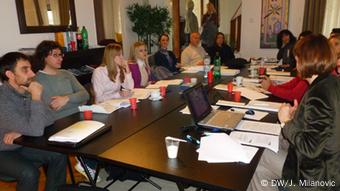 The seminars focus on know-how and EU requirements
The Belgrade center is housed in the offices of the Serbian press council, which is made up of the country's three largest media associations. "The key to the project is getting owners, managers and top editors on board via the media associations," says DW Akademie project manager, Klaus Dahman. "These are the ones that can put in place long-term structural and program reforms."

Last year it became clear that additional training was needed. "We began at about the same time that the country's media laws were undergoing reforms to meet EU standards," says Dahmann. In order for small local media to survive, he says, they need to know how to work with the new EU-mandated changes. "Our pilot projects on media management and project development focus on practical answers to the most pressing questions - how small programs can benefit from EU subsidies, for example, or how application procedures work and what the EU's expectations are," he explains.
Looking beyond the borders
In Novi Sad the questions are similar but the focus is different. The center of excellence in northern Serbia brings together representatives from public broadcasters in other Balkan countries that are aiming to join the EU: Bosnia-Herzegovina, Kosovo, Macedonia and Montenegro. Albania and Moldova are also expected to apply. The center's aim is to help create networks for the broadcasters, and for the broadcasters to develop internal structures that are clear and transparent.
"We'd like to know more about how they see their roles," says Filip Slavkovic. "This can cover dry topics like developing organizational charts but can also cover areas such as journalistic content and approaches. Another important aspect is the interaction with viewers, listeners, readers and users."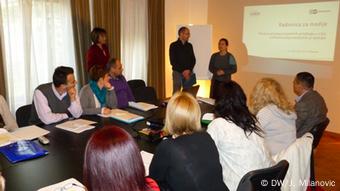 The seminars focus on know-how and EU requirements
Last year, managers from the Serbian public broadcaster RTV, which houses the Novi Sad center of excellence, went on a fact-finding trip to Germany. They visited the studios of "1live" radio network that is part of the WDR regional public broadcaster and targets a younger demographic. The Serbian director-general was impressed by the webcams in the studios, the host chats and frequent Facebook postings - all possible ideas for a new Serbian youth channel that was launched in November 2014.

Numerous languages and ethnicities

The Belgrade and Novi Sad centers both serve as platforms for ongoing media development - initially in Serbia but ultimately beyond that country's borders. With a diverse population in terms of languages and ethnicities, Novi Sad is a prime location for promoting public broadcasting networks in other Balkan countries.

This year the centers are planning to hold up to ten advanced training seminars. Two of the topics have already been decided: management consulting and project development. Journalism workshops are also in the planning, including training on boosting broadcasters' online presence and honing social media skills. Ideally, both centers will be self-supporting within five years.

The Belgrade and Novi Sad centers of excellence are currently being funded by Germany's Federal Ministry for Economic Cooperation and Development (BMZ).