In a rapidly changing, increasingly digital world, the issues of governance and media freedom involving both state and non-state actors and networks are paramount. Western, or more specifically, US conglomerates continue to dominate the global media landscape (including digital media). Major non-Western powers such as China and India, however, have also emerged onto the global scene, not only in the field of media but also with regard to wider governance aspects. Any meaningful discussion of media and development ought to take into account these macro-level changes, which I will outline below.

For more than a decade, we have seen countries such as China and India becoming leading economic powers. Since 2006, China has been the largest holder of foreign-currency reserves. On the basis of purchasing power parity, China's Gross Domestic Product surpassed that of the United States in 2014, making it the world's largest economy, according to the International Monetary Fund.

How does this influence the global media and communication environment? And what does it mean for the overall thinking on development and governance?

The unprecedented global expansion of Chinese media and communication networks over the past decade, for example in Africa, raises important questions of democracy and political pluralism in the rapidly changing media system of one of the fastest growing markets in the world. Such media interactions are taking place within the context of growing economic ties.

Today, more than a million Chinese citizens are living in Africa and 2,000 Chinese companies are operating in the resource-rich continent. Africa's telecommunication equipment industry, too, has become heavily dominated by Chinese conglomerates. Their presence has drastically brought down the costs of the African telecommunication industry, especially mobile services.

The most significant potential change is likely to be in relation to the Internet. China has the most Internet users in the world, followed by India, which surpassed the US in 2015 to take second place. Industry estimates suggest that the number of Internet users in India is expected to cross 500 million by 2016, increasingly driven by wireless connections, making it the world's largest 'open' Internet.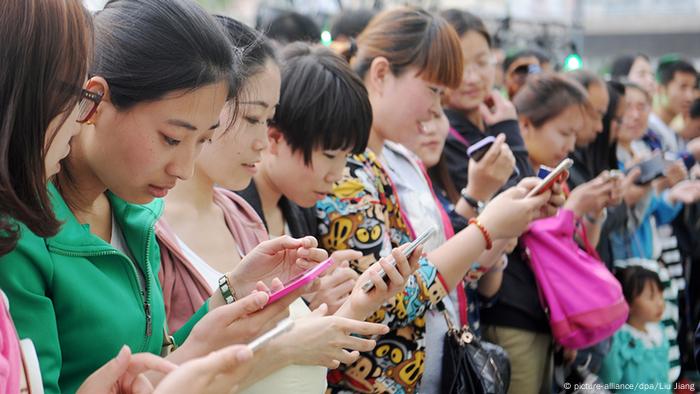 Women use their smartphones at a shopping mall in Taiyuan city in northern China
Such digital connectivity is likely to provide new circuits of global communication, where old hierarchies might be challenged and new configurations created. As in other fields, the emergence of China and India as serious global powers, coinciding with the crisis in the neoliberal model of US-led Western capitalism, will challenge traditional thinking on media, governance and development.

In fact, China and India are key members of the BRICS, a group of large non-Western nations that includes Brazil, Russia, India, China and South Africa. The establishment by BRICS of the New Development Bank to fund developmental projects, potentially to rival the Western-dominated Bretton Woods institutions such as the World Bank and the IMF, also raises interesting possibilities and problems in relation to global governance issues.

China is now the largest donor from the developing world, followed by India: Indian foreign assistance has tripled in the last decade, while Brazil has significantly increased its foreign aid to other developing countries. Though India's economic growth and prowess is no match to China's, on the basis of purchasing power parity, it was the world's third largest economy in 2015.

Will these enhanced interactions contribute to formulating a different discourse of development? Traditionally, development debates have been devised in the West and conform to a Western sensibility of what constitutes development.

Would a Southern developmental perspective be less affected by the colonial mindset? The Southern nations may champion a qualitatively different discourse and therefore provoke interesting questions with regard to media freedom, governance and sustainable development. Surely, any serious discussion about these fundamental issues will need to take the political and economic changes and power shifts outlined above into account.

This article is part of the #mediadev series "Building coalitions for media reform" where experts from the field of media, academia and development discuss the impact and interaction of media with other governance issues - and how media can fit into the broader development agenda.