In April 2020, Ukraine's public broadcaster, Suspilne launched "In Quarantine", a live, daily news program full of unbiased and useful information about the COVID-19 pandemic. The show proved popular with audiences with over five million views in just the first five days.
This modern-looking show featuring critical news and information was the culmination of four years of hard work and intense reforms by the broadcaster's journalists, editors, technicians and management. It was also a result of collaboration between Suspilne and public broadcasters from throughout Europe. DW Akademie and BBC Media Action supported the modernization of Suspilne with funding from the European Union and the German Federal Foreign Office.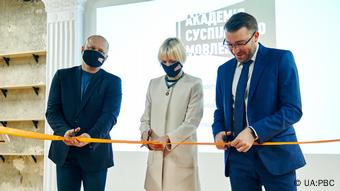 The opening of the Kyiv Radio Hub in November 2020 (from left to right): Zurab Alasania, Director General of UA:PBC (until May 2021), Annetta Pölking, a representative of the Embassy of the Federal Republic of Germany and Mykola Chernotytskyi, Director General of UA:PBC (from May 2021)
The goal was to turn a large public broadcaster from a Soviet-style state-run entity into a modern, reliable source of news and information. UA:PBC was created in January 2017 and rebranded as Suspilne,"public" in Ukrainian, in 2019. Today, Suspilne includes two national TV channels, UA:Pershiy, the first channel, and UA:Kultura, as well as radio stations and 22 regional outlets. According to analysis from the Institute of Mass Information (IMI), a Ukrainian media watchdog organization, Suspilne is now well regarded for its independent and unbiased reporting.
A new focus on training
As part of its public service mission to produce credible news and information, Suspilne organized over 100 media trainings last year alone through its two new hubs, one in Kyiv and one in Odesa. Through DW Akademie, trainings were offered in media management, leadership, mobile journalism, storytelling, among others.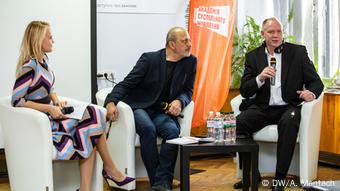 From left to right: Viktoriia Sydorenko, Director of Public and Media Relations at UA:PBC, Zurab Alasania, Director General of UA:PBC (until May 2021) and Carsten von Nahmen, DW Akademie Managing Director at a conference
Inna Grebeniuk, a member of Suspilne's Management Board, views the expanded focus on proper training – including organizational development training for management – as one of the main factors that have strengthened the broadcaster as a true public media service in Ukraine.
"This is a crucial aspect of UA:PBC's role as a public service broadcaster, which proved to be one of the main factors in strengthening the company as a true public media service institution in the country," said Grebeniuk.
Multimedia newsroom
The reforms and changes at Suspilne are continuing with plans to launch its renovated Newsroom 2.0 this summer. The team will be able to rely on an optimized newsgathering structure, a modern production system and high-quality equipment purchased by DW Akademie and BBC Media Action as part of the EU-funded project.
For Angelina Kariakina, the head of the Newsroom 2.0 Project, the newly designed newsroom staffed by a team of well-trained, multimedia journalists is at the heart of Suspilne's transformation. "We have been able to evolve from old fashioned, separate TV and Radio news teams into a genuinely multimedia organization with the greatest potential in the country," said Kariakina. BBC Media Action supported the transition to a more story-centric, multimedia newsroom by providing strategic consultancy, advice on designing workflow and trainings for the newsroom team. "It has revolutionized the way we cover major news stories and will allow us to reach vibrant, new audiences," said Kariakina.
Focus groups research facilitated by DW Akademie have shown that more still needs to be done in terms of raising awareness in Ukraine as to what public broadcasting is. Greater engagement with the audience would ensure that public support and government funding for Suspilne continues to grow in the future.
This article was first published in DW's magazine Weltzeit.