"We will provide you with the information you need to seize opportunities for positive change in your community through our podcast 'Malawi Watch'."
This is from a trailer that was produced as part of a DW Akademie podcast training that took place in Windhoek, Namibia, in December. The training included podcasting basics and skills for developing, producing and distributing a podcast.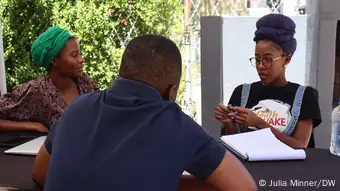 Participants came together in Windhoek to learn the how-tos of podcasting
Fourteen participants from Namibia, Lesotho, South Africa, Malawi and Zimbabwe took part in the five-day program at Namibia Media Trust (NMT). By the end of the week, every participant produced a podcast trailer.
Winston Mwale, founder and editor of AfricaBrief, a news story aggregator, produced the trailer for "Malawi Watch".
"I think that podcasting has the power to reshape the media landscape in Malawi by giving diverse voices a platform and facilitating the discussion of significant issues in a way that is more interactive and engaging," said Mwale.
Reliable information on demand
People need access to reliable news and information. Podcasts allow producers and journalists to go deeper into critical topics and engage with their audiences. They are also popular because many people seek individualized content whenever or wherever it suits them.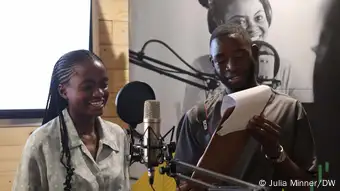 Podcasts allow journalists to go deeper into critical topics
"Podcasts, in particular, can be used to reach a wider audience, to promote dialogue and discussion on important topics, and to create content that is tailored to the needs of identified audiences," said Zoe Titus, the director of Namibia Media Trust, a DW Akademie partner.
The training in Namibia was part of DW Akademie's PodcasTraining project, a module series developed by experts and tailored to the needs of different media outlets. Supported by the German Federal Ministry of Economic Cooperation and Development (BMZ), the project works with partners around the world to foster the growth and adoption of podcasts, especially in crisis regions. The training in December was the first in Southern Africa.
"Our partners across Southern Africa are very interested in expanding into podcasts and our associated training modules," said André Surén, head of unit, Southern Africa and Special Projects, DW Akademie.
Subscribe now!
During the training, the MethodKit for Podcasts toolkit helped participants shape their podcast ideas, spurring discussion on topics from choosing a name to sound design to distribution.
The participants were led through the training by Julia Minner, project manager and trainer for the PodcasTraining project at DW Akademie and Gilles Hermann Kom, a podcast producer and trainer from Cameroon who also assisted in developing the MethodKit.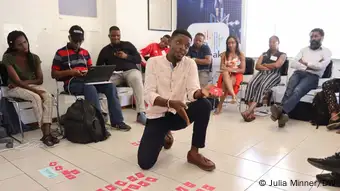 The MethodKit for Podcasts helped participants shape their ideas
"I enjoyed every minute of training with this group of talented journalists," said Kom, "from discussing topics important to their diverse communities to hands-on studio sessions. I'm looking forward with excitement to what they will create."
Participants had the option of an additional three months of coaching and seed funding to produce up to five podcast episodes.
"I was able to get out of my comfort zone and was excited to learn how to fully produce a podcast from scratch," said Elizabeth Ipinge, an NMT project officer. "I can truly say now that my podcasting skills have been polished!"