As the UN marks halftime for the Agenda 2030, the Sustainable Development Goals Report 2023 shows that "we are leaving more than half the world behind." It concludes: "Unless we act now, the 2030 Agenda could become an epitaph for a world that might have been."
To cut a long story short: the progress towards achieving the SDGs identified in the mid-term review leaves a great deal to be desired. For that to change, we must work on strengthening the right to freedom of expression. That is the conclusion of this year's report on sustainable development and freedom of expression written by Irene Khan, the UN Special Rapporteur on the promotion and protection of the right to freedom of opinion and expression.
Leaving no one behind: Between vision and reality
The transformative promise of the 2030 Agenda for Sustainable Development is to leave no one behind and focus on the poorest and most vulnerable. To fulfill this promise, Khan says we need both access to information and effective participation of youth, Indigenous communities, the media, human rights defenders, and civil society actors. That can be achieved only if the human right to freedom of expression is systematically strengthened worldwide. We need independent media outlets that provide all people with reliable information and give them a platform.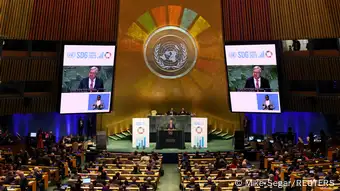 At this year's SDG summit, heads of state and government gathered to review the implementation of the Agenda 2030
Along with girls and women, people with disabilities, and Indigenous communities, marginalized groups also include journalists and activists: "Against a background of rising authoritarianism and shrinking civic space, journalists, environmental activists, trade unionists and human rights defenders are threatened, attacked and killed in many countries. The voices of young people calling for gender equality and social, economic, environmental and climate justice are crushed," Khan states. SDG 16.10 – ensuring public access to information and protect fundamental freedoms – illustrates how important freedom of expression is for sustainable development. To make this SDG a reality, free media is key. Irene Khan elucidates: "Free, independent, diverse and pluralistic media fulfil the public's right to know as well as the individual's right to freedom of expression."
Interlinked nature of the Sustainable Development Goals
The Special Rapporteur declares freedom of expression as an enabler of sustainable development and emphasizes its value for exercising other rights, such as the rights to health, education, water, and a clean environment. This is reaffirmed in the Sustainable Development Goals Report 2023, the UN official report that monitors global progress on the 2030 Agenda. With reference to the Escazú Agreement, the report says: "The 2018 Regional Agreement on Access to Information, Public Participation and Access to Justice in Environmental Matters in Latin America and the Caribbean can facilitate implementation of global sustainable development agreements."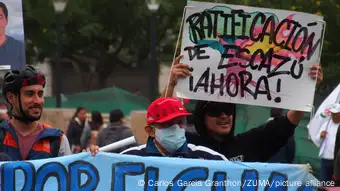 Activists in Peru demanding the ratification of the Escazú agreement in 2022
Yet, the Escazú Agreement also illustrates the gap between the improved normative standards for access to information and the political realities. Laws on access to information have been passed but are often not complied with in practice. For that reason, Khan argues that fulfilling the promise to leave no one behind can only succeed if not only access to information but also effective participation is ensured.
According to Irene Khan, it turns out that "good practices and good results on sustainable development are emerging where multi-stakeholder partnerships have built transparency and trust, the media have been able to operate with freedom and independence to expose corruption and wrongdoing, and civil society has enjoyed the space to participate in development processes and contribute with ideas, opinions and information."
SDG report fails to address freedom of expression and disinformation
Despite its importance for human development, freedom of expression is not mentioned even once in the Sustainable Development Goals Report 2023. The same goes for the need to tackle the threats posed by disinformation. UN Secretary-General António Guterres already pointed out earlier this year that we must shore up information integrity on digital platforms, especially considering the spread of online hate speech, misinformation, and disinformation, which is exacerbated by the rapid development of generative artificial intelligence.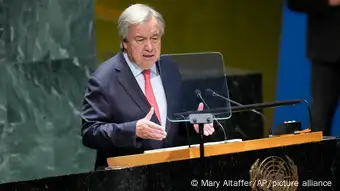 UN Secretary-General António Guterres addressing the UN General Assembly in September 2023
The disastrous consequences of false information are not limited to the digital world but impact whole societies and, ultimately, hinder substantial progress in sustainable development. "[M]isinformation and disinformation online are a serious threat, not only to freedom of expression, but also to life, health, gender equality, effective response to climate change, humanitarian crises and a host of other issues relevant to sustainable development," Khan writes. She reaches the same conclusion in her most recent report "Gendered disinformation and its implications for the right to freedom of expression", which is dedicated to the phenomenon of silencing the voices of women and gender nonconforming persons.
It is about nothing less than human rights
Crucially, Khan draws attention to a central feature of sustainable development: "The Agenda [2030] acknowledges that development is sustainable, not only because it incorporates economic, social and environmental dimensions, but also because respect for human rights makes it just, inclusive and transformational." She sheds light on the fact that the SDGs and their associated targets include some 20 commitments relating to participation, expression, and information. Human rights are not an add-on to the SDGs, but inherent to them. Accordingly, Human Rights Watch points out world leaders' persistent failure to address the neglected global human rights crises and claims: "Officials should stop looking at Sustainable Development Goals as optional, but instead see them as vital and obligatory rights."
Then again, freedom of expression, access to information, and pluralist media landscapes are not an end in themselves but essential requirements for vibrant civil societies, good governance, functioning democracies, and sustainable development. Having that in mind, it becomes acutely important to uphold access to information and freedom of expression, failing which, things look bleak for making the Sustainable Development Goals a reality any time soon.