The project, financed by the Federal Foreign Office, began in Benin City, Nigeria. Six German journalists traveled there to meet six Nigerian journalists, with whom they would spend the next four weeks working on the difficult issue of human trafficking - starting with two weeks in Nigeria, followed by two weeks in Germany.

Their common goal was to see for themselves how their respective colleagues worked and to learn and benefit from one another in all aspects of production. They planned to conduct research together, establish new contacts in the respective countries and to produce films on the issue of human trafficking.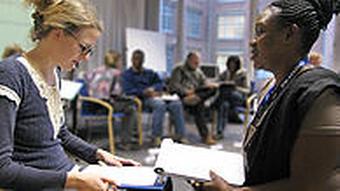 In Nigeria, the participants interviewed victims, investigators, and members of non-governmental organizations (NGO), all of whom described their own perspectives on the issue of human trafficking. The group also met the regional head of the National Agency for the Prevention of Trafficking in Persons (NAPTIP), the regional deputy director of Nigerian Television Authority (NTA) and a former Juju priest.

The itinerary in Germany included a visit to the Federal Office of Criminal Investigation and meetings with Frankfurt police responsible for investigating human trafficking, as well as interviews with a state prosecutor and various NGOs working against human trafficking. The participants gathered further information from the German Foreign Ministry and also met the chairwoman of the Bundestag's committee on human rights, Herta Däubler-Gmelin. They also held a discussion with the Austrian journalists, Mary Kreutzer and Corinna Milborn, whose book, "Ware Frau - Auf den Spuren moderner Sklaverei von Afrika nach Europa" ("Women as Goods - Tracing modern slavery from Africa to Europe") was published in the Spring of 2008.

Their day-to-day schedule was a busy one, packed with meetings, filming and production activities. But in all, the 12 Nigerian and German journalists had just 20 days to realize their films in an intercultural context. During this time, they made six films which deal with the issue of human trafficking in a variety of ways.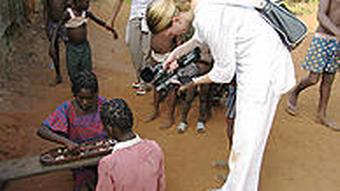 The films show the role of the Nigerian Juju religion in the trade in human beings, the experiences of a former Juju priest, the work of a Nigerian investigator and that of a German police officer. They also include a portrait of a victim of the trade in human beings, and of a German man who frequents brothels, who helped international investigators smash a major Nigerian human trafficking ring.

Some of the material has also been shown in Nigeria by African Independent Television (AIT) and on DW-TV.