DW Akademie's new Media and Information Literacy (MIL) Flashcards are hot off the press. The cards help to explain the five MIL competencies and DW Akademie's approach to teaching MIL and working with partner organizations. The Flashcards use five superheroes who each embody one of the MIL competencies that help people consume and produce media responsibly: Access, Analyze, Create, Reflect and Act (AACRA). Their mission? To help young people around the world navigate an increasingly complex media landscape.
It makes no difference if you are a young person in rural Moldova, in the Palestinian Territories or on the outskirts of Windhoek, the capital of Namibia. You are keen to connect and take part through media and social networking platforms, be it in your community, your country, or the world. Once you have jumped into the flow of media and information streams the challenges become obvious: mis- and disinformation, propaganda, hate speech, digital security, cyberbullying — the list goes on.
AACRA's skills help citizens to navigate and find direction when it comes to their media usage, recognize challenges and risks, and make the best of opportunities. They are at the core of MIL learning and are at your service.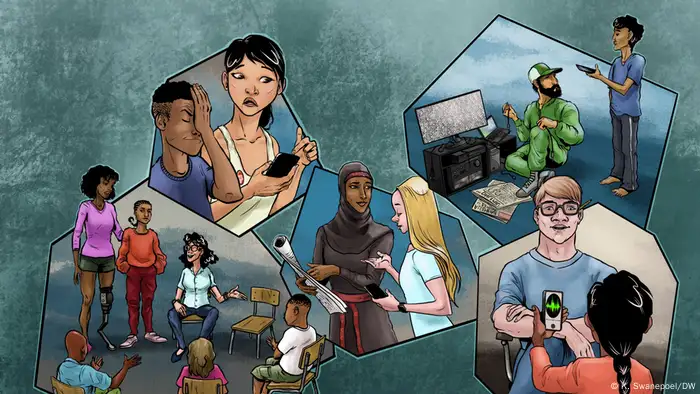 MIL superheroes working with young people around the world to solve MIL challenges.
How do the flashcards work?
The scene: You are preparing for a meeting with a possible MIL partner organization, stakeholder or funder. Or maybe you need to deliver an overview of DW Akademie's MIL approach at a conference.
It takes time and effort to piece presentations together. What are the core thoughts around MIL? What are the current issues and debates? How does DW Akademie view MIL? How do you structure such a presentation? And.. how to put that all into a nutshell? The Flashcards are an aid for all of that.
DW Akademie MIL trainer Joost van de Port teamed up with the head of DW Akademie's Digital Sphere department Roslyn Kratochvil Moore and conceptualized a new approach for the MIL Flashcards with Namibian illustrator Karel Swanepoel. The result is a colorful and intriguing set of cards with text and illustrations that tells the story of MIL, the DW Akademie approach and how we support our MIL partners across the globe. It's more visual, with a strong narrative, and text that is detailed but concise and condenses the complexities of MIL into a nutshell.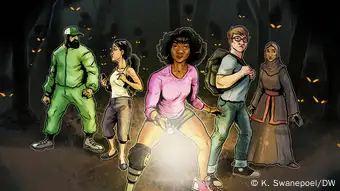 DW Akademie's MIL superheroes on their journey thorugh the media landscape.
Capturing MIL is not easy
MIL is notoriously difficult to capture visually. The field is vast and complex and the issues are often hidden and abstract. The challenge was how we could be engaging, fresh and avoid a clutter of words and distant concepts? How can we make sure that we communicate MIL through human stories, expressing how issues affect people on all continents? In addition, how do we bring the wealth of diversity in the MIL community to the surface, visualized in a set of cards that must reflect DW Akademie's work with our partner organizations in more than 20 countries?
We decided on an illustrated "nutshell story" that stands out from the usual stream of text, videos and photos. The crucial point of departure was that the story should be visualized by a local artist or illustrator who could best relate to the target audiences and local issues. This also reflected the decentralization drive that DW Akademie has embarked upon to highlight the skills and knowledge of our partners and include their voices in internal communication. The flashcards will also be translated into additional languages in 2021.
We all need our heroes
The ongoing possibilities for the "five heroes" concept are promising. Each hero can tell their own story in a comic strip or even animation like the "Journey of Reflect", the "Adventures of Act", the "Works of Create". Giving concepts a character opens the door to telling stories that feature these characters. It gives them a face and with that a proven way to reach the heart of the audience and their attitudes. We all need heroes to guide us, to see how they deal with venturing into the unknown and how they make the best of it.