"The Media 101 MIL Club is more than just a club for me", says Solinda Phal, a student at Paññāsāstra University of Cambodia. "I feel like I am part of a giant family where I can study happily and learn about topics related to Media Information Literacy." Solinda Phal was one of the first students to take part in the advanced MIL Club earlier this year. Its curriculum is a step up from what students learned in the basic MIL Club, which local MIL trainers have taught for many years.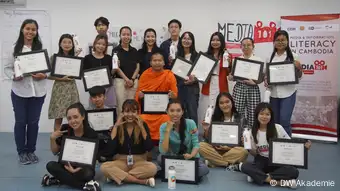 Learning should be fun and practical. That simple fact partly explains the appeal of the MIL Clubs for university students in Cambodia. DW Akademie and the Cambodian Center for Independent Media (CCIM) created these clubs more than five years ago. Since then, hundreds of students have explored different aspects of media through the club. The local Cambodian trainers guide them through topics like video storytelling, the pros and cons of social media, how to fight disinformation, or how to take better pictures with your smartphone.
Lida Hok is CCIM's Project Coordinator for the MIL Club and ensures everything runs smoothly. Over the years, the MIL Club has become one of CCIM's key programs and anchored MIL in the NGO's goals and activities: "it aligns with the organization's mission, which builds Cambodian youth competence in Media and Information Literacy," says Lida.
The basic MIL Club curriculum is made up of 20 sessions. Each of these 90-minute meet-ups, starts with a media-centered game that sensitizes the students for the day's topic in a fun way. The rest of the session consists of short input parts, discussions, and practical media production exercises.
Students actively engage in each session, discuss at eye-level with the young trainers and learn from one another. The sessions empower them to use media responsibly and to contribute to the public dialogue using media.
Students often asked for more training when they had completed the full curriculum of the basic MIL Club. So, the local trainer team and DW MIL experts Sylvia Braesel and Thorsten Karg jointly created a curriculum for an Advanced MIL Club.
The ten sessions of the Advanced MIL Club curriculum are three hours each. They cover topics such as podcasting, vlogging, online safety, or Facebook Live. The session on digital security even ventures into aspects such as facial recognition, AI, encryption, or using VPN networks. In addition, each session includes "training of trainers" elements, where the club participants can explore teaching and training short segments and get feedback from their peers and the trainers.
Namheang Chhoeurn, another Advanced MIL Club alumna, sums up the experience. "I always tell my friends: if you're looking for a weekend activity that shapes your understanding of social media and provides new skills in creating media content like vlogging, that helps you make new friends and have a blast, then Media 101 is the right place for you," she said.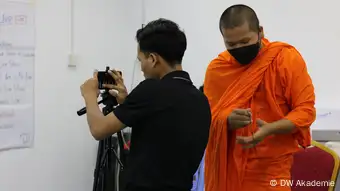 The team of local Cambodian MIL trainers taught the Advanced MIL Club curriculum for the first time earlier this year. Afterwards, the trainers discussed their experiences with the partnering MIL experts: what worked well, and what didn't for students, as well as for the trainers. Then, they hammered out the dents in the curriculum and streamlined it together.
These updated and improved Advanced MIL Club session plans, which are available to download, can easily be adapted for other target groups in other countries. But please beware: some topics are in flux because of technological developments or because platforms and apps are changing. So, trainers are well-advised to research and possibly update individual session plans before going into the classroom.
The results will be worth the effort, as alumna Solinda Phal explains: "I believe that becoming a member of the Media 101 MIL Club family is the most gratifying thing that I have done during my university life."