At the first rehearsal of the student choir with the Tunisian National Orchestra (ONT), Sabri Mili, a 14-year-old student, sang along enthusiastically. He was completely immersed in the music and almost forgot that he was being filmed. Several students holding smartphones moved swiftly around the musicians. They even dared to get close to the austere-looking conductor with his baton to capture video material.
For two weeks, a special mood prevailed at the Mannouba Youth Centre. Classical music emanated from the rooms of the small whitewashed house. Professional musicians from ONT practiced percussion, violin, violoncello or nai, a type of pan flute, with students of the Collège et Lycée Ibn Khaldoun in Tunis for a joint public performance.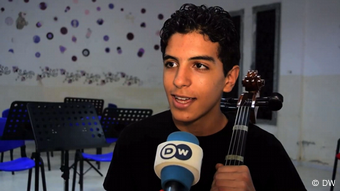 Music and journalism – a perfect combination for 14-year-old Sabri Mili.
Expressly allowed: smartphones at orchestra rehearsals
Sabri Mili had to manage his time well because he had set out on a double mission. When Sabri was not singing in the choir, he was studying something else in the only room without music: the editorial office. A workshop on smartphone video production complemented the musical project. The students learned how to produce videos in small groups – topics ranged from music lessons to rehearsals.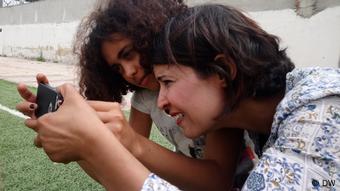 DW Akademie mobile reporting trainer Mabrouka Khedir supports the students in filming with smartphones.
The 14-year-old did not want to choose between singing or the mobile reporting workshop. That is why his 16 young reporter colleagues gave him a leading role in their smartphone reports. He gave interviews, quickly ran off for choir rehearsal, returned and helped with the editing. Sabri Mili and the other young people then edited the footage on their smartphones. The videos are to be published on Future Lab Tunisia's Facebook page.
Sabri already had previously gained some media experience as a presenter at the youth center's web radio station. "I like journalism a lot," he said. "Working for the media is my big dream and mobile reporting is a whole new field for me," he added. He paid close attention to what trainers Mabrouka Khedir and Janine Stolpe were saying. What setting or sizes are there and what are they used for? What distinguishes YouTube clips from news journalism? And how do you develop a storyline?
Afterwards, the students put what they learned into practice. Sabri and his group filmed the choir. He was quite satisfied with his first video. "I can now shoot reports quite simply with my mobile phone. I learned how to produce good quality material and how to shoot professionally with a smartphone camera," he explained.
Finding own perspectives
For Daniela Wiesler-Schnalke, head of DW Akademie's media training, it is important "to give the young people a voice in the media by finding a unique point of view, adopting their own perspective and working on shaping public perception." For most young people, this is a new experience "which hopefully gives them more self-confidence and inspiration to shape the future."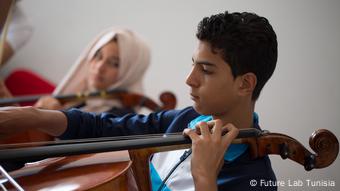 From cello playing to professional smartphone videos: Sabri Mili has learned a lot of new things in the project.
The Deutsche Kammerphilharmonie Bremen launched their future lab in Germany in 2007. The aim was to give disadvantaged young people access to culture and music. Digital media skills and film production fit well into this concept. In any case, Sabri Mili was impressed. He said, "I always wanted to make films and what I have learned here will help me in the future."