Let's not be mistaken - Media and Information Literacy (MIL) is not a new arena. Many experts have been working in the domain since the 1970s. Nevertheless, it is now growing at rapid speed and has the international institutional backing it deserves. The global dynamic is far reaching, tangible and electric. Things are happening and those in the field can feel it. What used to be a niche group of academics, educators and librarians is now a diverse movement which includes also development experts, technologists, social media professionals, journalists and activists. The field is gaining international reach, respect, enthusiasm and value. It is evolving fast and reaching many people in the world who are working on MIL related projects but didn't even know it. MILEN member Nadine Gogu (Independent Center- Moldova) emphasizes "media literacy is in continuous flux, year-by-year we see more and more people who think critically when analyzing media content".
The bright and the dark side of digitalization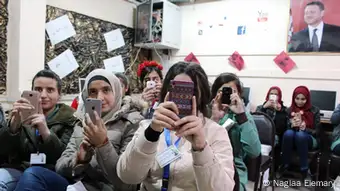 Empower media literacy at schools!
2018 has seen a shift in the entire MIL domain since the topic of "fake news" has become a household discussion point and the EU–report "A Multi-Dimensional Approach to Disinformation" cited MIL as one of the most important antidotes to disinformation- stressing the need for more investment, thus giving MIL a wider reach and impetus. Social media, and the internet as a whole, has empowered citizens to access more information, to create their own media, to voice their opinions and to reach a much wider audience (in some cases even global). Nevertheless, it also has a dark side. Not everyone has access to the internet or to social media so the information divide widens. Coupled with this are the negative elements lurking online and on social media. These increasing opportunities for creating, producing and manipulating content means citizens are more exposed than ever before to false, fake, misleading, or hate inciting information. The need to be able to identify them is paramount.
The rise in digitalization resulting in more access to information of all kinds and the changes in media ecosystems has reached a point where interventions need to be made on the user side. It must be ensured that active participation and informed communities enrich and benefit society in a positive way. It is vital that citizens are equipped with the necessary tools to navigate their media and information journeys and are encouraged to be active, engaged and responsible participants.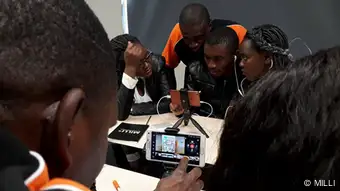 Living in an increasingly digital culture.
MIL - a worldwide trend
As a result, funding for MIL activities has increased and now there is more awareness and demand for MIL projects worldwide. In this arena it is essential that there is an opportunity to learn from others, to explore different approaches, to be aware of the diversity of MIL activities already taking place all over the world and to be part of developing best practice. It is in this light that DW Akademie convened the Media and Information Literacy Expert Network "MILEN" - Global innovators in media literacy in April 2018. The network brings together 12 MIL experts from across Africa, Asia, Europe, North Africa & Middle East, and Latin America to raise awareness about MIL globally - to bring enthusiasm along with examples of best practice, to share different voices and approaches.
For Eddie Avila fromRising Voices (Bolivia) it is important that MIL embraces and includes the many different elements and approaches taken by different organizations and projects around the world. He finds the diversity of experiences reflected in MILEN, and being able to share resources and ideas with fellow network members extremely helpful in our work."I'm looking forward to seeing how the network can continue to strengthen the efforts of MILEN members, but also how the network can provide support to others working in the field of MIL" explains Avila. MILEN aims to help support, develop and promote new initiatives in the MIL field and to feed into the existing GAPMIL (Global Alliance for Partnerships on Media and Information Literacy) and MILID (Media and Information Literacy Intercultural Dialogue) networks.
MILEN members are "firmly rooted in practice, each of them has a recognized expertise and proven track record in the field, contributing in a unique way to freedom of expression, an open and diverse debate, equal access to technologies and information, and empowering critical media consumers and producers. They share the vision that MIL education is a critical tool to prepare citizens for a responsible future in an increasingly globalized world" (MILEN White Paper).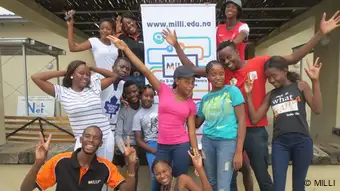 Learning with fun at a MIL training in Namibia