Nader Alsarras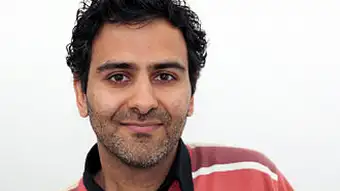 Nader Alsarras
I took an interest in the German language and German literature from an early age. At the time, Germany was still a far-away country. All I knew about it was what I learned during German lessons at a German school in the Palestinian town of Beit Jala, where I grew up. I began learning German at the age of eleven and I still remember looking for German radio stations on my little radio before going to bed. The sound was not very good and I could only understand bits and pieces with my limited German skills but it fascinated me nonetheless.
In late 1998 I came to Germany to study literature. During my studies in picturesque Heidelberg I got involved in a student theater company and began writing theater reviews for a small magazine and articles about cultural events for a newspaper. At the same time, I regularly visited Deutsche Welle's Arabic-language Website to get a German perspective on issues and current events in the Arab world. Even then I was very interested in the International Traineeship at Deutsche Welle and I had already made the decision to apply for it as soon as I finished my degree in German language and literature.
And now I have made the jump from the banks of the Neckar to the majestic Rhine! I am pleased to be receiving solid journalism training at Deutsche Welle and hope to make my own contribution to international reconciliation and cultural dialogue.

Bachir Amroune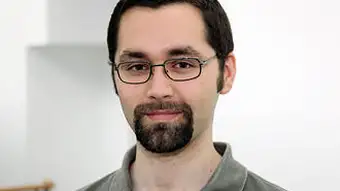 Bachir Amroune
Towards the end of the 1980s there was a veritable boom in the satellite dish business in my native Algeria. But it's well-known that television is not good for you and our family was loathe to follow every little fad so it took us several years of persuasion before our father finally gave in. When we finally got one of these miraculous devices, it was the dawn of a new era for my family. We would be glued to the television set as we watched the goings-on in the various soap operas and chat shows that dominated German TV programming at the time.
While the private stations supplied us with enough vocabulary and idioms to make it easier for us to learn German, it was DW that first taught me that TV news does not necessarily have to be composed of hour-long reports about even the most banal activities of presidents. This had a decisive effect on my opinion of what constitutes serious news. When my family moved to Germany in the mid-1990s, we lost sight of DW. We no longer needed a satellite dish to receive German stations - but we couldn't get DW with a normal antenna.
It wasn't until many years later, while I was at college, that I found out that DW also broadcasts to the Arab world in Arabic. I did a two-month internship with the Arabic department and applied for the International Traineeship.
It's funny: DW now provides me with a link to the Arab world, just like it provided me with a link to Germany during my childhood. I hope to use this link to make my contribution to offering people an opportunity to broaden their horizons.

Tetyana Bondarenko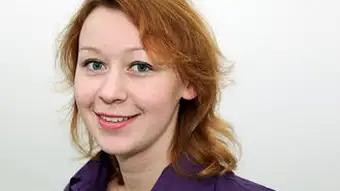 Tetyana Bondarenko
"…I hereby apply again for the International Traineeship with Deutsche Welle…" I'll never know whether it was my perseverance that persuaded the jury to give me a place. What I can say for sure is that I embarked on a lengthy journey to fulfill my dream of getting the International Traineeship at Deutsche Welle, so highly regarded in the world of journalism. I traveled the 2,000 kilometers from Kiev to Bonn, spent five years studying media and cultural sciences in Dusseldorf, completed numerous practical placements and internships and spent countless days and nights far away from my family …
Like so much in life - it all began through coincidence. While studying English language and literature in Ukraine, I got an insight into how a news agency works: for twelve hours a day, for a whole month. I found myself in an interminable tide of information - a surreal yet realistic experience. But anyone who has tasted the power of the gatekeeper is loath to relinquish it.
So I decided, instead of teaching my students English, to bring the world a bit closer to the people. How? With my eyes, my voice, my powers of perception, with the Deutsche Welle - the DW which succeeds not only in building bridges between my homeland, Germany and the rest of the world, but also in making people aware of just how much we need these bridges.

Ognjen Cvijanović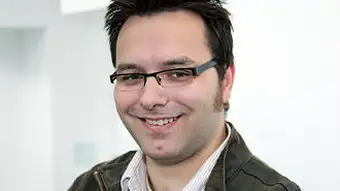 Ognjen Cvijanović
I was born in Serbia but spent a large part of my life in Greece. Especially at times when there was war in my homeland. Even as a child, I was aware of my political consciousness and began closely following the political news. The air strikes on my country were continuing. We were living in a small apartment in Athens, 1,500 km from Belgrade. I remember how my father, with his ear to the radio, would say "Quiet now, DW is about to go on air." Since then, DW has been etched in my memory as a synonym for objective and fair news that presents the facts as facts.

Later, I was to pursue my interest in politics more closely when I started studying in Germany. In some courses, the lecturers would ask us to observe reports by correspondents and interviews with politicians and analyze them as part of our studies. Deutsche Welle was one of the most important sources for my research. It was during this time that I began to pay closer attention to questions and content. I would imagine various situations and how I would go about conducting an interview to get as much information as possible. It was then that I realized that I want to become a journalist.
And now I want to use the International Traineeship at Deutsche Welle to learn for myself how to ask the right questions….

Anggatira Gollmer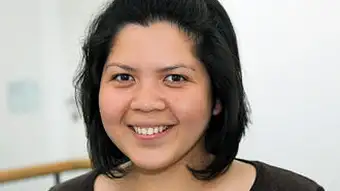 Anggatira Gollmer
I never would have thought that one day, I would be working for Deutsche Welle. The media always fascinated me as a child but I never had ambitions to become a journalist. My dream was to become an artist. Like many other children in my school, I read a lot of Japanese comics. I loved the combination of pictures and stories. I have always enjoyed drawing and I, too, wanted to tell stories with my pictures some day. Unfortunately, I never had the confidence to apply for art school.
But the desire to work with pictures and stories and to learn new languages remained. So I decided to study media sciences in Germany. "One day, I will have my own television show," I thought to myself. Towards the end of my studies I did an internship at Deutsche Welle. It was my first encounter with the world of journalism. I spent six months with the Indonesian service, where I compiled numerous reports and interviews.

That gave me the confidence to apply for the International Traineeship. I am now looking forward to working with people from different cultures, who will enrich me and my work. And maybe some day I will indeed tell stories with pictures. Perhaps on DW-TV!

Mona Hefni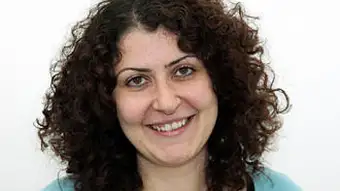 Mona Hefni
I'm a hotchpotch of Arab and German culture. Having spent my youth in Germany, Egypt and Belgium, I have been heavily influenced both by my German schools and friends and my family in Egypt. This is why I am fascinated by different cultures and backgrounds. And just as I enjoy using the media from both cultures, I want to help shape and form them too.
As a producer and reporter in the Egyptian media, I found myself very restricted, as I was 'only' allowed to address Egyptian issues. It wasn't until I became a presenter with Radio Cairo that I finally got some fulfillment, because I got the chance to write programs in German about current topics in both Germany and Egypt. At the time, I followed DW-TV very closely. I was fascinated by the way in which Deutsche Welle is building a cultural and media bridge between Germany and the Arab world.

My interest in the media and culture prompted me to do a master's, in order improve my academic expertise in the field of media. By chance, I stumbled on the online advertisement for the International Traineeship and realized it was my chance to do something I consider very important in this day and age: to make a contribution to improving cultural understanding and relations between people in Germany and the Arab world.

Basak Özay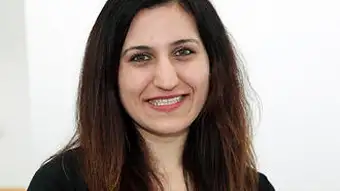 Basak Özay
The Little Black Radio and I
I don't believe in coincidences.
When I was a child, my father worked as a teacher in Germany. Once, he brought back a little black radio that could also receive short-wave. In the days when television had yet to offer radio the kind of competition it does now, this little black radio dominated our lives. We listened to the news on the radio every day. Ever since then, the name "Deutsche Welle", or, as we used to say in Turkish back then "Almanya'nın Sesi" - the voice of Germany - has been familiar to me.
Many years later I encountered the name "Deutsche Welle" once again. This time, it was in the German-language magazines and newspapers at the Goethe Institut, where I had begun learning German. When I completed my business studies in Turkey I came to Germany to do a master's in European law.During a practical placement in Brussels, a journalist asked me "Do you want to report for us on the negotiations between the EU and Turkey?" My passion had been woken and my answer was clear: "I'd love to." My time in Brussels came to an end but my passion for journalism remained.
It was then that Deutsche Welle popped up in my life for the third time. I got a positive response to my application for an internship with the Turkish-language service at Deutsche Welle, and I finally had the feeling that I was on the right road. After my internship, I worked for DW as a freelancer for two years.
Today I am very happy to be back learning and working at Deutsche Welle as part of the International Traineeship program. Deutsche Welle has become the center of my life - no longer in the form of a little black radio, rather as a meeting place for freedom of opinion, creativity, diversity and, of course, my own voice.

Irem Özgökceler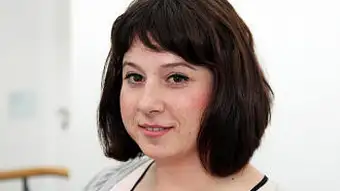 Irem Özgökceler
It all began in Hildesheim… even as a child, I dreamed of becoming an interpreter and multicultural, polyglot, international war reporter. Through my studies in Istanbul I succeeded in fulfilling the first part of the dream: becoming an interpreter.
After twelve years in Turkey, I returned to Germany to bring the remainder of my dream to fulfillment. I studied media and cultural sciences here, which gave clearer contours to my media and cultural knowledge. My love of photography, of capturing people from different cultures on camera, capturing a moment for eternity, was not enough. I wanted to record my knowledge and culture in words as well as images. After intensive research I came across Deutsche Welle and completed an internship there. After the internship, the dream of the International Traineeship came true.
I have reached my destination on a journey "Longing for New, Faraway Cultures" - right here at Deutsche Welle. Here, I can access the whole world with a few footsteps. With my two cultural backgrounds, I find myself right in the middle of DW's cultural diversity. Both the German and Turkish parts of me have benefited from my good fortune to be a part of Deutsche Welle.

Shenjun Liu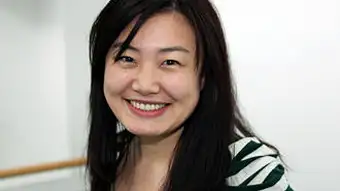 Shenjun Liu
"Zhe li Shi deguozhisheng, Deutsche Welle" - I was just fourteen when I happened to hear these words on the radio in my little room in northern China. I knew immediately that I had discovered another world. Deutsche Welle was my gateway to the outside world. Numerous stories, interesting cultures and foreign languages awoke my interest in Germany. Nine years ago I landed here, in a country I had hitherto only "heard of."
In the meantime, I have completed my studies in film and television at the University of Bochum and have been working as a journalist ever since. In 2007, I discovered on the Internet that you can apply for International Traineeship at Deutsche Welle! This was something I never would have dreamed of. And now, at last, after two years, my dream has come true: I'm a trainee at DW.
The new work environment is a challenge for me. I'm curious and I'm sure I will have to learn a lot of new skills. But one thing I already know for sure. Deutsche Welle will be thew perfect gateway to discover fabulous, fascinating worlds.

Chi Viet Giang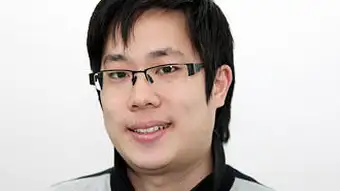 Chi Viet Giang
Three with one blow!
If I had to attach a label to my forehead, it would read as follows: multicultural, international and versatile.
Multicultural, because my parents are Chinese people born in Vietnam. In 1978, they were among the wave of 'Boatpeople' who came to Germany. I was born in Koblenz in 1980. Having grown up in a Buddhist family, I completed my school education at a Catholic school.
International, because I spent my student years in Cologne, Taiwan and China. I traveled to Tokyo, Taipei and Hong Kong researching my thesis on "The Legal System in Taiwan under Japanese Colonialism."
Versatile, because my studies have made me a true all-rounder. I completed my degree in East Asian Studies in the summer of 2008. Modern Sinology studies include Chinese politics, business, culture and literature. I took law as a minor subject.
Equipped with these three assets, the next question is what environment would suit me best? No debate - it's Deutsche Welle. During the Olympic Games in Beijing I worked for NDR in Hong Kong as a stringer - it was my first encounter with journalism. For me, DW headquarters in Bonn is a microcosm of the world. People of diverse nationalities work together in different languages - and 'together' is the operative word! DW Akademie's International Traineeship is giving me the chance to get further education in three media. For me, that also makes Deutsche Welle multicultural, international and versatile.