The Project was developed by the German film director Tom Tykwer and DW Akademie. "It's about making African films from Africa, not about Africa," says Andrea Rübenacker, Africa Division Manager at DW Akademie. Hence, "FilmAfrica!" combines training elements and the production of a ninety-minute feature film. Beginning in August, there will be a series of workshops in Nairobi: about 60 young filmmakers from Kenya and neighboring countries will hone their skills in script writing, directing, camera work, production, sound design, production design and costume and make-up. Then, in October, the most outstanding participant in each workshop will get the chance to take part in the making of the next FilmAfrica! movie.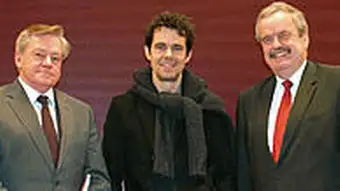 The project is financed by the German Federal Ministry for Cooperation and Development (BMZ). At the launch, held at the BMZ in Berlin, State Secretary Hans-Jürgen Beerfeltz emphasised the good working relations with Deutsche Welle. "This is a long-term cooperation with plenty of scope for expansion." Deutsche Welle's director-general, Erik Bettermann, also hailed DW's involvement in the project, which was arranged at very short notice over the past few months. Betterman said DW's work in and for Africa was ideally suited to its mandate. For director Tom Tykwer, films such as "Soul Boy" portray Africa's rich and vibrant culture: "If we can maintain this standard we will have something we can show with pride anywhere in the world. Strong images, authentic stories, and support from experienced filmmakers - that's the formula for FilmAfrica!"
And the pilot film "Soul Boy" appeals to audiences - at film festivals for example, such as the Berlinale. Viewers at the BMZ were also enthusiastic: "Great film"; "Really good pictures"; "very well made" were just some of the comments heard. And in Kibera - the film location and Nairobi's largest slum - the actors and thousands of residents watched the film at their own open-air premiere.