The Palestinian Center for Development and Media Freedoms (MADA) was founded in 2006 as a non-governmental organization made up of Palestinian citizen journalists. MADA is committed to freedom of expression and media, as well as free access to information. As its partner organization, DW Akademie mostly helped the NGO inform the public about the Electronic Cybercrime Act passed in 2017. MADA is active in the Palestinian territories and documents violations of freedom of expression and freedom of the press on the Israeli and Palestinian sides. Since 2010, the NGO has also been offering free legal advice and helping journalists who are being tried in court. Also, the organization conducts workshops and training courses on topics like self-censorship and media law. One of its current projects is run specifically for women in journalism. In 2016, MADA was granted special consultative status on the United Nations Economic and Social Council (ECOSOC).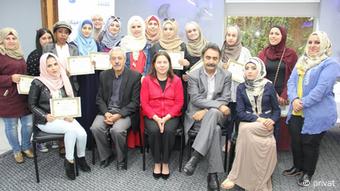 Mousa Rimawi (front row, second from left), after a workshop for female journalists.
Mousa Rimawi talks about his work:
"I am a Palestinian journalist who worked in print media for many years. I spent most of my life in the occupied territories. I was ten years old when Israel occupied the West Bank and Gaza in June 1967.
We Palestinian journalists have always been confronted with hindrances, monitoring and persecution because of our reporting. Facing this pressure, we began to censor ourselves. As attacks on Palestinian journalists became more and more frequent, I had the idea of setting up a center for media and freedom of expression together with colleagues and friends. Before that, there was no organization we could go to with our problems or that would represent our interests. Starting day one, I have been the director of MADA and can proudly say that we may be a small team, but with our determination and commitment, we have become a leading media and human rights organization in Palestine. We are now also highly regarded regionally and internationally.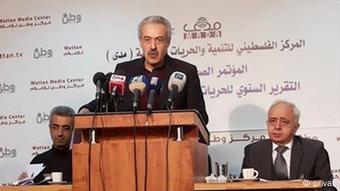 "We are satisfied and proud that we repeatedly manage to uncover thousands of violations against journalists and the media at home and abroad," says Mousa Rimawi.
"The family's grief kept me up all night"
In my life as a journalist, I have often reported on local events, especially human rights violations. The most difficult moments of my career have always been when I had to question families whose relatives had just been murdered. I am married and the father of one daughter and three sons. One of the worst days for me was a day in 2008 when Reuters cameraman Fadel Shanaa died in Gaza. We wanted to cover the story in detail, so I called one of his relatives who happens to be a journalist. He was with Shanaa's family when we spoke. While he gave me all the important information about the murder, I heard Fadel Shanaas distraught relatives crying in the background the whole time. I just couldn't forget the family's grief; it kept me from sleeping all night.
It was also difficult during Operation Protective Edge in the summer of 2014, when 17 journalists and members of the media were killed in the Gaza Strip during an Israeli attack. We lost so many colleagues in such a short time. That was just awful. I had met one of them, Ali Abu Afash, just a few months before that at a conference outside Palestine. He was a young journalist with great dreams and ambitions.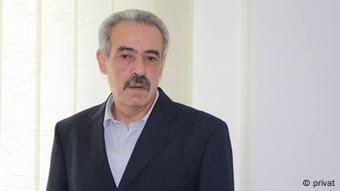 Mousa Rimawi reports violations of freedom of the press and freedom of expression in the Palestinian Territories, whether from Israel or the Palestinians.
"Only when we strengthen freedom of expression can our society continue to develop"
My colleagues and I often find ourselves feeling sad and desperate, especially when we lose another colleague, like the journalist Yaser Murtaja, who wanted to report on the recent protests in Gaza. Nevertheless, we still believe that we owe it to the people here to continue working even under these difficult conditions. Only when we strengthen freedom of expression can our society really develop - that is our firm conviction.
We are both satisfied and proud that we constantly detect thousands of violations against journalists and the media, at home and abroad. Our work has encouraged many civil society organizations, journalists and activists to become more involved in defending freedom of expression. That is why we often support regional and international campaigns for freedom of expression."