In the aftermath of the 2016 Panama Papers scandal, tax authorities worldwide recovered a sum of just over one billion Euros (USD 1.2 billion). The global investigation by the International Consortium of Investigative Journalists (ICIJ) is a prime example of independent journalists' role in uncovering corruption for the benefit of the public. It clearly shows free media is an important cornerstone of a democratic society.
Many academic studies have looked at the link between press freedom and low levels of corruption. Different measurement techniques have stressed diverse aspects. One popular method uses the combination of data from the Press Freedom Index by Freedom House and the Transparency International Corruption Perception Index. Findings suggest a robust correlation.
Independent media serve as a watchdog to expose wrongdoing by public officials and private entities. But besides holding the powerful to account, a free media environment has more subtle effects on curbing corruption, as a BBC Media Action working paper has pointed out: Public debate on bribery has the potential to raise awareness and to shift norms.
Alina Mungiu-Pippidi, an international anti-corruption expert and Professor at the Hertie School of Governance in Berlin, stresses that a society's normative standards "cannot be controlled by the police." It is the task of the media to establish these standards, showing "by its daily coverage what is normal and what is abnormal."
Money well spent
Across the globe, strengthening media freedom is a growing field for international development actors focussed on curbing corruption. However, given the scope of the problem and the potential of independent media outlets, the money earmarked for the support of free media systems is still surprisingly low: A mere 0.3 percent of the overall official development assistance is globally dedicated to media development, according to data gathered by the Center for International Media Assistance. Funding for the support of investigative journalism has increased in recent years, but money remains scarce. How can it be spent best?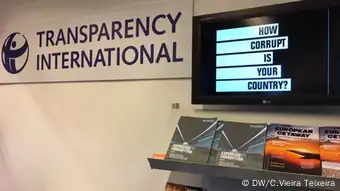 Anti-corruption organization Transparency International
Teaching journalists to perform checks on power has been a popular measure for some time. A brief analysis of current media development programs shows that there is a number of organizations aimed at strengthening capacities in investigative reporting or data journalism. Impact assessment remains tricky, but more successful programs tend to extend over a longer period of time, a study on capacity development strategies for investigative journalism finds. They also rely on in-person training and scheduled assignments, aiming to publish good quality stories throughout the course and therefore offer support by a coach or mentor during and after production. Furthermore, they help to distribute the stories via local and international channels. Given that about 20 per cent of journalists killed since 1992 have worked on stories about corruption, a truly comprehensive project would also cover personal, psychological, and digital safety.
As the Panama Papers investigation has shown, investigative journalists increasingly collaborate across borders and might even be more effective in this than national tax authorities. Networks like ICIJ, GIJN, the Global Investigative Journalism Network, or OCCRP, the Organized Crime and Corruption Reporting Project, are enabling knowledge exchange. They also offer advice and hands-on support, training, or help in cases of emergency. Further supporting such networks is another way for international development organizations to help tackle corruption. For instance, the Denmark-based organization International Media Support (IMS) fostered the creation of the Arab Reporters for Investigative Journalism project (ARIJ). It is now IMS's partner in the region, conducting trainings and promoting in-depth journalism.
Need for free media ecosystems
But neither of these approaches is sufficient. In order to be effective, development assistance has to aim at fostering free, independent, and pluralistic media ecosystems.
A legal framework conducive to media freedom is one central aspect to this. OECD, the Organization for Economic Cooperation and Development, emphasizes the importance of "laws allowing journalists to access information from public administrations and efficient judicial systems that keep journalists away from unfounded lawsuits." As investigative journalism would not exist without sources, "protection of sources, or whistleblowers, is also fundamental to ensuring that corruption cases can be brought to light in the media," OECD affirms in a 2018 report.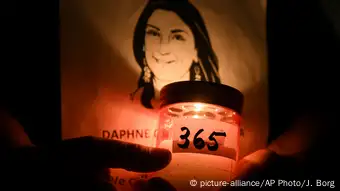 Slain journalist Daphne Caruana Galizia: One fifth of journalists killed since 1992 have worked about corruption
The other central aspect is economic. In the media development field, it is essential to strengthen the ability of independent media to produce high-quality reporting in an economically sustainable way — referred to as Media Viability. Many countries' media systems are dominated by captured media that face difficulties in exposing malpractices because of strong ties to government or business interests. Corruption expert Alina Mungiu-Pippidi advocates for "clean media ownership": Transparent ownership that doesn't interfere with editorial practices, which could also be based abroad. This would allow for a different set of values to gain a foothold. Such approaches could make quite a difference but are "almost missing in the current development landscape." They would also be more effective than pushing for legal reform, as legislation often remains on paper, Mungiu-Pippidi said.
Partnerships between media and civil society organizations
Finally, development organizations need to broaden their scope and take into account free media as a crucial factor for a vibrant civil society. Amidst shrinking spaces for civil society in many countries across the globe, symbiotic partnerships between media and NGOs gain importance in the fight against corruption. The anti-corruption organization Transparency International points out that "exposure and documentation of corruption by journalists provide advocacy organizations with essential evidence and information for use in their efforts to create change." As a consequence, Transparency teamed up with the journalistic network OCCRP.
In many countries you do not need Panama Papers scale investigations to shine a light on corruption. First, it is crucial for the civil society and the media to ask the right questions. Can a government official pay for luxury watches worth thousands of dollars with his regular public service salary? After that, it is essential to support environments where the media can safely report on it.
Authors: Nina Plonka and Alexander Matschke (lw)