As the head of the Tunis office you get a good sense of how Tunisian society and the media there have been developing since the fall of former president, Ben Ali. What have been some of these developments?
The country is still in transition and people are getting increasingly impatient, demanding changes more vehemently. Still, our work is getting results: the staff in one of the radio stations is implementing the suggestions we've discussed in workshops and consultations. There is more quality in the media now and journalists are becoming more professional, but it's not clear how the media laws will in fact look. The basic parameters are constantly changing and this presents us with ongoing challenges.
The private media sector is very dynamic and in a sense very idealistic. Differences between the social classes are much more apparent than they were during the dictatorship, and while that makes society more colorful there's also a danger that it could fall apart. The wealthy and intellectual classes want a cosmopolitan, liberal and tolerant Tunisa, while the poverty stricken in the outskirts and rural areas are listening to preachers from the Gulf countries claiming that salvation will come if they turn to Islam. Still, I'm very optimistic that Tunisians will overcome this conflict.
One often hears about an "openness" in Tunisia. Is this what you've been experiencing?
Yes, there's a great openness here, and 90 percent of the talks I've been holding would not have been possible prior to January 2011. At that time everyone was afraid of being monitored or spied on, and while spying is still going on, people are no longer afraid. And that changes everything. Many Tunisians are now instead complaining of a lack of security or about the slow political changes and their economic worries. Tunisia has become open, contending and lively and cannot be compared to the police state it once was.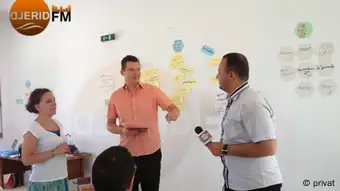 During an inhouse training at Radio Djerid, Tozeur
How does this "culture of dialogue" compare, for example, with the one found in Germany?
There are no great differences, mainly because Tunisia sees itself as something of a bridge between the Arab and European worlds. More than anything, though, Tunisians in the capital see themselves as neighbors to the Mediterranean countries; the differences between southern Italy, southern France and Spain are therefore not as great as one might think. However, this is not always true for Tunisians living in the rural areas.
You are constantly holding talks with representatives from Tunisia's media, political and social sectors. How are these meetings typically conducted?
Firstly, you have to confirm a meeting two or three times beforehand. I didn't initially realize how important this is. There were meetings where partners would call again or email me to make sure that the meeting was going to take place – even though we'd confirmed this in writing.
When it comes to hierarchy, the furniture in the offices of public authorities and large companies clearly indicate who is in charge: the director sits behind a very large desk, and visitors – almost like petitioners – sit on smaller chairs around a smaller, lower table.
I was surprised by how harsh conflicts can be during meetings. I've experienced talks where sparks went flying, where women were at the forefront wanting to assert themselves over their male colleagues. This was new to me, especially after my experiences in Morocco. There, communication works quite differently – it's much more indirect, insinuative, and a clear "no" is considered to be impolite.