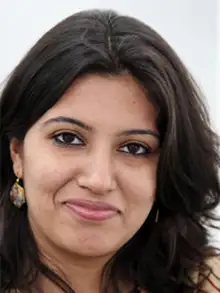 Isha Bhatia
Isha Bhatia
I come from a land of many cultures. Back home in India, there are almost thirty regional languages and nearly twenty-five dialects. Everybody speaks three or four languages and yet still wants to learn foreign languages, too. That's how I came to learn German. I studied German language and literature for seven years at the University of Delhi.

After my graduation I was able to visit Germany for the first time, thanks to a scholarship. I got a placement at the regional broadcaster SWR (Südwestrundfunk) in Stuttgart, where I produced a short radio program. The same year, thanks to my German language skills, I got a job with the Swiss broadcaster DRS in Delhi. This was my first real encounter with journalism. I was not actually working as a journalist, but I was working with journalists. I saw how people have to live without running water; how construction workers toil all day long; how people celebrate special occasions and how young people walk the line between the traditional and the modern.

Unfortunately, Swiss radio did not stay in India. But it had convinced me that this was the way I wanted to go in life. I decided to get the necessary qualifications. So I applied to Deutsche Welle and can still hardly get over the fact that I was accepted. I am already involved in producing radio shows. It's hard work but that's the nature of work. I feel at home here, because it's a multicultural atmosphere at Deutsche Welle, especially for those doing the international traineeship, and that reminds me of India.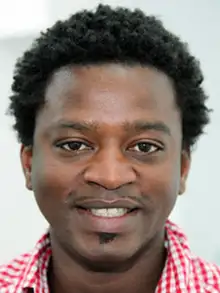 Bob Barry
Bob Barry
Whenever I start to talk about Deutsche Welle, I find it hard to stop. Radio was simply part of my childhood - it has been a part of me for as long as I can remember. In my home country of Guinea, in francophone West Africa, Deutsche Welle used to be called "La Voix de l'Allemagne" - the voice of Germany.

It was and still is my family's favorite broadcaster. At home in Conakry, we gather around the radio to listen to the news. My route to Germany was a winding one that finally led to Bonn. In my 'African life', I studied business and economics in my home town and then got a job in PR and marketing. But I always dreamed of becoming a journalist - partly because of my father, who was a well-known journalist back home.

It was this desire for further education, coupled with my interest in doing something new, that brought me to Germany. Looking back, I have to say that it was a courageous step into a completely different world - where I did not even speak the language. But although I started to learn German relatively late - not until I got here four years ago - the language of Goethe has always fascinated me.

Now I am pleased that as an international trainee at Deutsche Welle I can serve as a kind of ambassador for my country, and perhaps even for all of West Africa. My goal is always to present issues in a clear and unbiased way and to demonstrate not just the problems and challenges my continent faces but also its many beautiful sides.

Now my parents and siblings have another reason to turn on the radio: today, I am part of this German voice, when my reports are broadcast on the French-language service.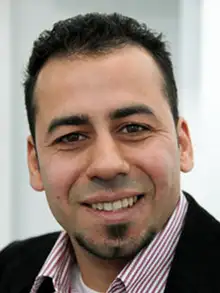 Hicham Driouich
Hicham Driouich
"Why do the Germans present the news in Arabic?" These were my first thoughts when I listened attentively to the news on our old radio as a child. Even at an early age I was interested in the things that were happening around the world. Every day I would spend some of the pocket money my father gave me on a certain sports newspaper.

Later, I successfully studied law in Morocco but my thoughts of the foreign culture in Germany and Europe stayed with me. So I valiantly learned German at the Goethe-Institut and finally also got a visa. Life in Germany, the people, the culture and the language all fascinated me to such a degree that I was constantly telling my family about it.

When I saw the notice advertising the international traineeship at DW, I instinctively knew that this was the thing for me. And my instinct did not let me down. I believe there is hardly another institution that provides such professional and comprehensive training. Not only is a high value placed on the typical skills of journalism here, but also on dialogue between different cultures. I am pleased to be a part of this DW family which makes such a valuable contribution to breaking down barriers and prejudices between the most diverse cultures. And now I also know why some of the news from Germany is broadcast in Arabic.



Jaisu Bhullar
Jaisu Bhullar
My interest in languages and foreign cultures led me to study German language and literature in my home country of India. During these studies I won a scholarship and got the opportunity to visit Deutsche Welle in Bonn. Before I first came to Germany in 2006, I did not know much about Deutsche Welle. During my visit to DW in Bonn I was pleasantly surprised by the number of people from different countries and cultures working together under one roof. It soon became clear to me that this was the kind of atmosphere I would like to work in after my studies.

Back then I dreamed 'One day I will work here'. But I did not realize that this dream would in fact come true. In India, there is a saying that at least one of the things a person determines to achieve will actually come true some day. I never believed it until it happened to me. Just two years later - towards the end of my Master's Degree in German Language and Literature - I found out about the international traineeship at Deutsche Welle. It was my big chance. I applied for it and now I am here. I still can hardly believe that my dream, which may have appeared naive back then, really has come true.

Even on the first day of my traineeship I knew that I would feel at home in this friendly and wonderfully international atmosphere. My aim is to report things as they are and perhaps make a contribution to breaking down prejudices about my home country.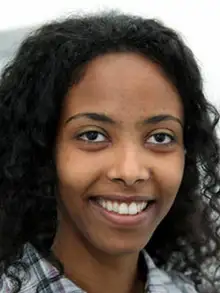 Lidet Abebe
Lidet Abebe
I come from Ethiopia, known as the cradle of humanity, the original home of coffee and land of Olympian long-distance runners. I lived there until I was fifteen. I came to Europe in 1998 and immediately started a language course. Then I attended a German-speaking school in Belgium. I went on to study economics in Germany. My interest in journalism was inspired by my sister and her husband, with whom I lived. As film-makers, they traveled the world and sometimes I was able to go with them.

My dream has always been to start a career which has a deep connection with my native Ethiopia. Although I have known Deutsche Welle radio since my childhood, I got my first break working as a voice artist for the 'Learning by Ear' series in Amharic. I enjoyed it so much that I applied for an traineeship with the Amharic-language service. I was lucky enough to be accepted. I didn't even have to travel far and already my dream was coming true.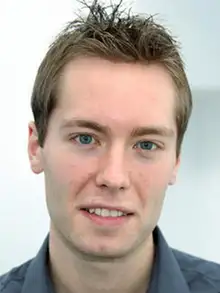 Andrew Shale
Andrew Shale
It's amazing what twists and turns life can take. When I decided to change profession six years ago, I would never have dared to dream that I would end up at Deutsche Welle. Until then, I had been determined to become an engineer, but somehow the profession lacked that 'little something'. The decision to turn my back on machines and pursue a childhood passion was both difficult and fateful.

For as long as I have been able to think, I have been fascinated by words and the power they have to convey information and feelings. As a child, I loved to be given books for Christmas and I would secretly read them by torchlight under my blanket until the early hours of the morning. My interest in the German language also goes back to my childhood. It was my grandfather who awoke this interest with his stories and delicacies from this mysterious, far-away country.

Later, these two passions would lead me to a degree in political science and German. In my room at the students' residence, I was surrounded by leaning towers of books and unruly piles of newspapers. In one corner of the room was a radio on which I would listen to the news of the day in German. When I completed my degree and found out about the foreign-language traineeship at Deutsche Welle, it appealed to me immediately. It would be the perfect opportunity to put my language skills into practice and quench my thirst for knowledge of current events. Now, instead of learning from the words of others, I could write myself and inform the reader.

I am pleased to have taken a step closer to fulfilling my dream, even if the road has been a rocky one. What I like most about the traineeship is that I constantly have to adapt to new cultures and topics. That way, I'm always up to date. The chance to work closely with colleagues from other cultures makes this traineeship especially fascinating. It helps me to understand strange or foreign life views and not to judge events in other countries by my own value system only.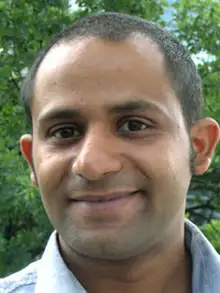 Ali Almakhlafi
Ali Almakhlafi
The most important part of my life was spent in my home town of Taiz in Yemen, where I grew up and lived for 19 years. It was here, with my family and Arab environment, that my most decisive personality traits developed. I learned classical Arabic and Arab culture as well as English and the natural sciences. All this had a profound influence on the road I would take in life.

First, I attended university in Damascus, Syria, where I successfully completed my degree in Medical Engineering and Arabic in 2004. During my nine-year stay in Syria, I worked as an Arabic teacher and as a technical translator. At the same time, I contributed to and edited Arabic text books for German and Anglo-American publishing houses.

My interest in the German language and its grammatical similarities with Arabic led me to study this language even closer. Deutsche Welle's "Audio on demand" was a big help in this regard. Two years ago, I moved to Germany to do my master's degree in medical engineering. At the same time, I took on a lectureship in Arabic at the University of Bonn.

I was casually browsing through a notice board when I came across a notice from DW advertising a unique opportunity to acquire journalism skills and work in radio, TV and the Internet through a traineeship. I was able to report on political, social, cultural and business issues for DW's Arabic-language service. DW gives me the feeling that I can make use of all my experience in my work.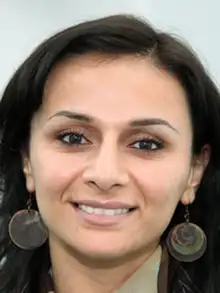 Maissun Melhem
Maissun Melhem
A job with Deutsche Welle... that would be a dream come true! I snap out of my day-dream and return to the report on DW-TV. That was how my goal of becoming a journalist was born. I began learning German in Syria in 2005. I then set off for Germany to complete my degree in literature and cultural studies.

During my studies at the TU in Dresden, a new interest was awoken in me. Communications. A subject I could not bear when I was studying for my first degree, in information technology, back in Syria. Suddenly, I saw it as the most accurate way of describing culture.

This combination of old technical knowledge and the writing skills I had recently acquired at university was the launching pad for a new project. When I found out about Deutsche Welle's international traineeship, my forgotten day-dream suddenly returned. I was about to embark on the road to multi-media journalism. And I made it down that road. Now I am proud and grateful to be taking part in the traineeship program since May 2009.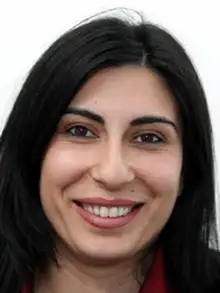 Brekhna Saber
Brekhna Saber
I grew up around the time of the Soviet invasion of Afghanistan. At the time, getting the latest news was almost a matter of life or death. My father, who was a journalist and served as head of Radio Afghanistan in the nineteen seventies, had a Grundig short-wave radio set. Every evening, the entire extended family would gather around the radio to find out what was happening in Afghanistan and the rest of the world.

We preferred foreign broadcasters such as the BBC, DW and Voice of America. If my father ever missed the news, he would ask me if anything important had happened. I would then play newsreader for him and he would say: "When my daughter grows up she's sure to become a well-known journalist and work for one of the big international broadcasters!"

After my father's death and the withdrawal of Soviet forces from Afghanistan in 1989/90, the situation became even more unstable. Civil war broke out, and being a woman, it was impossible for me to pursue my dream of a career in journalism. So I started a degree in biology at the women's university in Peshawar. But I never gave up on my dream. After I got married, I came to Germany and resumed my studies at the natural science faculty of the University of Bonn. I told my husband about my goal and he supported me. Soon, I got the opportunity to work as a newsreader with the Afghan television station Ariana-Afghanistan. Without any training or experience, I successfully presented the live news bulletin at eight o'clock - my dream had come true.

I went on to work as a presenter for "Sada e Azadi" (Voice of Freedom) and the Bundeswehr radio station, which broadcasts news and information in Dari and Pashto. A friend told me about Deutsche Welle's international traineeships. Now I am here and Afghanistan continues to make the headlines. The country and its people have yet to settle down but my aim now is to make my contribution to providing the people there with the kind of information we once found so essential.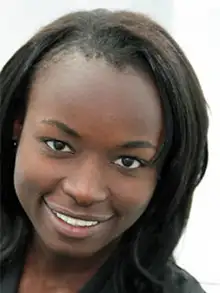 Nancy Wayua Hauschild
Nancy Wayua Hauschild
I was born in Kenya and grew up in the port city of Mombasa. I took a keen interest in news and journalism from an early age. Back then, every day at one o'clock sharp, Deutsche Welle would air its news program via its partner broadcaster KBC. It was the highlight of my day. The presenters on Deutsche Welle were my heroes: they always knew exactly what was going on and they showed me an outside world that I was eager to get to know better. For a little girl like me, who knew only her immediate family and friends, these news bulletins were a window to the world, including Germany.

In later years, my interest in studying journalism and getting to know other cultures led me to Germany. First, I took a course in Hamburg to prepare for my subsequent studies in media and communications science at the university there. My course included a semester abroad, at the University of Sheffield in England. A series of practical placements in media outlets gave me my first inside view of the world of journalism. I was determined to become a journalist.

The international traineeship at Deutsche Welle is like winning the jackpot in the lottery for me. It gives me the chance to learn and practice everything I have always admired about my role models: providing objective information and insight to people all over the world and thereby helping to create dialogue between people that transcends racial or cultural barriers. I come from Kenya, live in Germany and work for the world. I have taken a giant step towards fulfilling my dream of becoming a genuine citizen of the world!