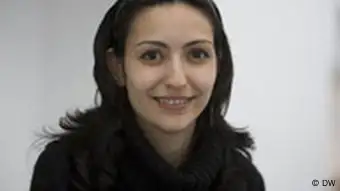 Blagorodna Grigorova
Blagorodna Grigorova, Bulgaria
I came to Bonn eight years ago to study politics - it's a city that's home to people from all over the world. For me, this was new and exciting: in my home town of Plovdiv, you rarely meet anyone from abroad.

When I heard that Deutsche Welle was moving to Bonn, it reminded me of my childhood. Deutsche Welle always accompanied me during the school holidays, which I spent with my grandmother. When it was too hot outside, we would sit at home and listen to Deutsche Welle's Bulgarian service. I may not have understood everything back then but Deutsche Welle was always present.

Here in Germany, I have learned more about Deutsche Welle's cultural and political mandate. This mandate fits in well with my personal desire to remain engaged in cultural dialogue. That's why I applied for the international traineeship.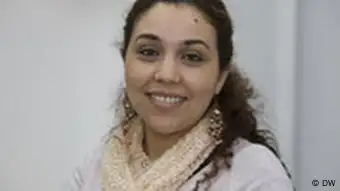 Chamselassil Ayari
Chamselassil Ayari, Tunisia
I grew up in a multi-cultural environment, moving between Tunisia and France. I was interested in other cultures from an early age and always dreamed of travelling in foreign lands and writing exciting stories. The tales of "A Thousand and One Arabian Nights" are still fresh in my memory.

At first I wanted to become a diplomat but while I was studying law in Poitiers, and after several internships - in Turkey and Brussels, among other places - I realized that what I really wanted to do was journalism. My journeys to Germany began with an exchange year in Marburg, where I studied German language and literature, political science and Italian. After further studies in Perugia and Urbino (Italy), I completed my degree and did an internship in the Arabic department of Deutsche Welle in Bonn.

Following that, I became a regular freelance worker. This was also how I learned of the international traineeship. Now, I'm looking forward to writing reports, making features and telling stories. Deutsche Welle plays host to the world, which is also at home around the corner at the UN.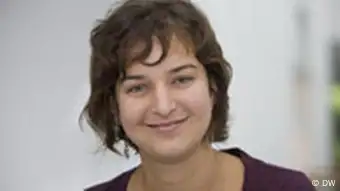 Julia Carneiro
Júlia Carneiro, Brazil
In the town where I come from, there are only three schools where German is taught. It was my parents' idea to send me to one of them. I was eleven years old at the time. I always enjoyed German lessons but I had no idea how they would end up changing my life.

I grew up and studied in Rio de Janeiro. During my studies, I attended a German course in the University of Essen on a DAAD scholarship. Having completed my studies, I started working as a journalist in Rio. I worked at the newspaper "O Globo" - first on an internship, then as a trainee, and finally as a staff member.

In 2006, I took part in an exchange organized by the International Journalists Program (IJP). During my four and a half months in Berlin, I reported from Germany for "O Globo" and completed an internship with the daily newspaper "Die Welt". After this experience, it seemed only logical to me to apply for the international traineeship at Deutsche Welle. I immediately gave notice on my job in Brazil when I heard I had been accepted by Deutsche Welle. I just couldn't miss the opportunity to try out the worlds of radio, Internet and perhaps even television.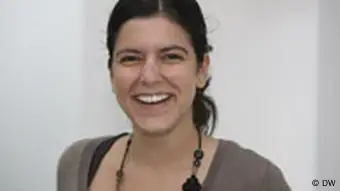 Marta Barroso
Marta Barroso, Portugal
My favorite place: somewhere in Africa. My favorite destination: Africa. So what am I doing in Bonn? The smell of muggy air and the great expanse of nature is nowhere to be found. You don't see women selling cooked meat by the roadside here, and the ferries don't take seven hours to get to the other side of the Rhine. The first time I was in Africa was in 1998, when I visited Cap Verde. I was due to start studying German and English language and literature at the University of Porto a month later. Later, I would also travel to Germany, where I got my first introduction to how the various media work. Here in the north, I'm a long way away from Africa.

But today, I couldn't be happier anywhere other than Bonn, with Deutsche Welle's Portuguese department for Africa. Because I now get to pursue my real interests on a daily basis - reporting about Africa, for Africa. And every evening, I know I will be back there the following day: a small step closer to the distant south.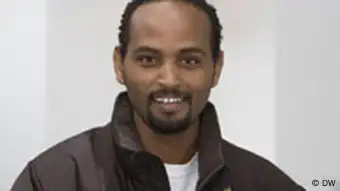 Mantegaftot Sileshi Siyoum
Mantegaftot Sileshi Siyoum, Ethiopia
Third time lucky in my bid to reach Germany. In 2001, during my fourth year in University, I won a writing competition for which the prize was an invitation to attend an international conference in Ilmenau. But I was refused a visa. That same year, myself and a student from Hamburg wrote an intercultural play. It was supposed to première in Hamburg, but again, the trip fell through.To mark the 100th anniversary of German-Ethiopian relations, a Berlin-based film-maker and I shot a movie documenting exactly the route taken a hundred years previously by the first German delegates to Ethiopia. The film, "A Journey to the Sabure Desert" opened the doors to DW Akademie, because an article I wrote about this journey earned me a three-month internship at DW.

After three months of hard work I applied for the international traineeship and was accepted. I like telling stories and this is the story of how I came to Deutsche Welle.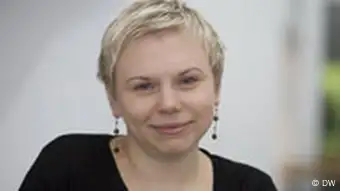 Olga Sosnytska
Olga Sosnytska, Ukraine
I was supposed to be given the name "Victoria" because my parents were expecting me to be born on Victory Day. In the Soviet Union, "Victoria" would have been the name of choice for someone born on that day. But as it happened, I had other ideas and entered the world a few days earlier, on the Day of the Radio. There was an official holiday for almost every possible profession in the Soviet Union. My parents had to make do and call me a different name. But there was still no predicting that I would become a journalist.

At school, I discovered my passion for the German language and went on to study German language and literature in my home town of Donetsk, by then part of independent Ukraine. The wish to experience 'live' the country whose language I had learned from a distance then drove me to Germany. It was only here that I developed a real interest in the media. Before that, all I had known were the doctored messages of the Soviet era or the disorientating, sensationalist journalism of the early years after Communism.

While studying journalism in Bochum, I gained my first practical experience - and I liked it. I am fascinated by the feeling of having my fingers on the pulse of time and the opportunity to handle information in a responsible manner, and of course, the chance to use the language actively. What would have happened had I been born on a different day - for example, on the Day of the Submarine Sailor or the Day of the Cosmonaut?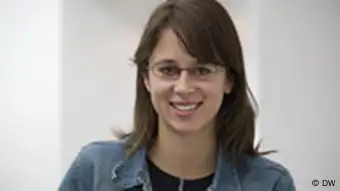 Renate Krieger
Renate Krieger, Brazil
Every morning in our kitchen, the coffee machine would bubble away to the rhythm of two radio presenters on Rádio Jovem Pan. But what really woke me up were the daily reports by the Europe correspondent Reali Júnior, who lives and works in Paris to this day. It was back then that the foundations of my love for Paris, my wanderlust and my desire to become an international correspondent were laid. My dream profession is to get to know different foreign lands and cultures and to report on them "from within". I've always had a kind of "dual identity" anyway. I grew up bilingual in São Paulo, with my German grandparents. In Brazil, my kind is often referred to as "German", while in Europe, I'm considered a Brazilian. Once I had completed my journalism degree, my love of languages and all things French ultimately brought me to Paris. It was there that I completed my masters in communications in 2004 at the University of Sorbonne.

After that, I worked as a freelance journalist for various Brazilian media, mainly in print. During the World Cup Finals in 2006, I was able to make some radio reports, bringing me a step closer to my dream of becoming a correspondent. I went on to work for the Brazilian service of Radio France Internationale - as a presenter, among other things. I hope to be able to build on all this during my internship at Deutsche Welle. There will be plenty of languages and cultures to keep me interested here.


Amira Sanaee, Iran
My journey to an international traineeship with Deutsche Welle began two years ago on a September day in Bonn, when I was interviewed by a journalist for Deutsche Welle myself! At the time, I was attending a course in Germany as part of my studies in German language and literature. During a visit to the Farsi department at Deutsche Welle, I learned of the international traineeship. A week later, on my flight back to Tehran, I realized exactly what I wanted to do after my studies in Iran - to become a journalist!

Born in a country where journalists are usually referred to as "spies", I was well aware from the start how difficult and important this profession is. In countries like, Iran, a journalist can often pay a high price for "information" and for getting such "information" passed on. The biggest motivation for us to do this work is the trust placed in us by our compatriots. And this is also a feeling I can enjoy at Deutsche Welle.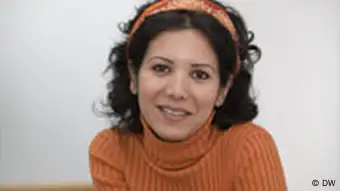 Shabnam Nourian
Shabnam Nourian, Iran
I was born and raised in Tehran. A year after I came to Germany for further education, I paid a visit to Deutsche Welle, where I wanted to work. "No, you don't want to work there! You've got other plans: a doctorate in molecular biology at one of Europe's best universities, travels the length and breadth of Europe, experience of other cultures. Live your life. You can't change or improve anything here. Lazy birds are happier in a cage, they don't even want to know what goes on outside. Don't you understand?" That was how people tried to get me to change my mind.

But I couldn't understand. Running away is not a good way of forgetting. Through Deutsche Welle, I found a big window, access to the world, a chance to show that life can be different.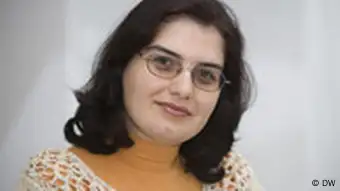 Yordanka Yordanova
Yordanka Yordanova, Bulgaria
I was born and raised in Bulgaria, in the city of Burgas on the Black Sea. As a typical child of the sea, I often sat by the shore, enjoying the sound of the waves. I would often pick one out - my wave, which strove for the shore in constant competition with the other waves. I would watch the almost infinite green-blue expanse in front of me … and every time, I had an unmistakable sense of freedom, freedom to dream, freedom to think... without limits!

My desire to join DW determined my choice of studies and career from an early stage. I studied journalism at the University of St. Kliment Ochridski in Sofia. I also completed internships with regional TV broadcasters and worked for the newspaper "Chernomorski far" in Burgas. I really enjoyed working for the regional media but the work lacked an international context. My goal - Deutsche Welle - motivated me to do a masters in German language and literature, with the main focus on translation and interpreting. Then I applied for the international traineeship and got accepted.

Now I am at DW, where I can stay up to date with events around the world and report on topics that make big waves. I can watch the almost infinite expanse in front of me and am constantly getting to know it better … and every time, I get the unmistakable sense of freedom, freedom to dream, freedom to think and freedom to express my thoughts ... without limits! This is Deutsche Welle. I think I've found the perfect wave!