The four projects presented here are the latest additions to DW Akademie'sDigital Innovation Library.
Abaaraha
Drought and famine hit the Horn of Africa almost every year, affecting millions of people. Although locals and those in the diaspora are active in raising funds, a group of six Somali social activists and tech developers wanted to go further by developing a sustainable digital response.
They saw a need to manage and coordinate relief efforts so that aid could be more effectively channeled to victims on the ground.
The result is Abaaraha (the Somali word for "drought"). Launched in March 2017 it's the first crisis mapping platform designed specifically for Somalia. The project uses Ushahidi, a Kenyan open source software for crowdsourcing information via SMS, email, phone, and social media reports. The Abaaraha platform enables relief workers to connect with drought victims and provide aid faster.
The team says other innovators planning to focus on aid work should establish communication with relief organizations in order to gain credibility, they should raise awareness about the product and build a solid, effective partnership. The team also advises innovators to have more than just start-up capital because they'll need additional financing sources to keep the project going.
Project Isizwe
A 2011 United Nations report declared Internet access to be a basic human right. But more than half of the world population is still not connected to the Internet, especially those in developing countries.
Project Isizwe is a South African non-profit organization promoting free WiFi in public spaces. Established in 2013, the project is at the forefront of working with local governments to create free Internet zones in low income and marginalized communities.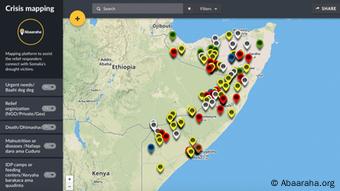 Abaaraha: Crisis mapping for Somalia
A partnership with the City of Tshwane (a metropolitan municipality that includes the country capital, Pretoria, and surrounding areas) provides 780 free Internet zones near schools, universities libraries communities and parks. Project Isizwe sees free Internet access as a catalyst for education, economic development and social inclusion.
Partnerships are key, the team says – not only with local governments but with other relevant stakeholders, as well. The project's business model Afri-fi connects free WiFi networks throughout South Africa and brings users and advertisers together. Afri-fi won second prize at Mozilla's 2017 Equal Rating Innovation Challenge.
Chicas Poderosas
As newsrooms becoming increasingly digitized, women journalists need to be able to work with the latest technology. That's the target of Chicas Poderosas, a non-profit organization working in Latin America.
Founded in 2013, one of its main focuses is a three-day mentoring program for media women where visiting mentors share their knowledge and experience. In a two-day hackathon, participants can also produce stories using digital media techniques and tools. Chicas Poderosas is developing a partnership model with newsrooms where participants work. The newsrooms can post these stories in exchange for a donation.
When it comes to tips for other innovators, Mariana Santos, founder of Chicas Poderosas, says, "I believe a lot in community and collaboration. The only way to make it work is to be present to your community, communicate very well and often, and try to be a leader by empowering others to use their full potential."
Oxpeckers
How can digital media tools support investigative journalism focusing on environmental issues and related crimes? Oxpeckers Investigative Environmental Journalism is Africa's first journalistic investigation unit that shows how data analysis and geo-mapping can support investigative work.
The mapping tool tracks environmental crimes and provides visualization of offences ranging from rhino-poaching to the illegal extraction of natural resources.
The project also focuses on enabling communities to raise their voices. Many, however, lack information or don't have the resources to protect their land or hold government departments and companies to account.
Oxpeckers' online apps and mobile tools enable citizens to access information. This in turn can make it easier for them to participate in policy making processes or work with watchdog groups.
Oxpeckers recommends future innovators focusing on environmental issues to see digital tools and technologies as important resources for improving communication and supporting environmental investigative journalism.