TheCambodian Center for Independent Media (CCIM) is the only independent and professional media organization in Cambodia that works to promote human rights and responsible journalism through both media production and dissemination and the implementation of community projects. Mam Vibol is working as a Project Coordinator for (CCIM). He helps Cambodian youths take advantage of ITC and use social media responsibly. In addition Vibol is a founding member of a media and information literacy expert network (MILEN) aimed at developing free media systems, creating access to information, and setting standards for education and independent journalism. #mediadev spoke to Vibol Mam:
#mediadev: Vibol, you work for the Cambodian Center for Independent Media. Why is such a center important for Cambodians?
In Cambodia it remains the main source of information for the majority of civil society organization working in the human rights and development fields. CCIM regularly publishes campaign and advocacy material on freedom of expression, access to information and good governance; giving a platform to both Cambodian and international CSOs to disseminate their positions and recommendations to the Royal Government of Cambodia and inter-governmental institutions.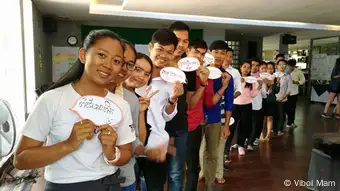 #mediadev: What education do they offer and how?
CCIM began its operation by continuing the production of broadcast of radio programs dubbed Voice of Democracy (VOD), which was started by the Cambodian Center for Human Rights in 2003 through to 2007. In 2011, CCIM established its own online news website named VOD Hot News www.vodhotnews.com to engage in a new platform for its news and information as the country rapidly embraced online technology. In 2014, CCIM engaged in another online platform delivering news and information – the TV news channel (www.vodtvnews.com). The VOD online TV news team goes out with the VOD reporters gathering news and covering events, and broadcasts these on its website. Aside from its radio and online news reporting, CCIM has implemented a number of projects: (1) Media and Information Literacy (MIL) Project, (2) Voices for Gender Equality Project, (3) Reporting SEZs and ELCS in Cambodia Project, (4) Media Training Project, (5) Universal Access to Information Promotion Project, and (6) Access to Information (A2I) Project.
#mediadev: Is there any support from the government for independent media projects?
No, there is not. Currently, CCIM is supported by the Open Society Foundations(OSF), Diakonia, Dan Church Aid (DCA), and Bread for the World. A number of projects are supported by donors such as the Rosa Luxemburg Stiftung (RLS), DW Akademie, Transparency International Cambodia (TIC) etc.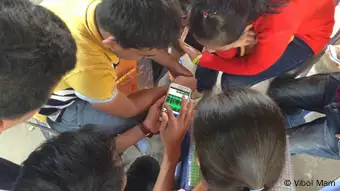 #mediadev: Do you have problems with censorship?
Yes. The government sees non-governmental organizations, particularly media organizations like VOD, as pro-opposition amid the rising political tension in Cambodia.
#mediadev: How do people hear about your Center?
CCIM's production team, VOD, creates informative and participatory programs such as call-ins, round table discussions and news reports. CCIM has a potential listenership of more than eight million people. Programs are also available as podcasts through the VOD news website www.vodhotnews.com. VOD's news website also provides a source of independently produced, impartial, and unbiased news for the Cambodian population and includes multi-media output such as special investigative video reports which are watchable on VOD online TV. CCIM's community projects are mainly aimed at improving democratic governance by giving a voice to marginalized citizens and providing people with independent information and knowledge on how to use information and communication technologies.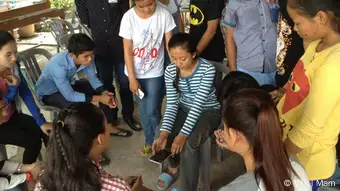 #mediadev: How would you describe the standard of media literacy in Cambodia?
Cambodia's young population mainly uses social media to participate in public debate. But for the most part, young people lack media and information literacy. They have little awareness of digital security issues, they hardly know how to detect filter bubbles and disinformation, and aren't familiar with the rules of public dialogue on the Internet. Since media has an influence on society and people's perception, media literacy is a necessary skill for everyone. Media and information literacy can help people to develop critical thinking skills, recognize rumors, propaganda, or disinformation, understand how media messages shape people's behaviors and produce media messages and share the messages with other people. In late 2016, MIL was approved by the Ministry of Education to be part of its official high school curriculum for grade 12 students.
#mediadev: What changes or even progress do you see since the foundation phase?
Since its establishment, CCIM has strived to tackle the challenges Cambodia faces on media independence, freedom of expression and access to information. This commitment is realized through both the production and broadcasting of accurate and unbiased information and the implementation of community projects throughout the country.
Here are the following achievements CCIM has accomplished:
• The Cambodian Center for Independent Media (CCIM) has organized the Cambodian journalists and come up with a common standard ethics framework for Cambodian journalists and trained them in independent journalism.
• CCIM has trained more than 200 citizen journalists providing information to VOD reporters.
• 10 young rural facilitators who took part in the Media and Information Literacy Project shared their knowledge about media and information literacy with more than 500 young people in Svay Rieng province (50% of whom are female).
• CCIM has collaborated with NGOs in the promotion of the access to information law; and participated in the Ministry of Information's technical working group on the drafting of the access to information law.
• VOD online capabilities (website, online TV, social media) are upgraded and content is diversified resulting in CCIM being one of the leading Khmer language information providers.
• The website (VOD Hot News) has grown significantly and attracts up to 10,000 visitors per day.
What have been (or still are) the biggest obstacles to your work?
In August 2017, the Cambodian government ordered the stoppage of broadcast of Radio Free Asia (RFA), Voice of America (VOA), and radio programs of political opposition parties, including the VOD radio programs. Almost all radio stations broadcasting these radio programs were also ordered closed. CCIM's radio broadcasting partners also terminated their partnership with CCIM, thus Radio Sarika FM broadcasts also discontinued. Currently, CCIM continue to produce radio programs in collaboration with partner NGOs and aired on limited airtime on selected radio stations partnering with CCIM.