International Criminal Court prosecutor Karim A. A. Khan took time out of his official Bangladesh visit to meet with DW Akademie's partner YPSA. Sixteen Rohingya refugees and host community members who work as volunteer communicators for YPSA's radio program were invited to join the ICC representative for a Q&A session.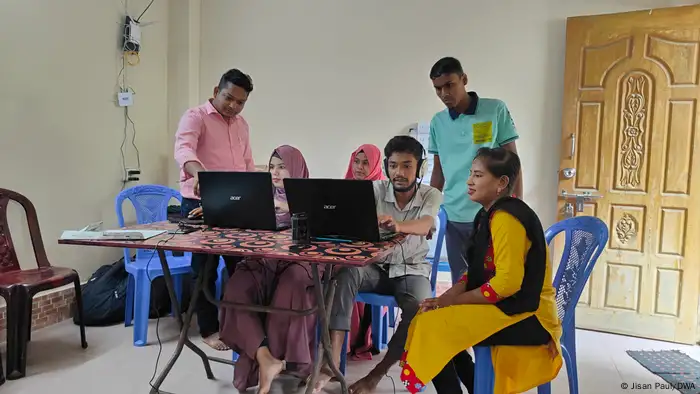 Volunteer communicators digitally edit the radio show Palonger Hota.
The ICC is investigating atrocities allegedly perpetrated by Myanmar against the Rohingya minority, leading to a mass exodus to Bangladesh in 2017. Cox's Bazar is now home to an estimated one million refugees, the largest refugee camp in the world.
Khan spent two hours with the group listening to concerns about the ICC's investigations, as well as about the communities' cooperative work.
"I have heard from my colleague that you are doing very important work and that's why I came to meet you," Khan told YPSA's volunteer communicators on Thursday, noting that the ICC is collecting evidence on the 2017 persecution. "You can be very proud that you continue to support each other. In this way, both the Rohingya and the host community will benefit."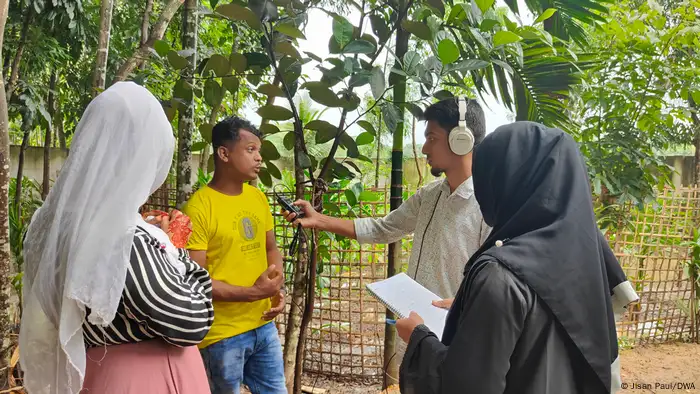 Volunteers conducting interviews for the radio show.
"We knew about ICC's case but were not sure how much it would be implemented," said Ziaur Rahman, a Rohingya community volunteer. "But now after meeting the chief prosecutor in person, we are confirmed that they have taken it seriously. We are now seeing a light to get justice for us…we are feeling so warmed that people didn't forget us yet."
Yasmin Akter, a young volunteer from the Bangladeshi host community, said, "I am happy to know what the ICC is doing, collecting evidence to support the case. I also felt good when the chief prosecutor said that he was inspired by our work…That gives us a kind of recognition."
YPSA has been implementing development and emergency projects for the last 20 years in Cox's Bazar. DW Akademie has partnered with YPSA since 2020 to produce the weekly radio show "Palonger Hota" (Voice of Palong), in which local volunteers produce program content on everyday matters within the camps and nearby villages. Due to the Rohingya's low literacy rate – especially among women – radio is an important medium to spread information.
The program broadcasts on the state radio station Bangladesh Betar and is supported by the German Federal Ministry for Economic Cooperation and Development (BMZ).