There are 22 Mayan languages in Guatemala but many are spoken by very few people. More than 200 digital activists recently got together for a three-day event in Guatemala City to discuss how to preserve these languages.
The activists are aiming to achieve official recognition of a Wikipedia version of the Mayan language, Kaqchikel. DW Akademie supports the project and together with various partners and universities has established the Encuentro Nacional de Activistas Digitales de Lenguas Indígenas (National Meeting of Digital Activists of Indigenous Languages). The goal is to use the Internet for spreading content in Guatemala's indigenous languages.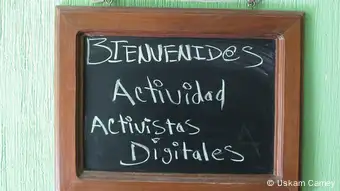 Welcome, digital activists! DW Akademie is one of the organizations supporting the National Meeting of Digital Activists of Indigenous Languages
More than 60 new Wikipedia articles written in Kaqchikel
For two days participants discussed ideas, partly in Kaqchikel. A one-day "Editathon" then followed. Editathons give an online community a chance to write and edit specific content. Twenty-four participants wrote Wikipedia articles in Kaqchikel and uploaded them to the Internet.
"I'm delighted that so many wonderful women of all different ages are taking part in the Wikipedia Editathon and writing in Kaqchikel," twittered Sara Fratti from Creative Commons Guatemala.
Kaqchikel is not yet an official Wikipedia language, but is at the so-called incubator stage. Although Wikipedia authors can write in the language and upload the articles, the language still has to meet certain requirements before it is officially recognized.
Wikipedia requires 600 to 800 articles to be written in the language as well as several writers committed to working on the Wikipedia version every week. Kaqchikel language activists produced more than 60 articles at the Editathon. That's a good start but much still needs to be done.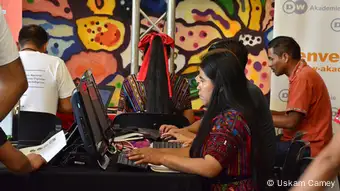 At the event, participants wrote dozens of Wikipedia articles in Kaqchikel
Gaining new supporters
The organizers hope that the joint effort will in the long run attract new supporters. They plan to establish a working group with participants from various Guatemalan institutions and universities in order to establish a community of digital activists. They hope that this will encourage other communities to produce Wikipedia pieces in their own indigenous languages.