Diana Sofía Posada stands in the corridor of the massive concrete campus building of the University of Rafael Landívar in Guatemala City, looking for her business card in her handbag. "Vice-mayor" is written on it, as well as all her contact details: Facebook, Twitter, telephone and mobile phone numbers. The 36-year-old wants to be available to her community around the clock. It is important to her that a state listens to its citizens, gets them involved and accepts advice from them. As one of 25 experts from Latin America, Diana Sofía Posada came to Guatemala City for the Open Government Festival on November 7 and 8 to promote this development.
The festival, co-organized and co-funded by DW Akademie, aims to promote the idea of civic participation throughout the country - through discussion forums, workshops and short presentations.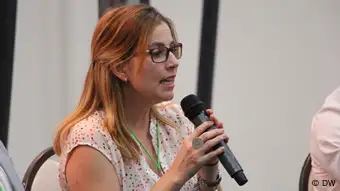 Diana Sofía Posada talks about her experiences
Diana Sofía Posada talks about her experiences in her community of Montes de Oca, near the Costa Rican capital of San José. There, she has developed a government program based on citizens' assemblies and has changed many things only a year and a half into her term. Five thousand children were interviewed about needs and wishes that would be considered in community building. In addition, regular workshops are run to explain different processes, like how the citizen's budget is spent, as around ten percent of budget spending calls for close coordination with the people.
Access to information is very important to Posada. She wants to publish everything online - from budget figures to the local garbage collection route. An open data site is currently in the works. The message: "The state as a 'know-it-all' has had its day and now the citizens themselves will analyze and manage available data."
There are enormous information deficits, especially in Guatemala's rural regions. "Many people here still do not know what the authorities actually do and on what basis decisions are made," explains Ángel Ramírez, director of Guatecambia, an NGO that promotes participatory and inclusive democracy in Guatemala through transparency and civic participation. Corruption is ubiquitous and has serious consequences: Guatemala is the only country in Latin America to record serious setbacks in education and poverty reduction.
For one and a half years now, DW Akademie has been supporting the "Munis Abiertas" project, which is the section of Guatecambia that promotes greater freedom of information. Experts on the Freedom of Information Act train civil society organizations and advise them on how to encourage municipalities to provide information. Ángel Ramírez himself is a key figure. He belongs to a new generation of young civil rights activists who did not experience the 36 years of the Guatemalan civil war and do not want to accept social stagnation in a climate of fear. Just a few weeks ago, tens of thousands of people took to the streets to protest against corruption.
In light of the renewed wave of protests, the Open Government Festival is well-timed. "Nonetheless, we were surprised by the flood of registrations," says Ramírez. Instead of the projected 250 participants, around 800 guests came, many of them from the provinces.
The success shows that DW Akademie has chosen the right path by building the unique strategy of strengthening the human right of access to information - beyond journalism and traditional media. It is a path of change that many Guatemalans desperately want.