Aidatka has just finished grade one in her village school. For the past two years, she has been working regularly for Suusamyr's community radio station. Her mother Aizada Kalkanbekova manages a radio station that DW Akademie has been supporting since its establishment in 2011. Aidatka and her brother Baidur, who is 12 years old, run a program for children. They talk about different topics like ibexes in Kyrgyzstan or why only potatoes grow in the Suusamyr valley.
A radio show about planets
When Aidatka was preparing a program about planets, she leafed through the magazine "Znaete Li Wy?" whose title means "Did you know?" in Kyrgyz. In this magazine, she read that a Kyrgyz cosmonaut, Salizhan Sharipov, teaches at the Moscow Aviation Institute. Aidatka also read that Sharipov is the only cosmonaut in Kyrgyzstan's history, and she said to her parents, "I want to be the second person to fly in space for our country".
In her letter, the eight-year-old wrote, "Hello, Salizhan Sharipov! My name is Aidatka Kadyrshanova. I live in Kyrgyzstan. I would like to congratulate you on Cosmonaut Day. I want to be a cosmonaut too."
Aidatka wrote Sharipov a letter and asked her mother to send it to him. But since Aidatka's mother did not know the address, she posted the letter on Facebook on "Cosmonaut's Day" – with an unexpected reaction. Two days later Sharipov contacted Aidatka. Using WhatsApp, the cosmonaut led the girl through the university's laboratories, workshops and offices. He showed her the models of the rockets that fly in space, explained how cosmonaut suits are made and what cosmonauts eat in space. Sharipov was trained in Moscow and the USA. He was in space twice: first in 1998, then in 2004/2005 as commander of the Soyuz rocket that took him to the International Space Station ISS. Today Sharipov trains cosmonauts at the university and prepares them for their tasks in space.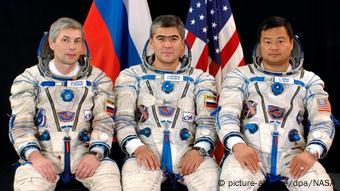 Salizhan Sharipov (middle) in 2004 when he lead the Soyuz mission to the International Space Station ISS.
Curiosity leads to big plans
Aidatka's interest in space travel had apparently impressed Sharipov. A month later, when he visited his native Kyrgyzstan, he invited the girl and her family to the capital Bishkek, 160 kilometers northeast of Suusamyr. Aidatka was allowed to meet the cosmonaut for an hour and ask him questions. She had many questions, but the one that interested her most was how a person sleeps in space.
Aidatka was fascinated by Sharipov's answer: Cosmonauts fasten belts around themselves while sleeping but they still float around a bit. She later passed on this first-hand information to her listeners on her radio show. The cosmonaut gave the girl a tablet computer with a picture of him as a farewell gift and reminder for her future. It is now Aidatka's constant companion and quenches her thirst for knowledge about the universe, stars and planets.
Various Kyrgyz media outlets have reported about Sharipov's meeting with Aidatka. It was a dream come true for Aidatka – her first dream. "I think my second dream will also come true," she says confidently. She wants to be the first Kyrgyz woman to fly in space.
DW Akademie has been supporting Kyrgyz community media since Radio Most was founded in Talas in 2007. There are now 27 community radio stations or multimedia centers throughout the country, many of them in remote villages, where the local population is provided with the latest news.