Pick up a leading Ecuadorian newspaper like El Comercio, Hoy, El Universo, Buenas Noticias or El Telégrafo and you'll find that the top story is probably about a Metallica concert in Quito, the gash on a soccer player's forehead or a student protest in Venezuela. What you won't find is a story focusing on indigenous groups - even though the country has a population of 16 million and approximately one in four Ecuadorians has indigenous roots.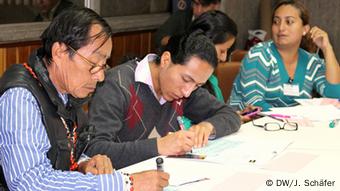 Indigenous journalists analyze reports in the Ecuadorian press
This is the starting point for the pilot project "Bajo la lupa" (literally, "Under the magnifying glass"), organized by DW Akademie and the "Pro Indigena" program of Germany's development organization, GIZ. Twelve reporters from various indigenous groups including the Shuar, Achuar and Zapara are being trained in how to systematically analyze the media.

"Our problem is that we don't stand up for our rights," said participant Tupak Gualán Macas at the kick-off workshop in Quito. The 23 year-old student wants indigenous groups to take the initiative. "You see, the national media needs to realize that their reports can't just concentrate on issues relating to the major cities Quito and Guayaquil." He believes "Bajo la lupa" is the first step in the right direction.

Focusing on indigenous stories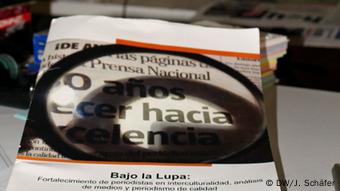 Reports up close: what is the press currently focusing on?
Over the coming months project participants will be analyzing the choice of topics among Ecuador's national newspapers. Participants will be posting results on their online platform "Bajo la lupa" with daily updates. The findings will also be included in a weekly, 30 minute radio program. The focus will be on issues such as the preservation of indigenous cultures, environmental destruction or women's rights - issues that are ignored by the national media.

DW Akademie and GIZ project manager Patricio Luna is confident about the project. "In the first workshop participants got a sense of how to closely analyze media coverage and also realized that every country gets the media it deserves," he says, adding that it's important to call for much wider coverage. Media literacy is a central component of the project and participants will also be learning how topics find their way into the media. "I'm sure this will prompt the media here to rethink their strategy and finally provide space for indigenous issues," he says.