Penhleak (Pinkie) Chan works as a researcher and volunteer coordinator at
Open Development Cambodia
(ODC)
, an open data initiative that aggregates and disseminates publically available data on development trends in Cambodia. This information is accessible to anyone with an Internet connection. Earlier this year she co-trained a DW Akademie workshop on data-driven journalism. At the DW Global Media Forum (GMF) 2014 she talked to DW Akademie about the effect open data is having in Cambodian society.
Why is an open data site so important in Cambodia?
Penhleak Chan: We've seen that a lack of public information on both the nature and location of development projects (and the decision-making process that led to them) has contributed to a conflict that pits the rural poor against investors. While Cambodia needs investments and economic development to feed its growing population, the question is how to achieve this so that development is not only sustainable but can also support the majority poor.

Is it a challenge to collect reliable data in Cambodia?
Yes, it can be difficult. Still, it's easier to get information from civil society organizations than it is from government institutions. One challenge is that many of the documents released by the government into the public domain are not machine-readable, and so digitizing and analyzing them is very time-consuming. Another challenge is that data and information are not always consistent, so there's a need to have a neutral and independent review team that makes sense of the data. For instance, in a project where we looked at reports on rubber production in Cambodia, the numbers provided by two separate ministries on the same indicator greatly differed. While that's not uncommon, we are seeing that organizations and institutions are now more inclined to cooperate in collecting and comparing data because nobody can achieve a complete picture on their own.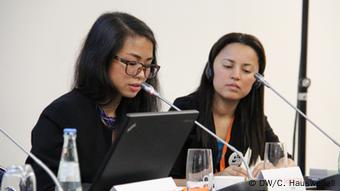 Penhleak Chan speaking at the GMF workshop "The Power of the Neighborhood"
OCD started up almost three years ago. What have been some of the other results?
In addition to students and organizations requesting more information, we're also seeing that there's been a positive reaction among conservation groups – especially when it comes to natural resources governance. We recently launched a forest cover mapping project. This was the first time that someone outside the government applied a scientific approach to providing the public with a long-term view of forest cover changes in Cambodia, and this was done without putting institutions in the hot seat.

How can Cambodian media benefit from open data?
Many of Cambodia's media outlets have close ties with the government. Business interests are also determining media content. I see data-driven journalism as a more objective way of reporting, and as a safer and much more convincing way to tell a story.

The DW Akademie workshop focused on data-driven journalism. What was the approach?
We trained twelve local participants including journalists, communication officers, and a journalism professor. They had no previous experience in data-driven journalism or in making sense of publicly available data for data-based stories. We created data visualizations and introduced new technical possibilities for looking at a story. This was unique because there is currently no other training in Cambodia that looks at data-driven journalism.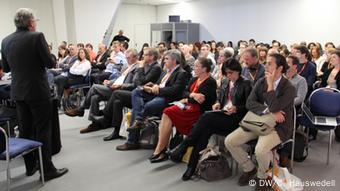 Innovative participatory approaches by local media presented at the GMF
What effect did the workshop have?
We all gained new insights on how to make sense of complex development issues by using story telling. We also saw that the numbers being reported by the mainstream media are not always consistent with what is happening in local communities. Rice farmers were interviewed by participants from the Women's Media Center of Cambodia (WMC), for example, and said they were barely making a living given the low prices that middlemen pay for their crops. At the same time, export statistics and news reports on rice production were showing net gains. At ODC we realize that we can't just look at the numbers from the mainstream sources but that we need to acknowledge and compare numbers from other alternative sources as well. In all, this type of cooperation between different media organizations could result in better civic participation and hopefully create a demand for better governance.


Open Development Cambodia was founded in 2011 with an aim to facilitate research and communication between the public, private companies, civil society, and governments. In January 2014, Penhleak Chan co-trained a DW Akademie workshop on data-driven journalism. It was part of a larger GIZ- funded project in Cambodia involving five media organizations and aimed at improving free expression and access to information.