Arusha is a vibrant East African city in northern Tanzania with a population of more than 2,000,000, and named after a regional Maasai tribe living in this region. Here at the foot of Mount Meru, the story of Saitoti, a 16-year-old academically inclined Maasai who wants to win a national science competition prize to help his ailing grandmother, plays out. "Space Maasai" is narrated and directed by Priscilla Marealle, an aspiring young filmmaker from this region who was one of the very first DW Akademie Film Development Fund grantees in Tanzania.
"The Maasai are really known all over the world," said Marealle in discussing her film. "They have a rich culture, rich dances and rich traditions. And many of them are dreamers! It is time to tell those stories too. And I feel those stories!"
The film is also a little her own story. Shortly before she finished school, she took part in an international space and science competition focused on satellites and how they influence the African continent. She won, and was able to travel with her father to the South African Space Agency. She learned a lot. And she wanted to talk about it, and to encourage and inspire her country's youth.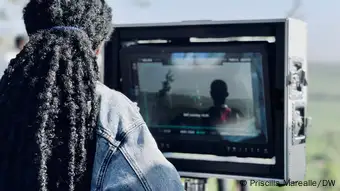 New doors opened. On her last day in South Africa, she visited the MultiChoice Talent Factory and submitted a story about a Maasai girl, which would evolve into her first short film and the start of her filmmaking career. She was given access to the Multichoice Talent Factory in Nairobi, though when she arrived, she had no idea what a film set was and what goes on behind a camera. She had, after all, come straight from high school and was one of the youngest in this international community of people from Uganda, Kenya and Ethiopia.
Marealle experienced so many new things, and at the same time, she was given the opportunity to take online courses at the New York Film Academy, where she graduated as a director and cinematographer.
Together with the Tanzanian alumni of the MultiChoice Talent Factory, she finally shot her first own short film in Tanzania. "Johari" is about a traditional dancer who immerses and loses herself in modern culture, the modern world and modern dance while her father frequently reminds her of her roots.
"When we first told this story, many found it difficult to understand because Tanzanian films rarely feature dancing," Marealle said. "But I felt the need to show my society something new!"
The tension between tradition and modernity has occupied her since childhood. She comes from Kisongo, which is in the Maasai land. There, she attended school with Maasai girls, but she never saw them in the afternoon. She wondered where they were and what their everyday life was like.
She borrowed an iPhone from a friend and filmed a Maasai girl without knowing what you do as a camerawoman, but with a clear story in her head that she wanted to tell. While filming the girl milking cows before she left for school, Marealle realized how privileged she was and that she needed to use that privilege to tell stories of people who really need it.
Making their voices heard and their stories told
"Johari" and "Space Maasai" producer Willy Nkya sees Marealle in the process of developing her own voice and distinctive style: a blend of culture, modernity and technology that he describes as "futuristic". Her ambition, he said, breaks new ground in the industry and is admirable. He believes her unique perspective and style will revolutionize filmmaking.
Amil Shivji, Tanzanian consultant to DW Akademie's film industry team and director of the film "Tug of War" sees a new generation of filmmakers in Tanzania who have a desire to make films for a broad audience and are eager to experiment with new genres.
However, he sees danger in making the same mistakes as the previous generation of filmmakers who chose quantity over quality. More films need to be made and new talent needs to be supported, he thinks. But mentors and guidance are still lacking.
And that's where the DW Akademie Film Development Fund comes in. The Fund was developed to support East African filmmakers who otherwise have a hard time making their voices heard and telling their stories so as to contribute to social change and freedom of expression. For Shivji, DW Akademie's consulting manager, what makes the Fund special is its independence from politics and a market promoting shallow content. It was through the Fund that Marealle first became aware that there was such a thing as a film's development phase.
"It was a great opportunity because I had the title, I had the idea, but this way I could dive into the full depth of the story, the characters, the setting," she said. And she used the time and money to research not only astronomy and space, but also the Maasai. That was important for developing the characters, which she did with her mentor Hawa Essuman, the director of "Soul Boy," among others.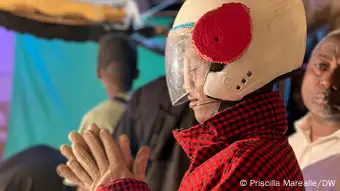 Tanzanian filmmaker Priscilla Marealle's newest film "Space Maasai" tells the story of Saitoti, a 16-year-old academically inclined Maasai who wants to win a national science competition prize to help his ailing grandmother.
Push the boundaries of storytelling in Tanzania
When Essuman first saw "Space Maasai," the idea excited her, as did the way modern science and tradition are brought together. She sees the story as a local response to the challenges of bridging the gap between modernity and tradition. She also perceives Marealle as curious, keen and ambitious – alas, one of the women in East Africa to make it in the film industry, not least because she has a good community to support her, and also as having been uplifted by her selection for the DW Akademie Film Development Fund.
"Making a film is always quite tough," Essuman said. "It needs strategic intelligence! Priscilla has realized that and is well on her way!"
To date, Marealle has worked on several projects in Tanzania, including "Katope," the very first Tanzanian Netflix short film, and several commercials and corporate videos for large organizations. For Nkya, the producer, it is high time that Marealle takes on the challenge of directing a feature-length film, showcasing her distinctive style to a wider audience.
"With each project she works on, she continues to evolve as a filmmaker and push the boundaries of storytelling in Tanzania," he said, adding "the DW Akademie program has been such a great tool to shape Priscilla's directing skills."
The DW Akademie Film Development Fund offers a one-year fellowship program for filmmakers working on the development of their feature-length documentary, fiction or hybrid films. Funded by the German Federal Ministry for Economic Cooperation and Development (BMZ), the Fund program awards the fellows €10,000 and pairs each with an experienced mentor who will assist them throughout the program. They also have access to tailored training and networking opportunities.