Anja Koch writes about her colleague Yannick Jochum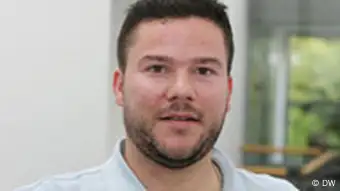 Yannick Jochum
It all started about fifteen years ago in an attic in Wilhelmshaven: when Yannick flicked the switch on his grandparents' old CB radio and tuned into the airwaves around him. It was here, in among boxes and dusty furniture that Yannick made his first radio broadcasts - with one hand on the microphone, and the other on the record button of his tape recorder.

At the age of eleven, Yannick moved to Peru with his family. When suddenly, everyone around him was speaking Spanish, a particular TV station among the 97 available took on a special importance: Deutsche Welle. Every evening Yannick would watch the German news. And because he wanted to actually actively engage in journalism some day, instead of just consuming it, he began to write for the school magazine and found work at a radio station.

Back in Germany, his choice of degree course was hardly a difficult one: journalism and political sciences. Yannick was perfectly happy at the University of Leipzig but after a few semesters in college and practical placements with the University Radio station and the Saarbrücker Zeitung, it was time for a break. He spent some time at the microphone in Sydney and Melbourne before moving to Bonn and Deutsche Welle. Now, Yannick is making radio programs again. But this time, in a much more professional manner than in the days of the tape recorder in the attic.


Yannick Jochum writes about his colleague Anja Koch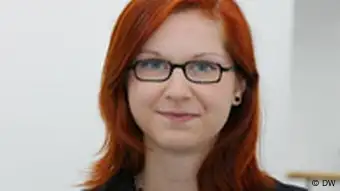 Anja Koch
"Alles muss klein beginnen, lass etwas Zeit verrinnen. Es muss nur Kraft gewinnen, und endlich ist es groß" | "Everything must start out small, let some time go by, it must first gather strength and then it will finally be great" - these are the opening lyrics of a song by the East German song-writer Gerhard Schöne. Anja grew up with his lyrics, in Berlin and Thüringen.

Her journalistic career started out small, too - first at the school magazine, then at a local newspaper. Then Anja was gripped by the desire to travel and she left the forests of Thüringen for the cornfields of Iowa. On the remote farm where she worked, there was only one reliable source of information from Germany: Deutsche Welle.

By the time she returned to Thüringen, Anja had chosen her career: journalism. Having graduated from high school, she studied communication and social sciences in Erfurt, where she also took Arabic classes. Yet the local lingua franca was not an oriental one, rather the dialect of Hessen. Anja opted for a masters degree in journalism in Mainz. She spent her days and nights in dingy bars and in prison - on business, not pleasure, of course. Anja covered the effects of the anti-smoking laws for the Frankfurter Rundschau and reported for the Saarländischer Rundfunk on asylum-seekers in jail awaiting deportation.

Now Anja has arrived in Bonn. Some time has gone by. Gerhard Schöne's lyrics are still ringing in Anja's ears. What started out small has become great. And the traineeship with Deutsche Welle can make it even greater.


Ricarda Lynn Otte writes about her colleague Arne Lichtenberg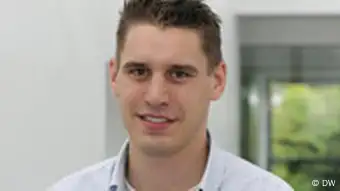 Arne Lichtenberg
Now that he has qualified for the Deutsche Welle, Arne now faces the challenge of setting himself a new goal. With a freshly-printed degree from the German Sport University in Cologne under his arm, this Bremen-born prodigy is not just an expert in sporting matters, he was also born with the memory of an elephant and a sportsmanlike ambition that have turned him into a walking encyclopaedia. Arne does not do things by half but it doesn't always have to be conventional. As a back-row forward in rugby, he's also known to have an egg-shaped ball under his arm.

It's a hobby that - like his passion for sports journalism - he acquired at boarding school in England. He got his journalistic training in various media outlets, including the Weser Kurier, Radio Bremen TV, ARD Sportschau and a radio traineeship in Córdoba, Argentina. His Argentinian colleagues immediately hired him as an analyst and reporter for the World Cup Finals 2006 in Germany - and told him so many great things about Deutsche Welle that he did a traineeship here shortly afterwards. And he came to the conclusion that the world of DW is definitely round. So from now on, Arne will be passing the ball to his colleagues at the Welle and around the world and keeping a close eye on the ticker - and not just the sports reports.


Arne Lichtenberg writes about his colleague Ricarda Lynn Otte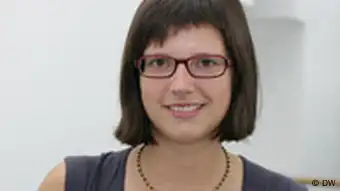 Ricarda Lynn Otte
Born in the northern German city of Lübeck and raised in nearby Hamburg, Ricarda's career goal was geographically close at hand from an early age. Her neighbors to the left and right were clever writers whose work impressed her as a teenager. Once she had graduated from high school, her first destination was on the Iberian peninsula: Spain. She quickly completed a European voluntary service in León, during which she fell in love for good with the country and its people. Her academic career took her to Berlin, where she devoted herself to Spanish philology, comparative literature studies and modern history. And, of course, journalism.

An exchange year took her back to Spain, this time to Madrid. After numerous practical placements, she got a decisive tip during a journalism seminar in Tunisia. "Try Deutsche Welle, it would suit you", said the young man from DW. Luckily for Ricarda, she soon realized that she was wrong in the belief that this was some kind of local German radio station in Mallorca! She liked it so much at DW-TV that she simply had to come back for more! Now she's lucky enough to be a trainee, otherwise she would have been condemned to writing her doctorate in dusty libraries and claustrophobic archives. And that's surely not what her neighbors would have liked to see.


Nina Haase writes about her colleague Benjamin Braden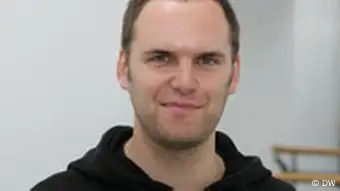 Benjamin Braden
With a voice like Benjamin's radio is the ONLY place to go. And luckily, we're not the only ones who think this: In his first semester break (he studied history, politics and Islamic sciences), Benjamin left his home town of Hamburg for the Scottish town of Inverness, where he gathered his first broadcasting experience with the private broadcaster "Moray Firth Radio". He and the microphone immediately got on like a house on fire. The same went for himself and Scotland, so he decided to spend a year at university in Edinburgh.

Benjamin's next destination was the Middle East. His master's thesis was about Lebanon in the 1970s. He travelled to Lebanon to see what it is like today. He also went to neighbouring Israel and spent three months as an intern with the Friedrich Ebert Foundation. On his return home, Benjamin wrote articles for the city magazine "Stadtmagazin HH 19" and did a traineeship with the broadcaster NDR Info.

At Deutsche Welle, Benjamin will have the chance to rekindle his old love affair with radio and brush up on the written word. And perhaps Benjamin "the voice" Braden will also fall in love with moving pictures?


Benjamin Braden writes about his colleague Nina Haase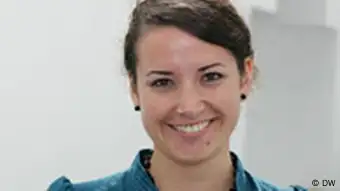 Nina Haase
"That's...... Don't I know her?" Could well be. Because with Nina Haase, B came before A. In 2005 she joined Deutsche Welle on a practical placement - and stayed - becoming a freelancer with the "Living Planet" and "Lifestyle" magazines on DW-RADIO. And now she's about to become a "real" editor.

She can hardly claim that she didn't know what she was letting herself in for. Her thesis was about the importance of radio for the growing European identity. One of her examples? Deutsche Welle. Nina studied applied languages and international management / international communication in Cologne, Aix-en-Provence, Jacksonville (Florida) and Liverpool. If she were to attach a rope in every country in which she has lived and bring the strands together in Bonn, she would be holding a great big cat o'nine tails in her hand. During her time at high school in her home town of Recklinghausen, she also undertook trips to Russia and Israel. She's done research for Deutsche Welle in Beijing before the Olympics and with the Aborigines in Australia. So although we've been through B and A has already begun, that doesn't mean that there is nothing new left for Nina to discover at Deutsche W.

For example, the D and the P - of the 'Deutsches Programm' on radio. And the as yet untested but highly attractive T and V. But that's not until next year in Berlin. First, it's radio's turn - and Nina is to be found with the European and Africa program departments.


Nina Plonka writes about her colleague Sola Hülsewig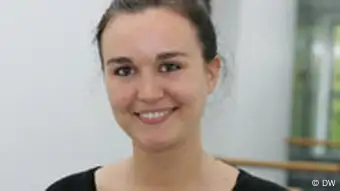 Sola Hülsewig
Sola grew up in a mansion near Tübingen, which her parents and other alternatively-minded people had renovated and refurbished. She first got the idea of going abroad after school during a practical placement with the "Tatort" TV crime series. Her colleagues at the Südwestdeutscher Rundfunk told her about their exciting research trips abroad and whetted Sola's interest in foreign lands.

The 22-year-old first heard of Deutsche Welle through a Brazilian friend. During Sola's stay in Salvador da Bahia, her host mother watched DW-TV almost every day and got Sola to translate it. Sola had originally traveled to Brazil to work for a non-governmental organization helping children with heart disease. After some months there, she also began attending lectures in communications studies as a guest at the Salvador University. Now she was sure that she wanted to study journalism when she got back to Germany. Shortly after her return, she began studying journalism and Romance studies in Dortmund.

When she has finished her traineeship at Deutsche Welle, Sola plans to complete her studies in Dortmund, but not without spending at least one more semester abroad. "Probably in France", says Sola, somewhat hesitantly. But who knows? Maybe Deutsche Welle will end up giving Sola different, more unusual or exotic ideas.


Sola Hülsewig writes about her colleague Nina Plonka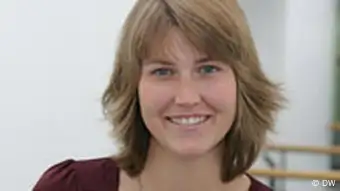 Nina Plonka
Deutsche Welle first came to Nina Plonka's attention in Australia. Her fellow students on the masters degree in journalism were more familiar with the broadcaster than she was herself. Every year, the university organized a trip to Bonn to visit Deutsche Welle. The Aussies' enthusiasm for the Deutsche Welle soon infected Nina: from then on, DW-TV accompanied her breakfast.

Nina, who grew up in the Ruhr Valley, studied journalism and PR in Gelsenkirchen and Wales. Having completed her bachelor's degree, numerous practical placements in Germany and Spain and gathered plenty of experience working for newspapers, she went to university in Brisbane. Soon she won two internal university prizes and a national award - the latter for the best article by an international student.

While studying at university, completing practical placements at the Australian Broadcasting Corporation and the daily newspaper The Australian, Nina spent whatever spare time she could muster on her hobby: photography. The photos she was able to get published helped to top up her travel kitty.

Back in Germany with the Deutsche Welle, Nina is already looking forward to the next group of visitors from Brisbane. This time around, she is sure she will be able to tell the Australians something about the German overseas broadcaster that they don't already know.


Nina Funke-Kaiser writes about her colleague Jana Pareigis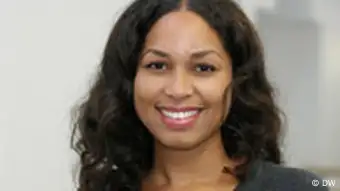 Jana Pareigis
If there was one question in the selection procedure for the Deutsche Welle traineeship that Jana Pareigis could answer in her sleep, it was this: who is the head of state of Zimbabwe? After all, the 27-year-old lived there herself for a year and a half. Although born and bred in Hamburg, she has traveled the length and breadth of Zimbabwe and also spent six months in London. After graduating from high school, she started work in a development aid center in Harare.

After that she did a practical placement with a foundation and wrote articles for a newspaper. On her return to Germany, Jana started studying political science and Africa studies in Hamburg. But it wasn't long before Jana felt the urge to seek out the focal point of African diaspora studies, and she set off to spend a year in New York, where she also completed a practical placement in the Peacekeeping Department of the UN. Back in Germany again, Jana got a job at the TV broadcaster N24 in Berlin as an assistant to the editor-in-chief. She spent three years experiencing the excitement of a parliamentary news department, completed her degrees and found a practical placement at Reuters.

Jana has great appreciation for Deutsche Welle's international orientation and diversity of topics, as well as the work the DW Akademie does abroad. Already a trained coach in antidiscrimination, intercultural communication and diversity management, perhaps she too will one day teach young journalists in Zimbabwe about the importance of media freedom.


Jana Pareigis writes about her colleague Nina Funke-Kaiser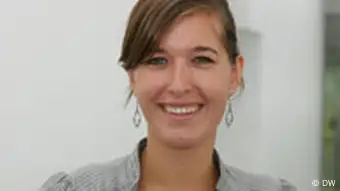 Nina Funke-Kaiser
Nina Funke-Kaiser's first lengthy stay abroad is still fresh in her mind: having graduated from school, she traveled to Peru for three months. Since then, she's been unable to turn her back on Latin America. She learned Spanish in Cusco and worked on an aid project to help Peruvian children.

After a brief detour to Australia and New Zealand, where she worked for a newspaper, Stuttgart-born Nina returned to Germany, to Eichstätt to be precise - to go to college. She had known that she wanted to study journalism since her first practical placement with a regional newspaper in Stuttgart. "The topics weren't necessarily earth-shattering, but I immediately enjoyed telling stories in my capacity as a journalist," says Nina. She opted to minor in political science and Latin American studies.

Now 26, she spent 2005 on an exchange year in Buenos Aires, where she spent a month working as a co-presenter on an Argentinian radio show. "At first I was pretty nervous, but the relaxed conversational atmosphere quickly made me forget my nerves. In the end it was just fun," she recalls. With warm memories of Latin America and her other travels, Nina also has a special appreciation for the international working environment at Deutsche Welle.