In early July more than half a million people in Hong Kong went out on the streets, calling for more democracy and independence from Beijing. This coincided with a trip by senior German journalists who had come to China as part of a program by Stiftung Mercator, a private German foundation. Called "Behind the Scenes," the program gave the journalists a chance to take a new and closer look at today's China. While they were there, a number of Chinese activists and politicians spontaneously agreed to meet with the journalists, giving them a unique insight into the country's current social and political situation.

"I've rarely been on a trip that's impressed me this much," said Martin Bialecki who heads the political desk of the German press agency, dpa. He was one of 13 German journalists who had been invited by DW Akademie, the University of Hong Kong and the German foundation Stiftung Mercator to take part in this five-day trip to Hong Kong and southern China.


Off-the-record talk on the demonstrations with Hong Kong opposition politician, Albert Ho Chun-yan
"The China Model" - part of the larger "Behind the Scenes" program - looked at the political, social and economic aspects of China's economic miracle, and at the challenges and problems facing the Greater China Region. The program aimed to give senior editors more background on topics that dominate German press reports on China, and to take a closer look at important issues that are often overlooked or neglected.

"We worked with a number of different formats," said Eva Mehl, DW Akademie's regional coordinator for East Asia. "There were off-the-record background and round table discussions, forums and podium discussions, lunch and dinner debates, as well as excursions and site visits. It was all there."

New perspectives on China

A special focus was on China's foreign and security policies, and participants had a chance to listen to a debate on the territorial conflicts between the People's Republic and its neighbors featuring Chinese, Japanese and Philippine experts. After the debate, many of the journalists said they hadn't realized just how tense relations were in the region, especially between Japan and China. Some said it was reminiscent of the Cold War and unresolved conflicts in the Middle East.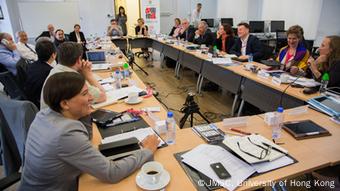 Round table discussion at the Journalism and Media Studies Centre in Hong Kong
Another focus was on China's economic policy, and the program included discussions with well-known economic experts from mainland China and Hong Kong. Participants also visited the Hong Kong Stock Exchange and the headquarters of the banking and financial services company HSBC. To see the other side of the coin, the journalists travelled to Shenzhen, one of the country's special economic zones, where migrant laborers told them about their living and working conditions.

Participants also met with Chinese bloggers and investigative reporters for off-the-record talks. "I've rarely met so many incredibly bright people in such a short space of time," said Karin Fischer, head of Deutschlandfunk's "Kultur heute" radio program. "It's given me new ways to look at a part of the world that we still know so little about but which could change the whole global balance of power and markets, for better or for worse."


Karin Fischer, head of the radio program "Kultur heute" (Deutschlandfunk)
Susanne Biedenkopf-Kürten, who heads the business, legal, social and environmental affairs desk at the German public broadcaster ZDF, said she often thinks back to "this incredible week." And Fabian Leber, editor of the opinion pages of the Tagesspiegel newspaper, said he now has a better grasp on current developments in China. "I've become much more interested in the country," he added. "I'm grateful for that."


"Behind the Scenes" is a project by the private German foundation Stiftung Mercator and is organized by DW Akademie and the University of Hong Kong. This autumn, Chinese journalists will be travelling to Brussels, Frankfurt and Berlin as part of a fact-finding tour on European integration. The journalists will also be meeting with the German alumni of the program's China trip.