In times where the space for independent media is shrinking, quality journalism itself is becoming more expensive and complex. This has been undermining business models and at times, editorial priorities and journalistic quality.
While this is true for all media, it is particularly pressing for investigative news outlets. On top of the financial challenges, those exposed by the investigations are often taking all possible steps to undermine critical media and its journalists, ranging from physical threats to legal cases against them, or the withdrawal of advertising funds. In extreme cases, investigative journalists are put behind bars, some have even been killed.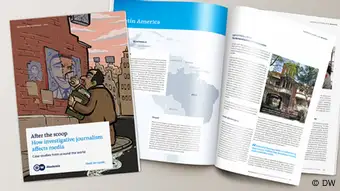 Nine case studies from around the world
Against this backdrop, DW Akademie's publication After the Scoop - available in English, Russian and Burmese - showcases nine media outlets from Asia, Africa, the Middle East, Latin America and Eastern Europe. They are not only managing to survive within the most difficult circumstances, but also to stay viable and even grow.
Download "After the Scoop" below!
Take Liberia, where FrontPageAfrica has become the leading newspaper in the country due to its reports on corruption and human rights abuses at the highest government level, attracting international companies as advertisers and thereby ensuring its editorial independence.
In the Philippines, Rappler has made a conscious effort to understand the needs and habits of its millennial audience while showcasing the violence and corruption of President Duterte's regime. "We're in touch with our readers, know what they want and how much they can take," says managing Editor Glenda Gloria. This has brought them much respect and attention abroad; however, at home they are facing threats, defamation and lawsuits from the president himself.
And in Brazil, Agência Pública has chosen a non-profit model for their news agency that investigates human rights abuses to further the democratization of information. Its co-founder and co-editor, Natalia Viana, believes that to be viable, a media needs to show society that its existence is necessary. Agência Pública has teamed up with professionals from other areas, such as the tech sector, and journalists from abroad to find new, innovative ways to convey their stories, always keeping in mind the specific audience of an investigation.
After the Scoop highlights many more media outlets - Mada Masr from Egypt, Atlatszo.hu from Hungary, KRIK from Serbia, Plaza Pública from Guatemala, Tempo from Indonesia and Premium Times from Nigeria. Outlets that fly the flag of investigative journalism, even under harsh conditions.
Learn more about DW Akademie's activities to support investigative journalism here.