Next to social distancing, washing your hands and practicing respiratory hygiene, the World Health Organisation also advises staying informed in order to protect yourself against COVID-19.
Accurate and trustworthy public information is of vital importance, especially during times of crisis. Without it, lives are at stake. Often, it is government bodies and public authorities that provide such information, be it recommendations on personal hygiene, scientific evidence on how exactly a disease spreads or where cases cluster. It goes hand in hand with transparency on why certain measures are taken and how stimulus packages are implemented.
It is therefore a disturbing trend that numerous countries have curtailed the right to public information (RTI) under the pretext of responding to the pandemic. This is not only the case under regimes where this right is regularly brushed aside, but also in countries where it is both protected by law and usually respected.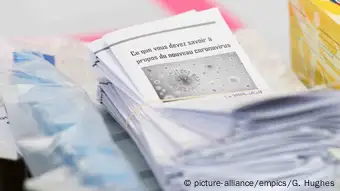 Coronavirus information at a test clinic in Canada
In Mexico, the National Institute of Transparency suspended the deadlines for information requests from 23 March until 17 April. The offices of India's Central Information Commission, the body that oversees RTI in the country, were closed on 25 March for a period of 21 days, deferring all cases for the period. Italy, one of the countries hit hardest by the novel Coronavirus, issued Decree-Law No. 18/2020 on 17 March, suspending all non-urgent RTI activities. Similar blanket measures have been implemented, amongst others, in the Philippines, Honduras, Romania, the United Kingdom (Scotland) and Spain.
How is media development affected?
In certain countries, the trend goes hand in hand with a more general clampdown on freedom of expression and independent media. As a result, public accountability of governments' responses to COVID-19 is severely hampered. The UN, international civil society, academics and the media have already raised alarms about the impact on human rights in the current situation. The question of when these regulations and measures will be scaled back or lifted altogether remains paramount. Many emergency decrees and legislation do not provide a clear end date or describe the conditions under which they would be repealed.
How to take action
Amidst an unfolding crisis, the challenge of raising awareness about the importance of public access to information is tougher than ever. Preparation for action in the post-Corona phase is also crucial.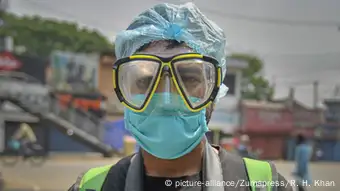 A journalist in Bangladesh wears a protective mask
"We need to focus on both preserving existing rights to information as far as possible and, given that we have already lost a lot of ground, the early and full restoration of this right once the pandemic is under control", says Toby Mendel, Executive Director of the Centre for Law and Democracy, a Canada-based human rights organisation.
Against this backdrop, a couple of measures could be prioritized. Monitoring is a key first step. RTI-Rating.org, a website which evaluates and ranks countries' RTI legislation, and is managed by Centre for Law and Democracy and Access Info Europe, is tracking the global impact of legal measures taken in response to the novel Coronavirus that affect RTI. Well-timed advocacy efforts need be scaled up, due to the importance of the right to information in general, in order to promote adherence to existing RTI laws and regulations, and to ensure a proactive distribution of information and open data by governmental bodies. Another focus could lie on pushing back the blanket characteristic of measures and on advocating for sunset clauses in emergency legislation.
Courts can act as allies in this regard, but lockdown measures can also critically undercut in their functions. In Brazil, the Supreme Court temporarily blocked a Provisional Decree aimed at limiting the right to access information.
The way forward
There are encouraging initiatives which aim to ensure that transparency and the right to information remain guiding principles in handling the novel Coronavirus.
The Open Government Partnership, a multi-stakeholder collective of countries and civil society organisations committed to transparency, is compiling open government approaches and initiatives.
RTI oversight bodies in different countries have stepped up to the challenge to ensure RTI. In New Zealand, the Chief Ombudsman has called for understanding with regards to delays in responding to public information requests but encouraged public agencies to "keep the public informed about their arrangements for dealing with official information requests".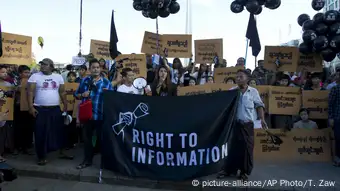 Advocacy before the coronavirus outbreak
The Information Commissioner of Canada urged the country´s public sector "to ensure that appropriate decision-making documentation safeguards and practices are in place" and called for proactive disclosure of vital information across the board.
In El Salvador, despite an emergency decree temporarily halting all administrative and judicial procedures, the country's Institute of Public Access to Information reminded public authorities that even in times of crisis, "people continue to preserve their human rights, and it is up to the authorities to observe and respect them". The state institution also published specific guidelines to ensure public accountability as well as transparency and the protection of personal data under a state of emergency.
These initiatives are a welcome sight and should certainly inspire other governments across the globe.
Author: Gerwin De Roy (am)