In 2020, at the height of the COVID-19 pandemic, Margarita Mihailova learned she was pregnant. Living in Moscow at the time, she had become a successful documentary filmmaker, increasingly focusing on censorship and Russian media.
Then came her country's invasion of Ukraine. Western sanctions followed. A future in Russia for her, as for so many others, felt untenable.
Together with her husband, the couple considered their options. Other skilled Russians who feared their leaders were dragging the country into a quagmire, and who themselves feared conscription, were fleeing – to Turkey, Kazakhstan, Dubai. Margarita's husband had family in Armenia, and other Russians were heading there, too.
To flee one's country, whether out of economic misery or the lethal danger of war, warrants a great act of courage. Language, family, culture, profession – the refugee leaves all of this behind without any guarantee of a safe landing in the adopted country. And in their new country, perhaps only a faint hope of ever being able to return home remains. Margarita faced all of this, with the added anxiety of having a seven-month-old child.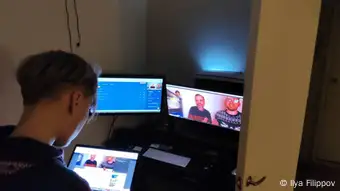 Margarita Mihailova conducted interviews with Igor Kochetkov, director of the Russian LGBT Network and psychologist Kir Fedorov. Much of her documentary film work has focused on marginalized people living in Russia.
"We weren't necessarily in danger," she recalled., "but we saw emigrating as precautionary and the chance at a better future. I'd say more importantly, too, is that I did not want to remain silent at the injustice I saw in Russia."
A new life, a new calling
She had, until then, produced a large body of work spotlighting, she said, "people who have neither a voice nor influence in public spaces: the disabled, sex workers and women in general." She made films for both charities and private industries. She had also filmed journalists doing their work, including in 2014 for the Russian broadcaster TV Rain, which hired her to document its numerous challenges in covering President Putin's autocratic moves and the gradual build-up to war.
"That really inspired me because I saw them fighting for their survival," she said.
Therefore, when she approached the Armenian broadcaster Factor TV, a DW Akademie partner, offering to work with younger reporters as they learn to pull together stories, she was warmly welcomed – something, she said, that still rather surprises her.
"I think there's this stereotype of the Russian immigrant having a hard time finding work," she said, "and in many, or maybe most, cases, that's true. But in my case, I was very lucky because I really wanted to work."
Margarita worked with Factor TV's interns, introducing different approaches to media documentary filmmaking, said Sara Khojoyan, who supervises the station's internship program. She also worked with the students as they composed and edited short videos summarizing their thoughts on journalism and the internship, which is a component of the EU-co-funded program "European Media Facility in Armenia. Building Sustainable and Professional Media."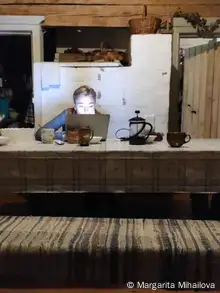 Margarita Mihailova, a documentary filmmaker, fled Russia to Armenia at the start of the war in Ukraine. Among her films, she documented life in Verhniy Bereznik, a village near Archangelsk.
"It was quite unique information for the students," said Khojoyan. "It gave them an interesting and different idea on problems that documentaries spotlight in Russia and how to approach voicing these problems. Her involvement at Factor TV contributed to broadening the students' experience."
Giving back to her host country
And yet Margarita said she does not think of herself as a journalist. Observing journalists and how they do their work spurred an interest in politics. She added that this now preoccupies her more and more these days, particularly as she sees journalists – many who have become friends over the years – branded as public enemies. It is also why she considers the chance to work with young journalists in Armenia to be a gift.
"It's a great opportunity, and it makes me feel alive," she said. "I've always wanted to work, but still, I did not expect that Armenians would be so good to me, or to other Russians. But they provided me with work. They really cared about our situation and I'm glad to give back."