The new "German-Turkish Master's Program" was launched in the fall and offers a unique combination of journalism, communication sciences, media development and media management studies. The program is conducted in English and aimed primarily at Turkish and German students with initial media experience. The IMS is sponsored by the German Academic Exchange Service (DAAD), with DW Akademie, the Bonn-Rhein-Sieg University of Applied Sciences and Istanbul University sharing responsibility for the program.
Christian Gramsch, director of DW Akademie, emphasized the important role that the Master's program would play in German-Turkish relations. Speaking at the official opening held October 30, 2014 in Istanbul, Gramsch said the joint program provided a cultural bridge in bringing Turkey and Germany closer together. "The goal we all share is to set journalism standards and support quality journalism so that independent and critical journalism can play a crucial role in the development of both our countries," he said.
Combining research and hands-on media practice
Germany's IMS Master's program got underway in Bonn in 2009 and since then four sets of students have completed their degrees. The program is unique in Germany and is also gaining worldwide interest. In 2012 DW Akademie launched a somewhat similar program – an MBA in media management – together with the German University Cairo (GUC).
This is the first time, however, that the International Media Studies program is being conducted abroad. In a video message, Professor Harmut Ihne, president of the Bonn-Rhein-Sieg University of Appliances, said the IMS in Bonn "was our first joint cooperation with DW Akademie and it's been highly successful." He said he was extremely pleased that it was now also being offered in Istanbul.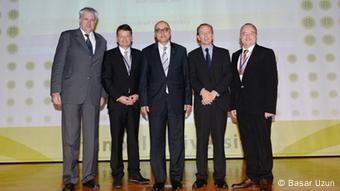 l.t.r.: Michael Krzeminski (Bonn-Rhein-Sieg University of Applied Sciences), Christian Gramsch (DW Akademie), Yunus Söylet (Istanbul University), Prof. Christoph Schmidt (DW Akademie) und Ceyhan Kandemir (Istanbul University)
Professor Yunus Söylet, rector of Istanbul University, stressed the importance of the new program and praised DW Akademie for its expertise in offering both theoretical and practice-oriented training for students to become media professionals themselves.

Over a three year period Professor Schmidt, head of DW Akademie's academic division, together with his team worked on establishing the program in Turkey. "It's was a challenge to develop a Master's program that would meet the formal requirements of both our higher education systems. We're extremely happy with the results," said Schmidt, adding "what we've learned here will be a great help in developing further cooperation projects." The International Media Studies continues to raise international interest, and additional joint projects are currently being planned with partners in Colombia, Kenya and Pakistan.