In 1973 Ethiopian Airways' very first regular flight took off from Addis Ababa: interestingly, the destination was Shanghai. Now, forty years later, China is increasing its economic engagement in Africa, accompanied by China's growing interest in news production and the media. This is part of China's public diplomacy campaign. Questions arise. What are the soft power vehicles that China - and other growing economies with a rising interest in Africa - are developing? What are the strategies behind this? And what does this mean for African media markets and, subsequently, for western media development strategies?

"Firstly," says Professor Daya Thussu from London's University of Westminster, "we are not talking about 'soft power'; we are talking about 'hard power'". In 2016 China will for the first time pass the GDP of the US. In other words, very soon. There are other indicators clearly showing that China, with India close behind, will play a key role in the global economy. Both countries are well aware of their growing importance and are building global communication capacities to underline their presence and by using their own narratives.

Russia has established Russia Today as the main platform for telling the Russian story the Russian way. The strategy is clearly to underpin Russia's global image via a quality global news channel and at the same time to increase coverage of the country's issues. This is similar to China's strategy, but on a smaller scale.

The "new" China

"China no longer wants to be 'demonized'," explains Anbin Shi. "That's why China is investing in its image via a global communication strategy." Shi is Professor of Media and Cultural Studies at the School of Journalism and Communication at Tsinghua University, China. He is also a special consultant for the State Council's Information Office. Shi says China's charm offensive should reach liberal and conservative intellectuals in the West as well as global netizens. "The main focus," he says, "is on explaining the difference between the "old" and "new" China."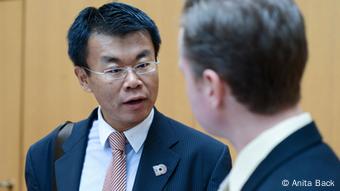 Anbin Shi, Professor of Media and Cultural Studies at the School of Journalism and Communication at Tsinghua University
The "new" China, he continues, is acknowledged as a future global power and partner and now simply wants to also be seen as "normal" and make it's own voice heard. That is why China is developing some of its national media as a global media. This began with the state news agency Xinhua and the broadcaster CCTV. China's global media strategy is thus not only aimed at professionalizing its news but also on creating a down-up approach to reach the users of social media. This makes sense given that China has by far the largest online community with half a billion users and despite the fact that there is only 50% Internet access countrywide. By contrast, the US Internet community is only half as big with nearly 100% accessibility. The second largest online community can be found in India.

One can observe the biggest impact of this strategy in Africa, where the Xinhua News Agency has 26 bureaus in Africa alone. In 2012 CCTV International began broadcasting a daily one-hour program from its state-of-the art news hub in Nairobi, Kenya. In addition to its news reporting capacity, China has begun investing in media markets, especially in South Africa. "There is a sense of 'the rise of the rest' among media owners in South Africa," says Professor Herman Wasserman from Rhodes University. Chinese shares recently turned a South African media house owner into a billionaire. South-South investment in the media sector will increase and only reflects a global trend, Wasserman explains. As a share of world merchandise trade, South-South trade more than tripled between 1980 and 2012, while North-North trade declined during the same period. According to a study conducted by Rhodes University, the general belief appears to be "a cautiously optimistic view with an increasing nuance, at least partly due to exposure to Chinese media." Media nevertheless are likely to remain a platform for battles over attitudes and perceptions, says Wasserman.

One media representative quoted in this study says, "I refer to both Xinhua and CCTV from time to time, both for a sense of what the official Chinese line is on key issues, and for a sense of where Chinese interests lie." Another colleague states: "My views have changed from suspicion to seeing China as a pragmatic actor working in a different way with better results and a growing economy. I don't think China is trying to colonize Africa. China needs Africa. China is not a benign force coming into the country. It has self-interest at heart. SA has to do the same."

New actors in media development

"Colleagues recently reported that they had attended very good journalism workshops in Beijing," says Jillo Kadida, an award-winning journalist with The Star in Nairobi, Kenya. This is hard to swallow for media development organizations specialized in trainings based on Western ethical journalistic standards. Thousands of African journalists have been trained since independence by both capitalist and communist countries. And these days? "The Chinese media at least give contracts to African colleagues while Western media have always come in with their own staff, reporting on Africa as the continent of disaster and catastrophe," says Kadida. Perceptions change as options and alternatives arise.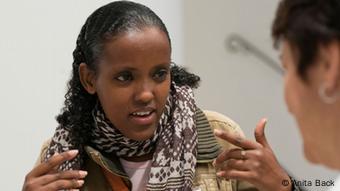 Jillo Kadida, journalist wirh The Star in Nairobi
Among the BRICS countries, China and Russia are clearly focusing on news as a vehicle for shaping public opinion and pronouncing the "rise of the rest" with a global soft power campaign. According to Professor Daya Thussu, "This is leading to a diversity of cultures in an era of multi-media; multi-vocal, multi- directional communication flows and contra-flows," adding that this is "de-Americanizing soft power".

India's Foreign Office only recently created a division in charge of developing soft power strategies. Different from the news media approach, India's current influence on public opinion is based on its growing movie industry. Bollywood plays on a positive perception of India, particularly in the Arab world, says Naila Hamdy, Assistant Professor of Journalism and Mass Communication at the American University in Cairo. Entrance to the Arab media came easily given the Indian and Pakistani workers in the Gulf States, but it goes well beyond exporting Bollywood hero figures. Indian studios have started to invest in the Arab region and increase its production capacity. Moreover, there are incredibly successful movies in the Arab world that tell a Bollywood story using well-known Arab actors and Arab-style decors. "I call this 'Hindustani'," says Hamdy, "which refers to a widely accepted hybrid culture."

A similar process can be observed in Brazil's media sector, which among the BRICS countries appears to be the most commercialized and mature in terms of freedom of expression. Nevertheless, the Brazil media market has for more than 50 years been driven by large family-owned holdings. In the Portuguese-speaking world, Brazilian "telenovelas" since the 1980s have been successfully exported to Angola and Mozambique. Since then, characters from successful telenovelas have been influencing lifestyles; children, for example, are often named after telenovela characters. Globo TV has licensed its most successful telenovela "Brazil Avenue" to more than 106 countries and is increasingly turning its business model away from export and towards co-production. Brazil is a good example of how a country has managed to get its own narratives told using sun, beaches, samba, soccer and fashion. Brazil, says John Straubhaar, Professor of Communications at the University of Texas in Austin, has mostly succeeded in establishing a positive image among its neighboring countries and the US.

Accepting alternative viewpoints

"Tell your story your way" is certainly in the news and fiction sectors the common strategy being applied by most of the rising economies, and concerted efforts are being made to counter the dominance of Western-based global media. This process will increase over the next decade and other players will be investing in the same strategy. Al Jazeera has just launched a US edition of its TV channel, produced at the heart of New York with top US journalists on board and a state-of-the-art news hub.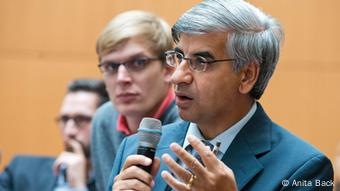 Daya Thussu, Professor from London's University of Westminster
Alternative views will be available to citizens all over the world to a completely different extent. This includes values, society models and political concepts far beyond media models. These models may be different to Western ones and not have the same standards of freedom, democracy and human rights, but they may be sufficiently fair to deal with or adopt. A changing perception due to the availability of alternative views is the key factor here.

Media development will have to reconsider its approaches and accept that the partners it works with will be making choices based on a growing array of offers - offers which may increasingly be driven by business interests rather than "development support". Even though relations with BRICS countries vis-à-vis media development may not yet be at eye-to-eye level, they provide options for both sides to see it as a win-win situation. Media development will therefore face an even more critical assessment regarding the role models and relations it offers.

During its landing approach, Ethiopian Airlines shows a promotion video announcing its new up-coming destinations: Singapore, Seoul, Manila, Sao Paulo and Shanghai. This, it appears, is the rise of the rest.