It's a sunny Friday morning in September, the sky is blue and the weekend is just around the corner. Still, the 14 teaching assistants (TAs) gathered in the lobby of the bed-and-breakfast in Bonn are looking rather gloomy. They're from the Canadian International College (CIC) in Cairo and are waiting to head back home.

Theory and practice à la IMS

The young TAs have had a busy week. Accompanied by Dr. Nagwa Mohamed El Gazzar, a CIC Associate Professor, the participants gained fresh insight into various aspects of practical media production. After initial theory on presenting oneself to the camera and various presentation styles they worked hands-on with different media, producing a blog as well as a video.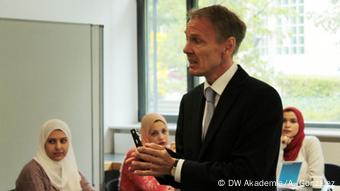 The scientists had a free hand in choosing content for their practical media projects. While some focused on forecasts for the further development of media, others chose more personal subjects, such as travelling with the family (two participants had brought their children along), having a goal in life, or how expressions of love can differ from one culture to another.

Sightseeing included

The group also had a chance to do some sightseeing, and visited nearby Cologne. They toured the historic old town, had a spectacular view over the city and Rhine river from the KölnTriangle's observation deck, visited the Cologne Cathedral – a World Heritage Site – and looked at the thousands of 'love locks' attached to the Hohenzollern Bridge, left there as symbols of undying love. They also took a cruise on the Rhine river and visited exhibitions in some of Bonn's numerous museums.

An experience to remember

"I'm sad to be leaving this beautiful country", said Tamari, a young TA. Her colleague, Habiba, agreed but said was also glad to have had this "amazing experience". The most enduring impression for her, she pointed out, had been working on the blog. Expressing oneself without any restrictions had been a completely new experience.

Dr. Nagwa said the young scientists would be taking a host of new ideas home with them for their own teaching at the CIC. And she said she was looking forward to a continued collaboration with Prof. Dr. Schmidt and DW Akademie.