Although being an IMS student can be incredibly motivating, now and then the ghost of uncertainty haunts the IMS classroom. What will it be like when I finish? Will I get a job? Graduates of our Master's program came to the rescue and swept away any doubts.

The six former students from different countries had a clear goal in mind at the lively discussion: to reflect on their time spent in Bonn, to talk about their current careers and to share their vision of the future with aspiring graduates.
The six stressed how important it had been to meet people from all over the world and to acquire new skills and knowledge. They said they are now applying these skills after successfully reentering the job market as highly educated professionals.
"I might be the one sitting in front of you right now, but I'm sure that in a few years time you'll be sitting here yourselves, talking to the new students and sharing your own experiences," said Rodrigo Rodembusch, an IMS graduate and now a professor at the University Centre Ritter dos Reis in Brazil.
A truly intercultural exchange
The students from the first and third semesters asked the alumni any number of questions, ranging from their dreams prior to joining the IMS Master's Program, to the difficulties they faced while studying, to their professional lives and their perception of the media.

Volha Danishevich, Project Coordinator for European Media Development in Belarus, was quick to respond. "The Master's program was a great opportunity to grow professionally, and we shared so many memorable moments. This wasn't about partying but an intercultural exchange where you get a lot of input during your four semesters abroad."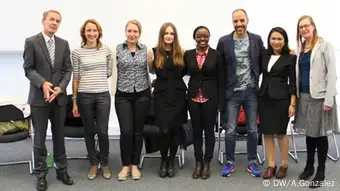 Alumni and their former lecturers from left to right: Professor Schmidt, Volha Danishevich, Helen Mendes, Aleksandra Poliakova, Christine Wandolo, Rodrigo Rodembusch, Veve Hitipeuw, and lecturer Almuth Schellpeper.
As for their favorite assignments, Verlyana Virgousa Hitipeuw, Senior Consultant at Kiroyan Partners in Indonesia, said Professor Christoph Schmidt's classes had been her favorites: "I learned a lot from him, and his lessons are part of what I'm currently working on," she said. Her colleagues nodded in agreement.

The future is still to be seen – but it looks promising!

"It's hard to believe that it was all so great. Didn't you have any difficulties while you were studying?", asked a first semester student skeptically. "Of course we had our misunderstandings and problems," replied Rodembusch, "but while it seemed to be a huge wall to climb at the time, looking back, it was just a small step on the ladder".

"What about your careers? Was it worth spending two years abroad and not being part of the job market?" asked a third semester student, "I can tell only tell you that getting that letter of acceptance was a life-changer," affirmed Christine Wandolo, CEO of CWAN Consultant in Kenya. "It was definitely a milestone in my life and it took me to where I am now: I have my own consulting firm and I'm doing what I discovered I wanted to do while pursuing the IMS Master's degree."

The get-together with the IMS alumni offered the students a glimpse into the future. They may also one day return to their own countries with the same goal as the first set of graduates who began studying in 2009: to improve the media landscape at home by applying the ideas and skills they gained during DW Akademie's IMS Master's Program in Bonn.