Communities living in the Amazon basin's rural areas often face additional challenges to those living in urban settings. A lack of critical resources - such as safe drinking water - is especially difficult in a time when people are encouraged to wash their hands as a way to avoid contracting COVID-19.
This caught the attention of Caterine Jaramillo, a physics engineer and budding journalist who took part in DW Akademie'sonline science journalism course Vientos Alisios (Trade Winds).
The aim is for journalists to combine scientific and traditional knowledge in their reporting so that complex topics become more appealing to a general audience. Adding a human perspective is also important to create accessibility.
"We researched the issue and explained water scarcity from a scientific angle, but we also explored how water scarcity is affecting people themselves," Jaramillo said.
With two other course participants, she travelled to Cisneros, a village in central northwestern Colombia's Antioquia department. There they spoke to official sanitation experts as well as local residents with traditional knowledge to learn about water management and the limitations to accessing water.
"We need to understand that science is not just about what is being done at universities or in laboratories but also about what communities are doing locally," Jaramillo stressed.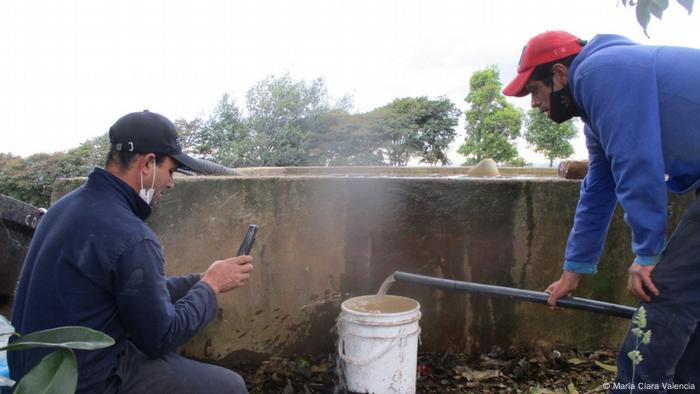 Lack of access to quality water exacerbates inequalities in the region
Journalism as a bridge between realities
She and her two colleagues realized they also needed to address the social, environmental and economic impacts to better understand the complexity of health issues arising from water scarcity.
"It's important that journalists serve as a bridge between scientific explanations and the realities of communities," she said.
To build their story, journalists initially referred to the Water Quality Risk Index for Human Consumption which evaluates water quality in Colombian municipalities. They then interviewed experts, such as local health authorities, who explained the implications of contaminated water.
Then, the authors turned to Cisneros community leaders to explain how they were approaching the problem by using traditional knowledge of the area. They are, for example, party to water management agreements with communities living in the mountains and close to water sources.
Once Jaramillo and her colleagues had collected the information, they needed to narrate the story in a way "that people would fall in love with a science report," she said. Vientos Alisios' mentors recommended classifying and ordering the story's elements, moving from the rural to the urban reality and then explaining the technical aspects of water quality. The result is a three-chapter audio report (in Spanish).
According to the Vientos Alisios guide created by the participating experts (in Spanish), "it's the local processes that, in the end, allow us to reach our nearby communities, our audiences."
"And," as course trainer Camilo Prieto, pointed out, "if science aims to improve people's living conditions, it needs to accept that there are also other ways to access knowledge."
77 journalists and community communicators took part in the online science journalism course and produced a total of 12 stories. The science journalism course is still open to those interested.

The Vientos Alisios project brings together Western and traditional knowledge through conversations between scientists and traditional knowledge holders. Together with journalists, they explore through storytelling how people across Latin America, and in particular the Amazon basin countries, have coped with the COVID-19 virus. The project is supported by the German Federal Ministry for Economic Cooperation (BMZ) and DW Akademie.