Thirteen-year-old Juman Salameh who lives near Ramallah understands exactly how she can benefit from more media literacy. She explains, "Now I know how to double-check information or produce media content myself. I wish all students had the chance to be taught Media and Information Literacy."
How do messages originate? How do I recognize rumors and propaganda? What personal information should I disclose? Media and Information Literacy (MIL) focuses on questions like these. In some countries in the Middle East, MIL has already found its way into schools as a proper school subject, for example in Jordan and Palestine.
'MIL is not a normal program'
MIL has already been established as a subject in some schools in Lebanon as well. One school that teaches MIL is Jesus and Mary School, north of Beirut. Teachers explain how a message is created, how to recognize fake news or how students can create their own picture stories. Students also become acquainted with new apps. Rita Zgheib works as an academic supervisor at Jesus and Mary School. She was skeptical when she first heard about MIL. It seemed as though too many players and too many programs wanted to get involved in the Middle East. Meanwhile, Zgheib asserts, "MIL is not a normal program. It's a must! It can promote education, critical thinking, understanding and above all, peace. And that is what our region so desperately needs."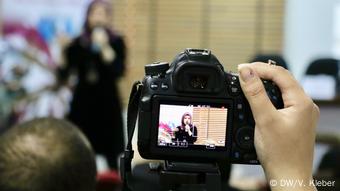 Why does MIL matter in Palestine? Samia Salah Aldeen (Pyalara) explains
Because she strives to improve media literacy in the region, she is taking part in the conference "Media and Information Literacy - National and Regional Needs" in Amman, just like the student Salameh. The conference was organized by the Palestinian youth-NGO Pyalara, DW Akademie and the Jordan Media Institute.
Large regional differences
Among the 60 participants were teachers, journalists and students from Lebanon, Tunisia, Egypt, Palestine and Jordan. If information and media skills are to be conveyed throughout the region, committed media makers and political supporters are needed to back the project.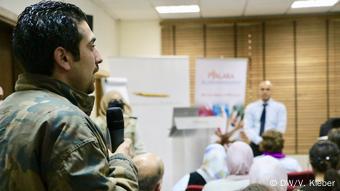 Participants have come from Eygpt, Tunisia, Palestine and Jordan to attend the conference.
Jordan is regarded by many as a pioneer, as many schools and universities there are already involved in the MIL-programs. "We have many things planned," says Bayan Tal of the Jordan Media Institute. "We want to reform the entire education system so that students become more active and learn to think critically."
In Jordan, this is important for example, as radical groups are increasingly using social media to spread their ideas and attract new members. "We must thus arm the people with education so that they can fight propaganda and false information," says Bayan Tal.
"There are different religions, different political groups that have been confronting each other for decades. With the help of MIL we can break the vicious circle. Our region could be the cause of a third world war or a place that shows that peace is possible in spite of everything," remarks Rita Zgheib, the academic advisor from Lebanon.