According to Neema Iyer, Founder of the civic technology organization Pollicy based in Kampala, the Internet in Uganda was a very civil place a couple of years ago. She describes it as a place where she could find friends on Social Media platforms and also build her professional career. "A very productive and positive environment overall", she explained. Today, the situation is different. In online spaces, citizens are confronted with challenges from hate speech to misinformation, journalists are under threat and the government tries to limit the room for freedom of speech on digital platforms with restrictive cyberlaws, like the Computer Misuse Act.
These observations are a snippet of the results from a new DW Akademie project called #speakup barometer. The project assesses digital participation in the context of freedom of expression, access to information and media development. The results are based on research and expert interviews in thematic clusters relevant for digital participation. The #speakup barometer evaluates trends and identifies potentials and barriers for digital participation in selected countries in which DW Akademie works on media development projects together with local partner organizations. Uganda is the first country being explored, with around 20 others following.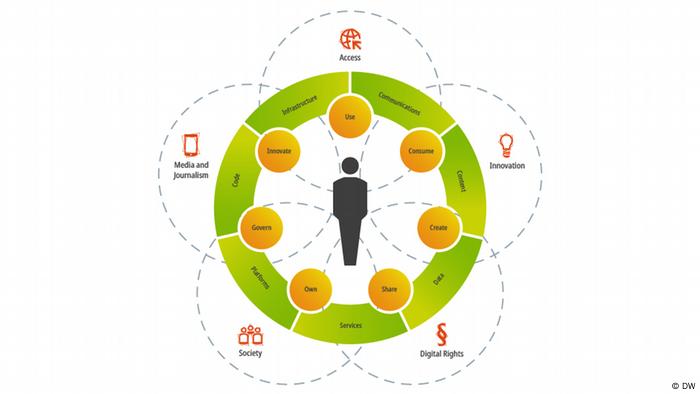 "The Internet broadens civic space", said Geoffrey Wokulira Ssebaggala. He is the Executive Director of witnessradio.org, a human rights organization from Uganda and also one of the experts we interviewed for the #speakup barometer. But it also means: those who are not represented online are losing their voice in public debates and have less access to information.
Digital Participation is an important concept when it comes to exercise the human right to freedom of speech and access to information. But the expression remains unclear and generates the following questions which we pursue in this project: How can digital participation be defined? How can it be assessed and how can societiesbe strengthened through digital participation? As the recent worldwide debates about misinformation and manipulation makes clear: Simply giving people a voice is not enough to create meaningful and constructive dialogue in online spaces. Constructive dialogue can only succeed if certain conditions are met—an Internet connection and a computer or smartphone alone is not sufficient.
In order, to find a way to handle the complexity of digital participation and make it accessible, we developed a model focused on people. In the model we defined actions and objects of digital participation in relation to freedom of speech and we integrated the environment under which Digital Participation takes place (we call them clusters). We also identified many factors which are related to digital participation and can be used as indicators to show the degree of digital participation. Based on that preliminary work we developed a method of how to assess digital participation.
Our primary goal is to highlight the means to strengthen freedom of expression and access to information through digital participation. #speakup barometer is for media development practitioners as well as for journalists, bloggers and everybody who is interested in this topic. Using concrete examples, we will show how participation can be improved. To this end, we talk to experts from a number of countries and tell stories about users from each – including what challenges they face vis-à-vis digital participation. We also want to look ahead, showing the potentials of the countries we surveyed and presenting ways that digital participation can be improved in each of them.
In 2018 we began the project with Uganda and will follow up with research on Ghana and Kenya. In 2019 and 2020 we will look at countries in Latin America, Eastern Europe, the Middle East and Asia.